Recently, we spoke to Anuradha Chandrasekaran, PR and Comms specialist having worked with various companies and Startups like Practo, Entropik Tech, etc, talk about how Wizikey helped her save a lot of nights doing Media research by reducing time spent on it by half and increased media responded by 3X.
Watch the 6-minute video below, or, check out the full transcript below.
Experience for yourself – How you can also reduce your time spent on Media research with access to 20+ charts and over 100,000 reporters to reach out to across the globe – Register Now
Transcript:
Tell us about yourself
So I started off as a journalist and then once I moved to Bangalore, I started working with a boutique PR agency then moved on to an international communications agency. And then finally corporate communication in the B2C sector and then the B2B Sector.
So basically I think I've seen most of the faces from being a journalist to having worked in a boutique agency, international agency, then corporate communications in B2C as well as B2B, so it's been quite a career.
Challenges before Wizikey
So I think as a communications consultant when you just work for one company it's quite easy to actually just focus on that and see how else you can improve. But when I'm working with multiple clients, right? I have to quickly shift between one industry to another understand their requirements and then you don't think of things that would actually help that particular company Garner media attention.
So I think like just shifting between industries, you have to keep yourself up to date with everything that's happening around you, not just one particular industry.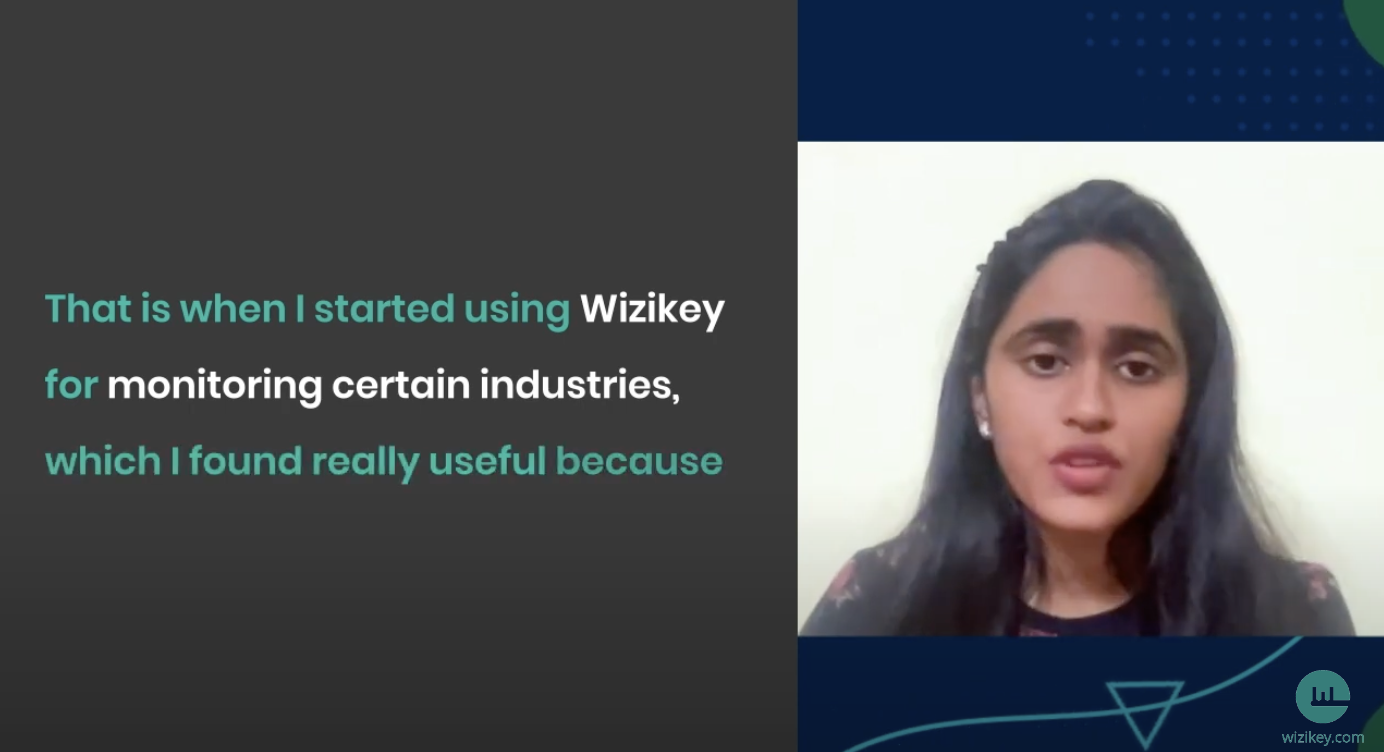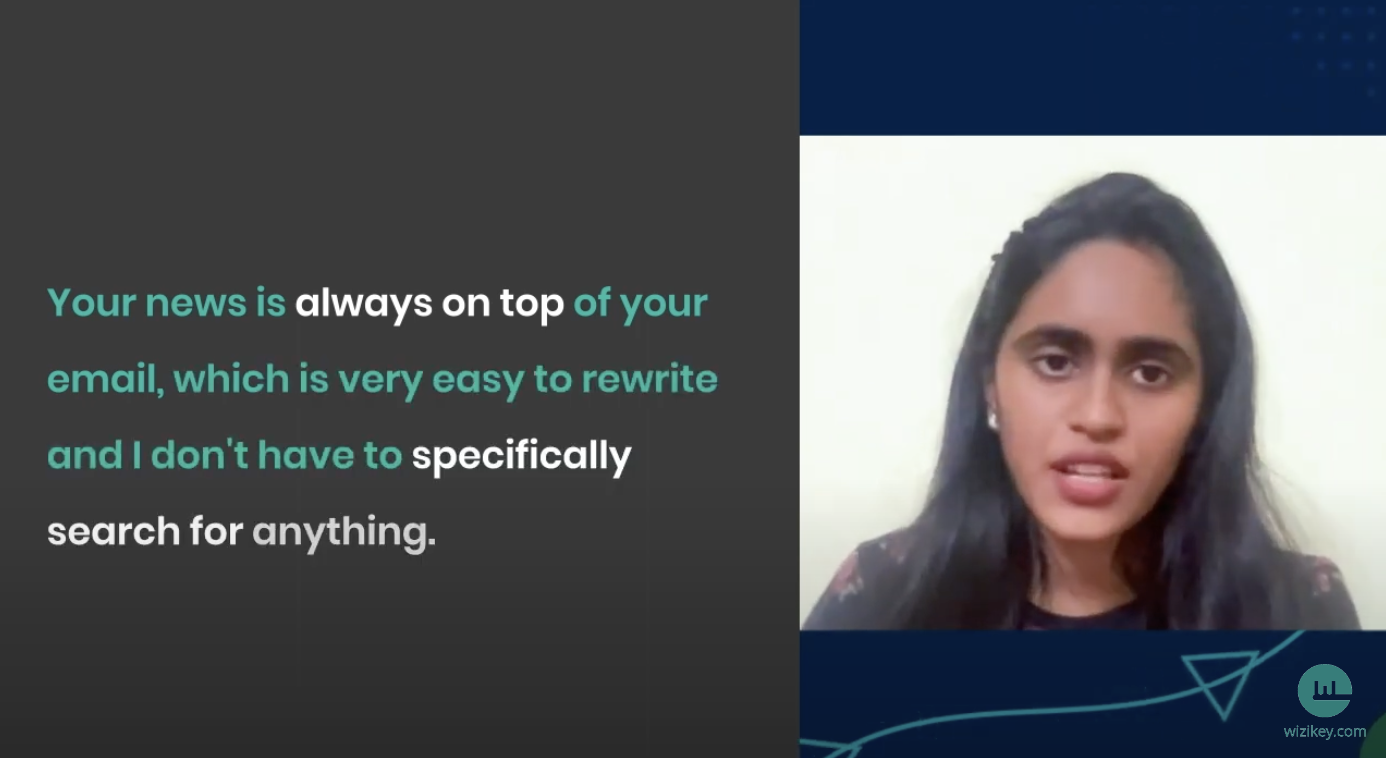 I think that is when I started using Wizikey for monitoring certain industries which I found really useful because then your news is always on top of your email which is very easy to read, right? I don't have to specifically search for anything.
So I think monitoring is something that I always have to be you know on top of and keep myself up to date with everything that's happening, you know in the world.
And the second thing is actually reaching out to the journalist part because when you work with multiple clients, most of them if they are in the startup industry or if they're in the bigger corporate side, you have to reach out to literally the same sort of journalists every time. And it becomes really, really hard to actually reach out with the same set of people. you know, you shouldn't be spamming them right?
And at a human level it is not exactly possible to remember so many journalists names keep looking for people who are joining.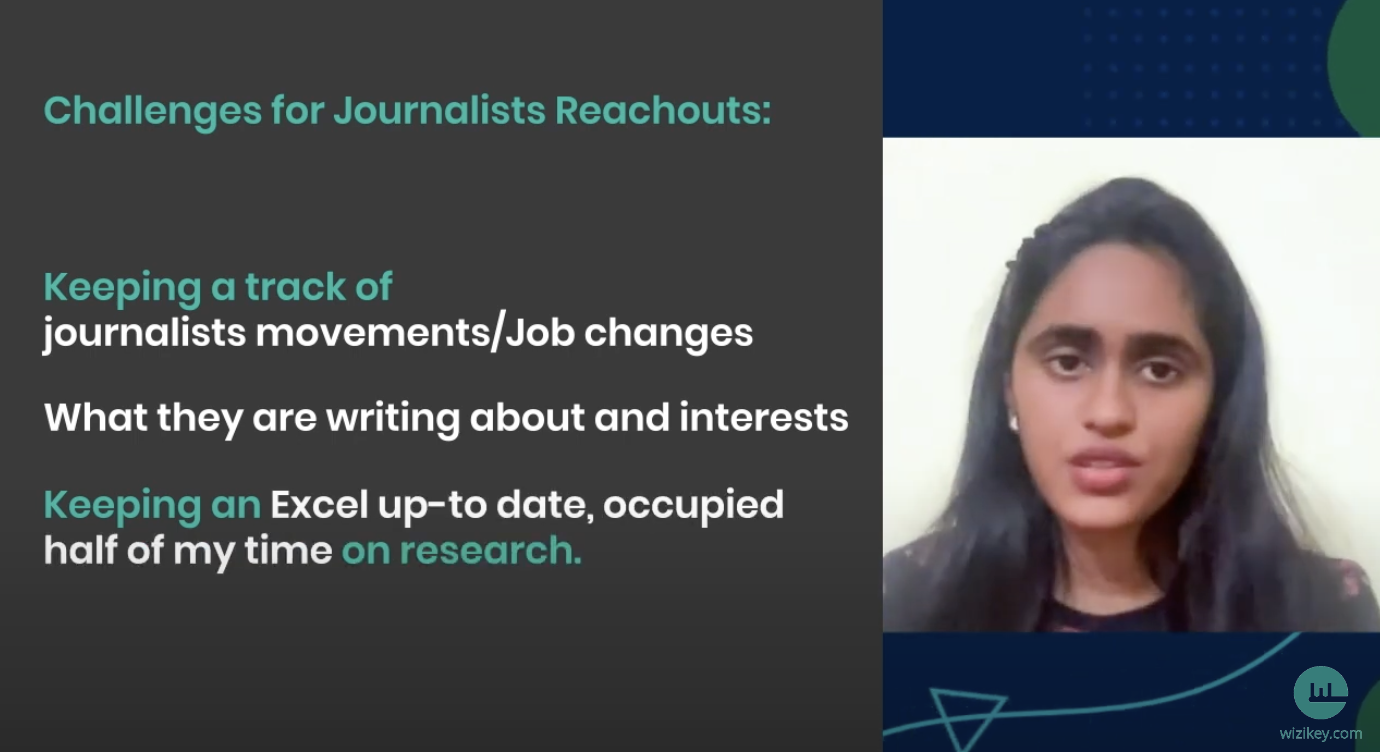 Basically keeping a track of where everybody is going to like where are they right now, and what are they writing about? Are there any new journalists I can reach out to because there are multiple segments like for example, people who are just right on startups, Fintechs, markets like healthcare etc?
So that was a real challenge because keeping an excel up today, it was really tough for me half my time used to go only in that research. So I think most of my nights would just be doing media research because data and I would have to do client work. So these are some of the challenges that I was I was facing before using Wizikey.
How is Wizikey different from other solutions?
Other products that I've used before, other services that I've used before they have a very surface-level view of everything that's happening. For example, they would give me SOV compared to say, five different people because possibly the keyword count would be like, you know, a maximum 5 or 10, for example, one of my healthcare clients, they had surgeries, they had telemedicine, you know, they had pharmacy business, so many businesses and I had to create separate dashboards for at least 10 of their different businesses apart from having an overall dashboard.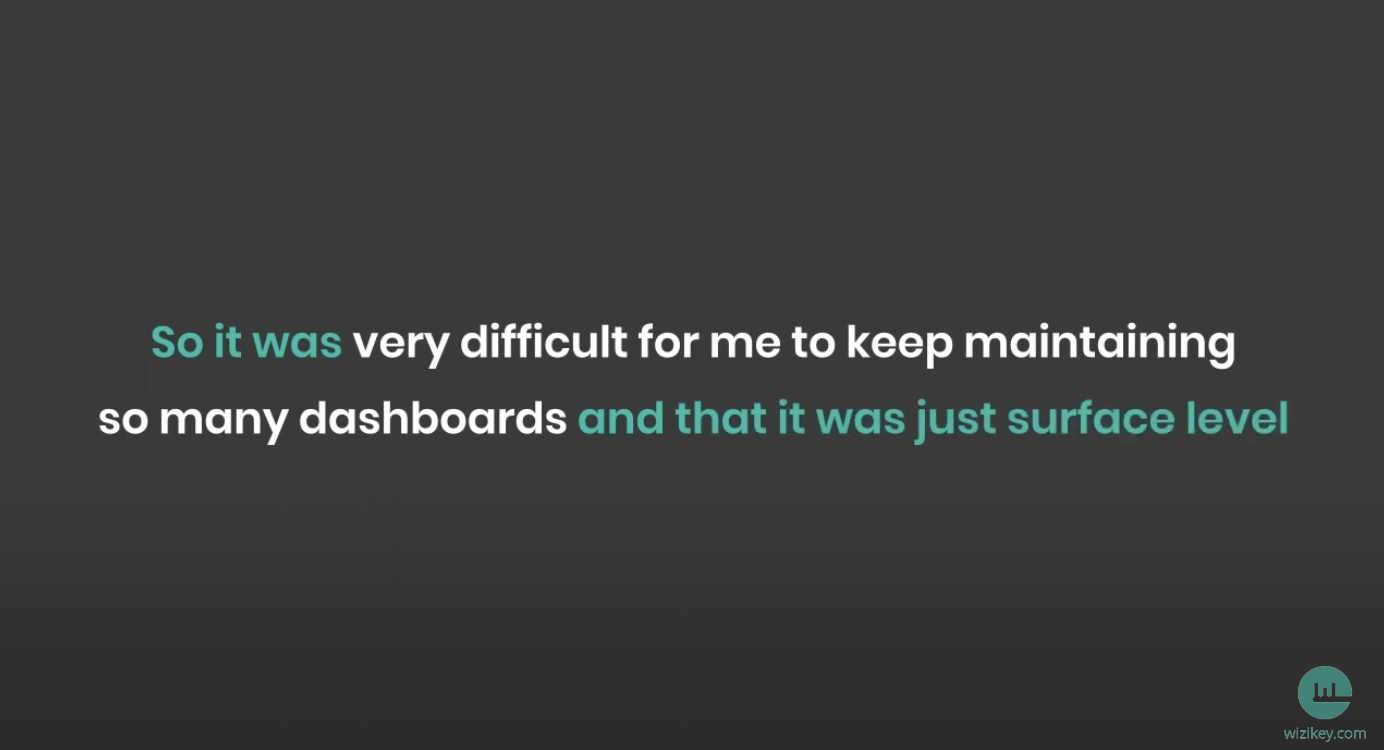 So it was very difficult for me to keep maintaining so many dashboards and that it was just surface level, like S.O. V. Your reach, possibly the number of coverage you get. What is the sentiment? That's it. But I think off let brands have realized that they want to go deeper than that. How many times has my branding mentioned the headline and how does my leadership actually compare with the leadership of other companies?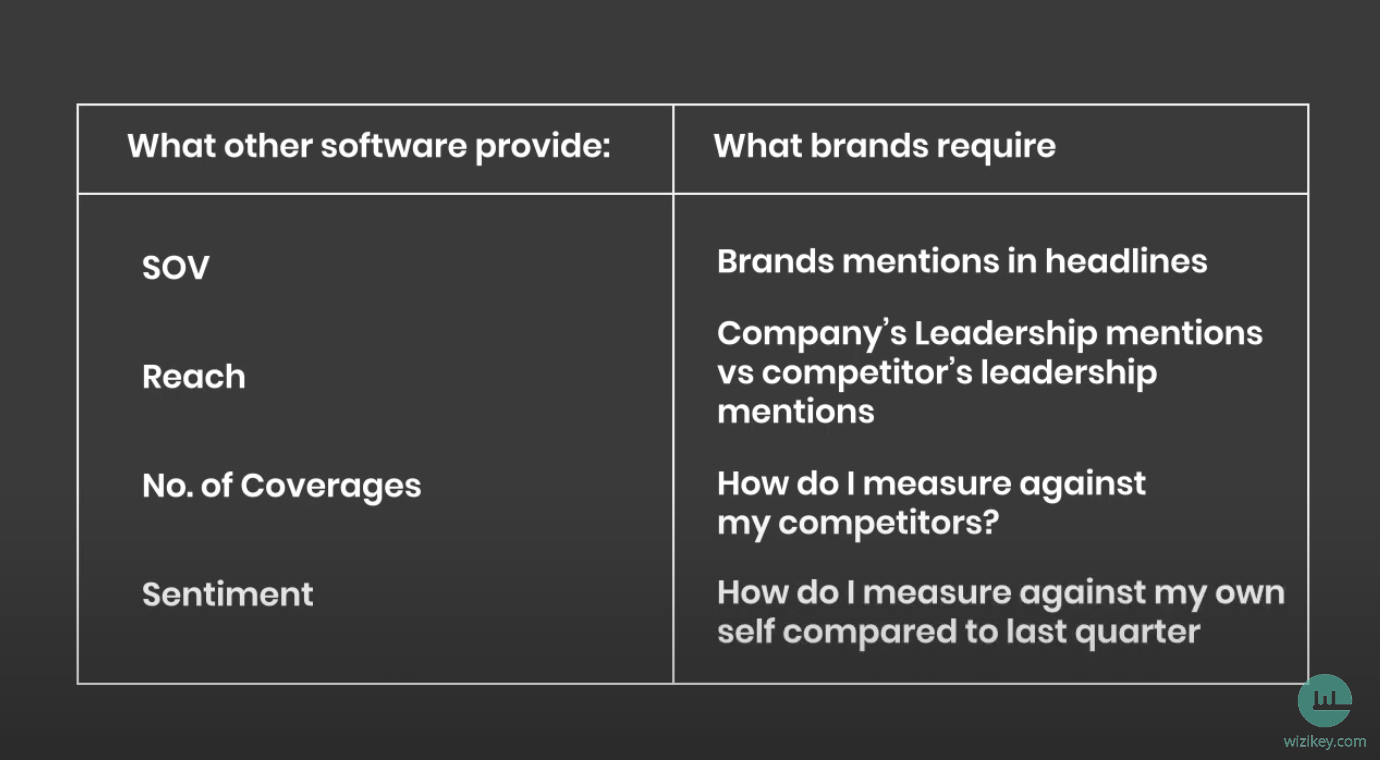 How are we tracking that? How do I measure again, my competitors, how do I measure against my own self compared to last quarter for example.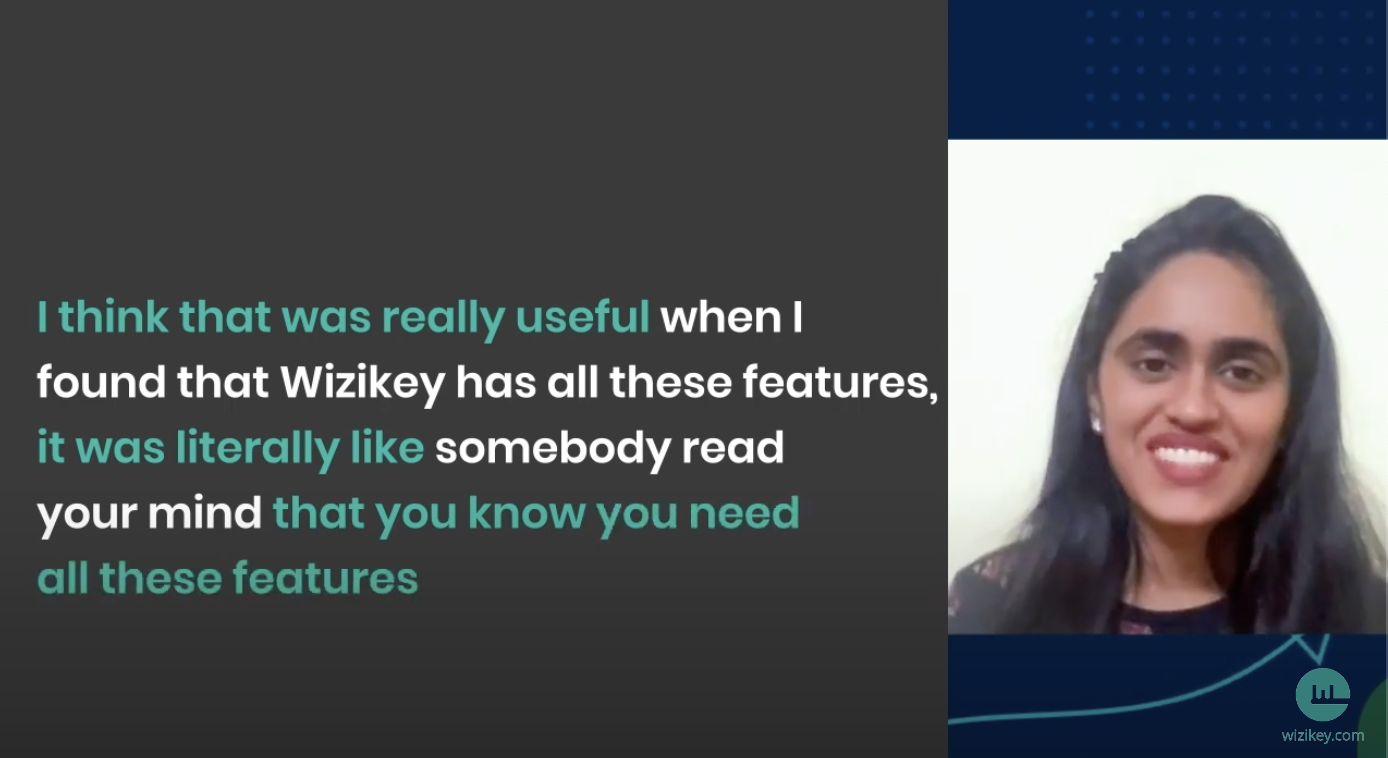 And I think that was really useful when I found that Wizikey had a feature in the monitoring space where you can do all of this. it was literally like somebody read your mind that, you know, you need all these features. So that is one thing that I can definitely vouch for that no other product has and like all of my clients have found it really, really useful and so have I.
So that is one thing on the monitoring side and on the engaged side, I think just the neatness of the dashboard, you know having a media list can be quite messy honestly, be it Excel or any other product, right.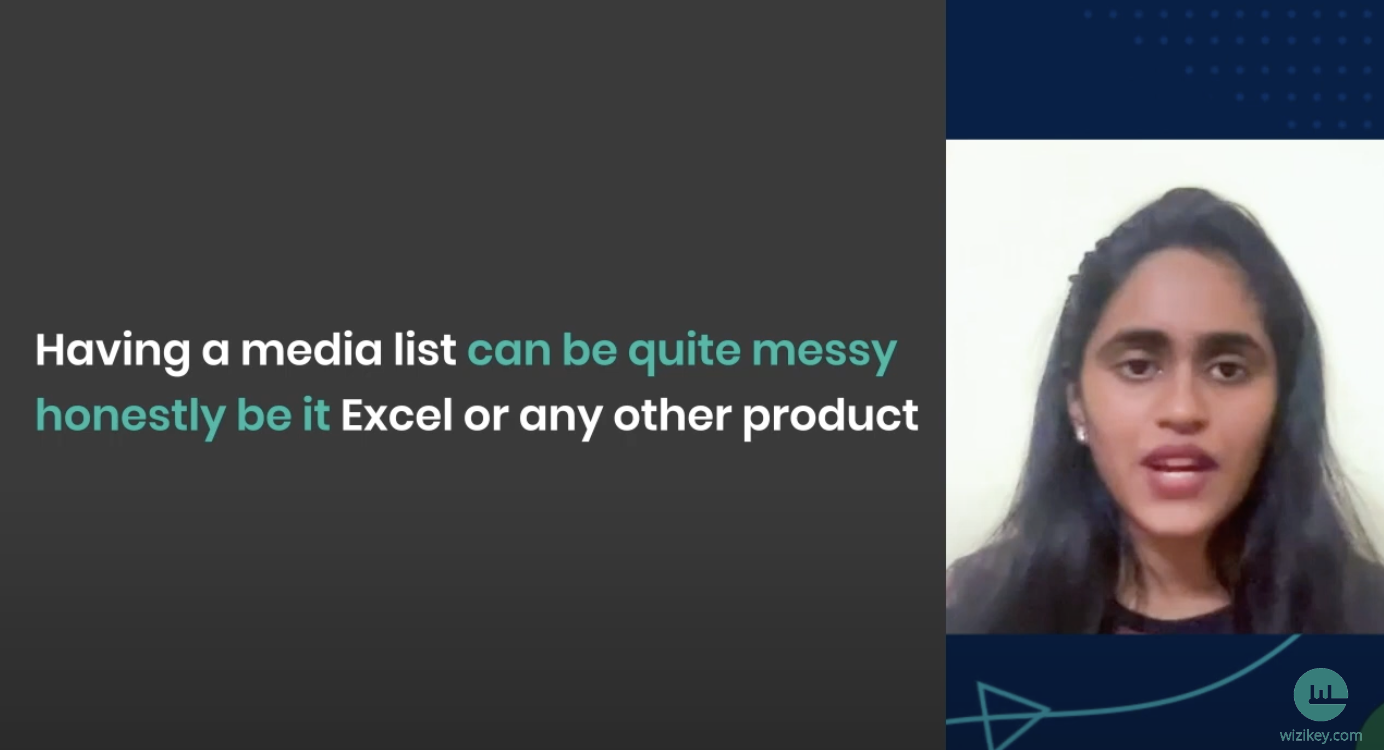 But the filters that you can use and how neat it is for you to actually select and view their profiles in the same dashboard were really useful.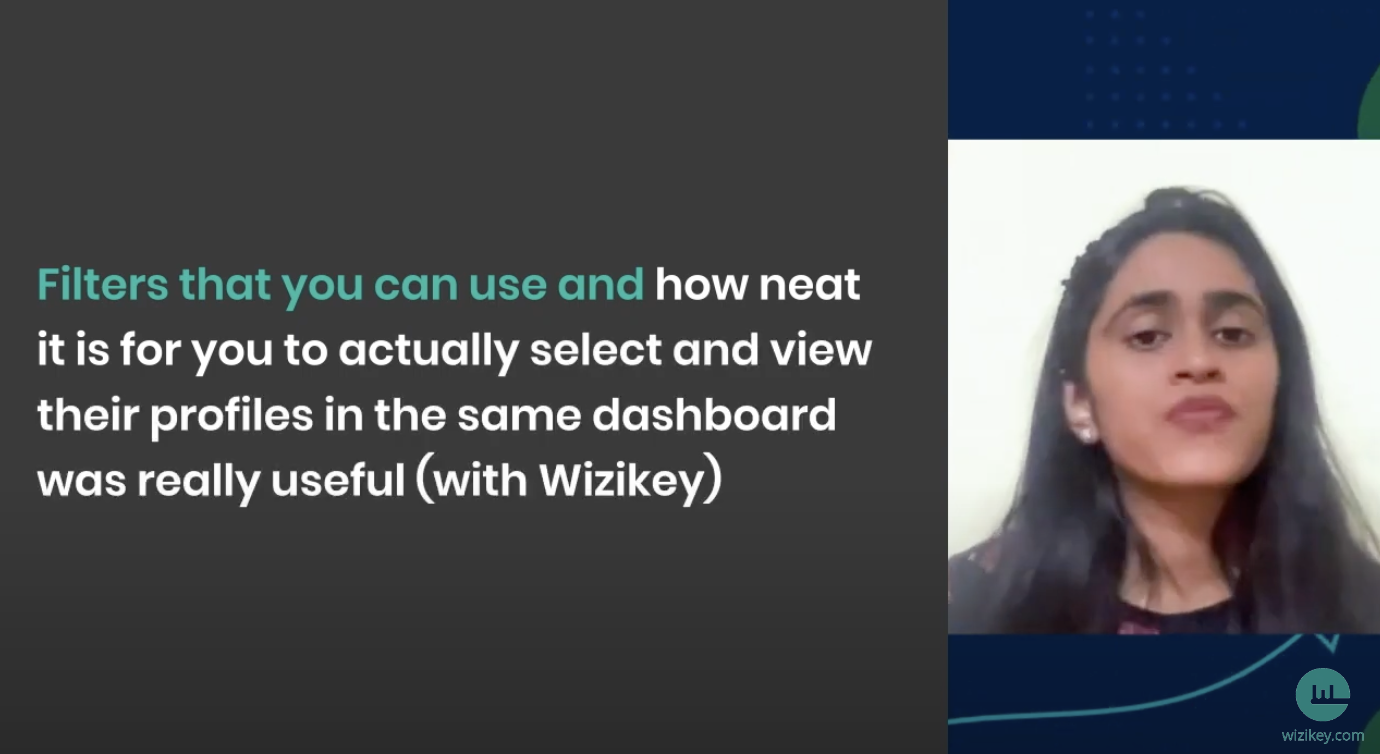 and of course, you know having different, I'm sure other products also have like different media lists, but I was really impressed with how thorough it was because this neatness does not just go into the media list, but when I sent out the emails right.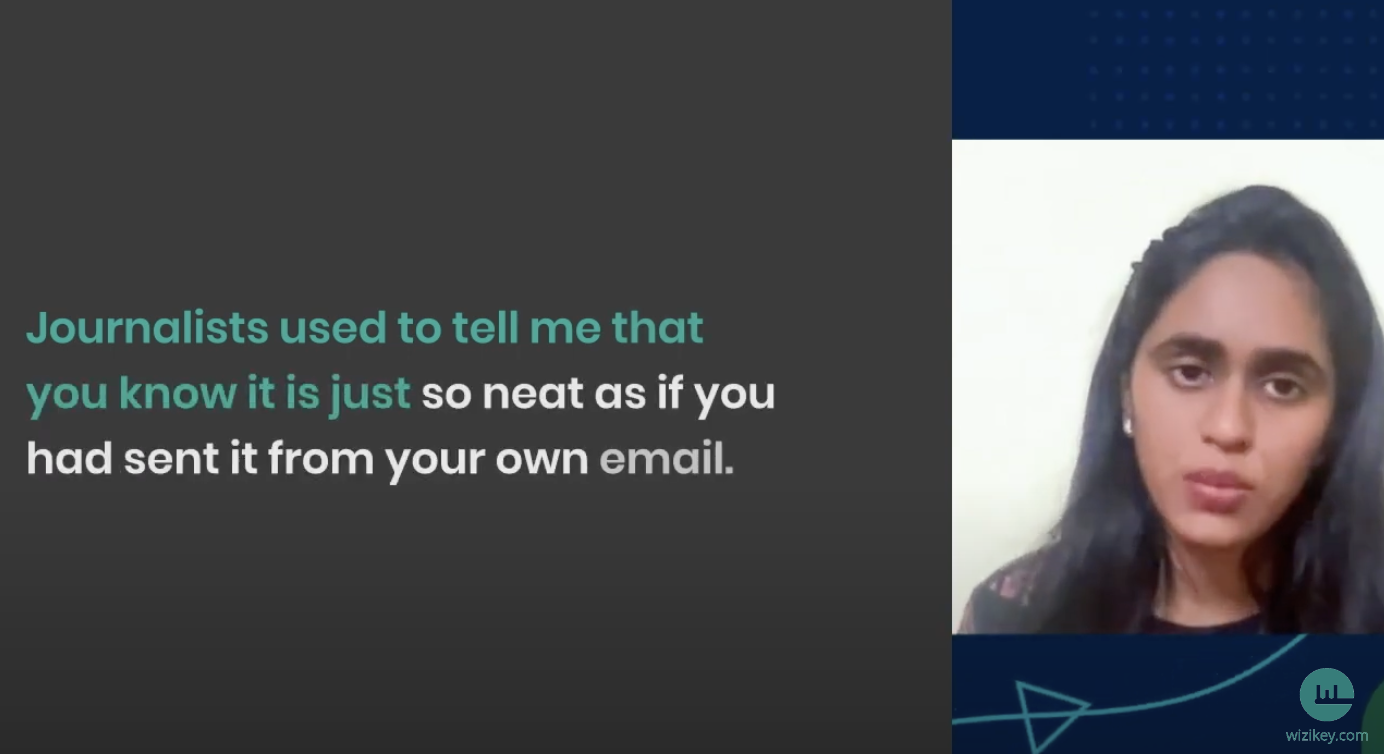 The journalists used to tell me that you know it is just so neat as if you attended from your own email
Impact of Wizikey
Basically, after using Wizikey, the time that I spend on media research, as well as media reach outs, have literally reduced by half and I have more time to now spend on my clients rather than just doing research.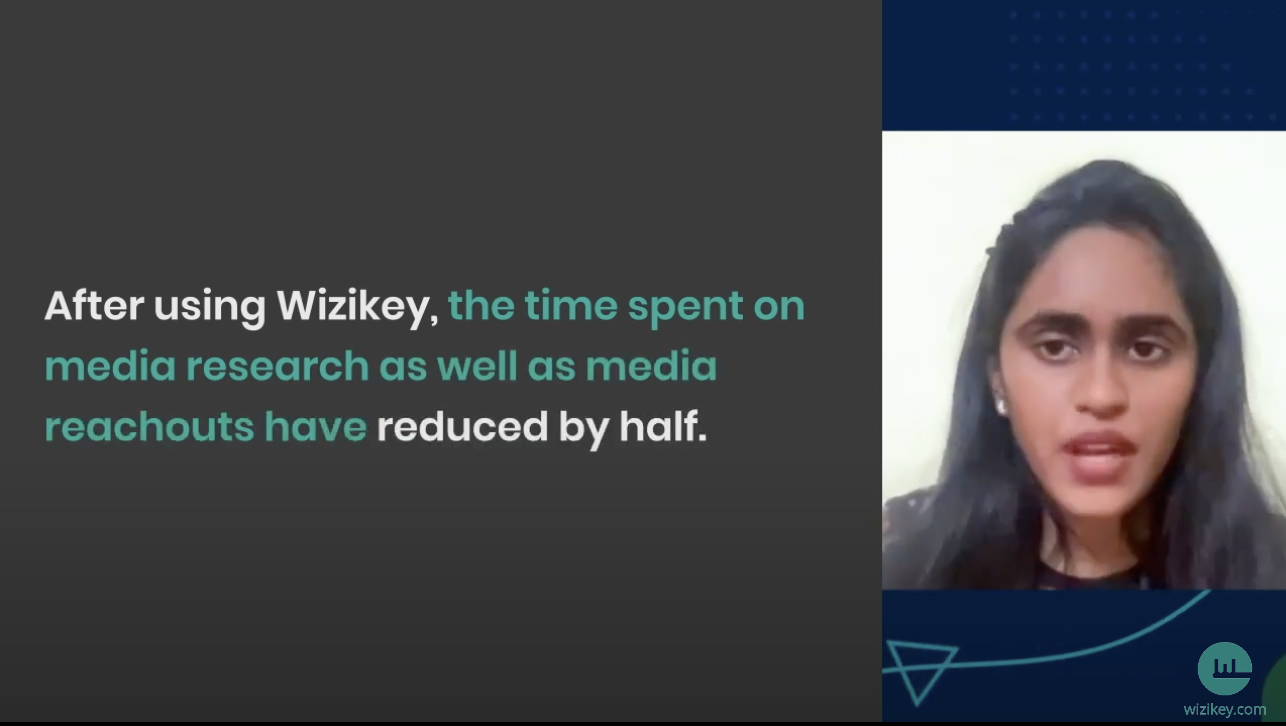 I would say all thanks to the high open rates which are now literally 50-60% on average for every email that I sent out by are basically compared to the 2-4% that I had previously. And of course, I should not forget the journalist responses that have been key for my success so far because using basically right now, I think the media responses have now increased by almost 3X compared to the time.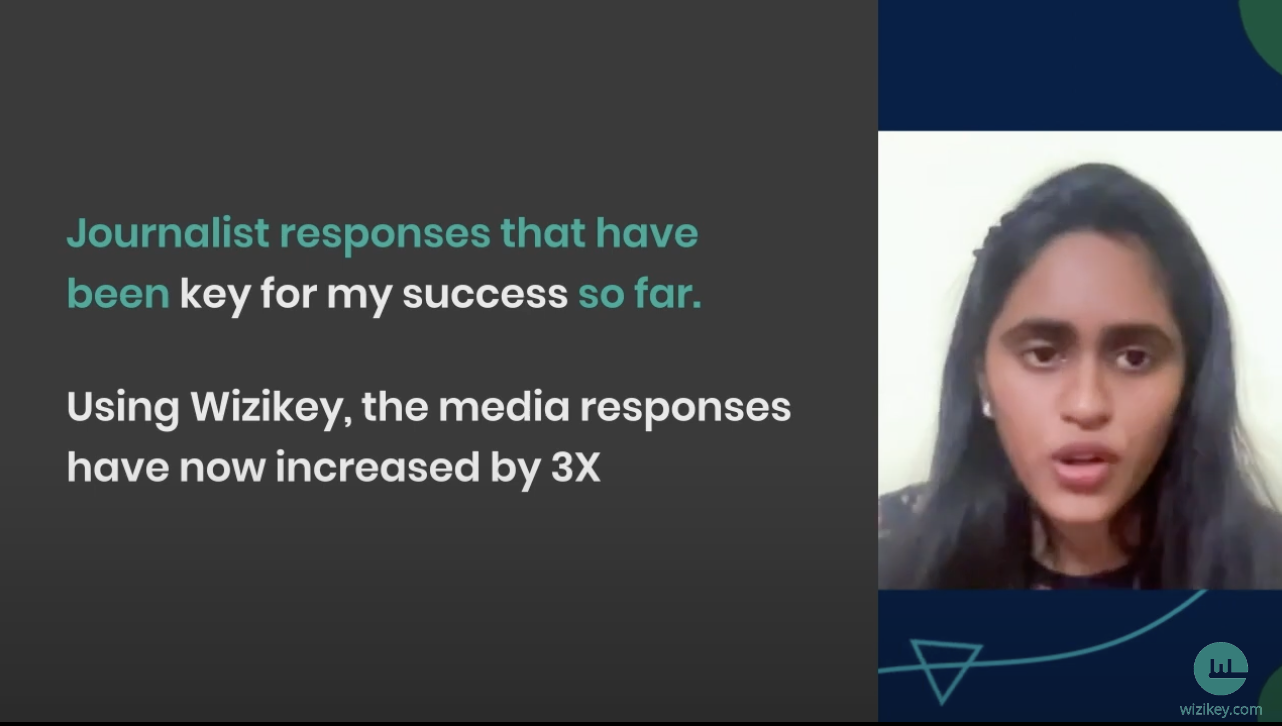 And I was using other products 3X, literally, I think is a really high benchmark.
Experience for yourself – How you can also reduce your time spent on Media research with access to 20+ charts and over 100,000 reporters to reach out to across the globe – Register Now