ITeS as an industry has been a pillar of the Indian economy over the last 30 years and it is still going strong. Even through a year of turmoil that saw business models go through drastic changes and forced many to pivot, the industry leaders in ITeS managed to pull through and still make a lot of buzz. From the adoption of WFH to moving to the cloud, this report covers the top 25 players that made the most buzz in the category in 2020. It is an analysis of both the enterprise service as well as enterprise product halves of the industry and the factors that prompted the media to cover these players. It talks about the various trends that emerged over the year working up to a closer look at the top 10 players and what worked for them.
ITeS 2020 in trends
Work From home
All companies in the industry had to go through paradigm shifts to embrace work from home as the new normal. Infosys and TCS, ranked 1 and 2 respectively in the report, also made huge changes to cope with the demands of the times. While Infosys announced the entirety of 2021 as WFH, TCS took it to the next level by announcing permanent WFH for 98% of its employees.
Clearing the way for the cloud
With the sudden uptick in demand for cloud based products, ITeS players were quick to jump onto the cloud wagon. Many players release new products to aid the work from home system during the pandemic. 4 out of the top 5 companies announced new initiatives to strengthen cloud offerings.
Global Imprint
Owing to travel and visa restrictions most ITeS firms had to go the destination hiring route out of necessity. The pandemic brought a fresh approach to the industry standard outsourcing model and gave players more confidence in their ability to manage operations while being location agnostic.
Leaders in Each Sector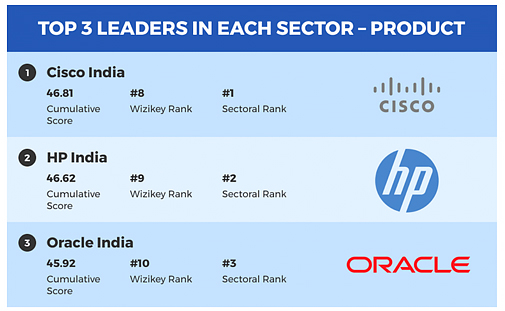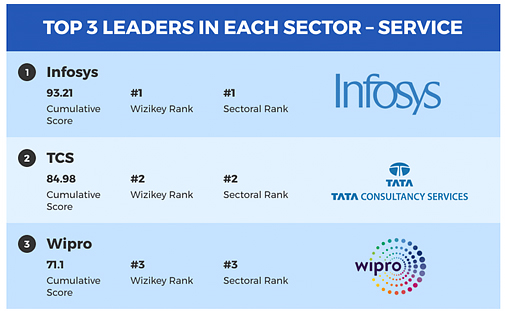 Sectoral Wonders
Enterprise Services
The three Indian IT giants, namely Infosys, TCS, and Wipro were at the forefront of the industry in 2020. IBM was the only foreign player to have been able to break into the leader quadrant in the industry. Two of the major trends that kept these players in the limelight were high employment rates and regular stock market activity reporting. Cognizant was another player that stood out of the crown with its organic and inorganic growth coupled with the diversity in the workforce.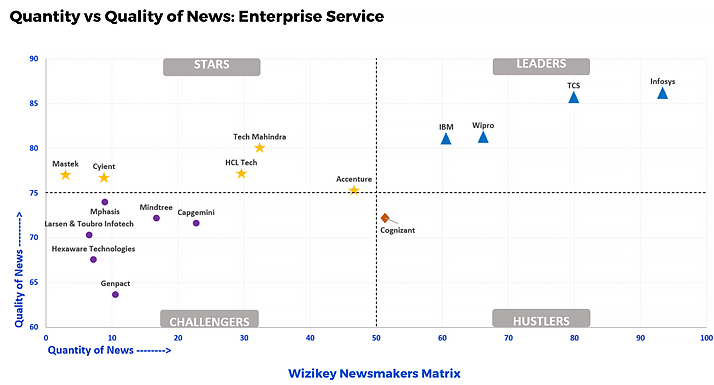 Enterprise Products
While India is touted as a world leader in IT services, it is still to give the world a homegrown enterprise product that is seen as an industry front runner. Dell, HP, Cisco and Oracle emerged as the leaders while VMware, SAP and Zoho (a US company rooted in India) made their way into the hustlers quadrant.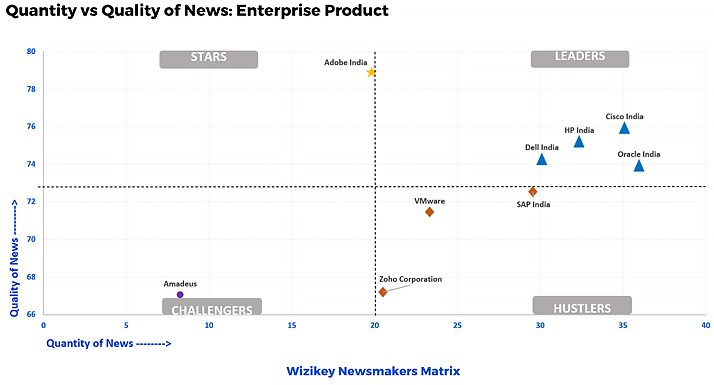 Overall Metric Wise Top Players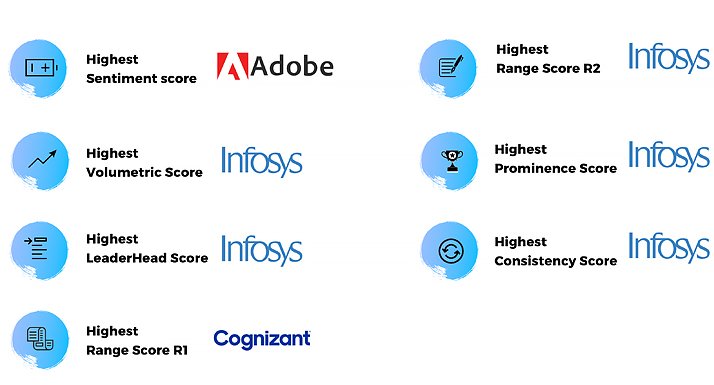 Wizikey Top 5 Players

Rank 1: Infosys

Bagging the number one spot, Infosys has shown its wonderful media presence and the love it gets from media houses. One of the major highlights for the brand was joining Qualcomm's Smart Cities Accelerator Program to offer Smart City solutions. It was also involved in other ventures such as Live Enterprise Application Management Platform to deliver cloud-driven, cognitive-first management solutions for IT services.
Rank 2: TCS

TCS was heavily involved in mass recruitments surpassing the competition in the unique HR techniques and initiatives race. TCS ventured abroad with its acquisition of Pramerica Technology Services from Prudential Financial with a staff of over 1500. Considering its name and fame, TSC also managed to bag a spot as one of Fortune's Best Big Companies to Work For in 2020.
Rank 3: Wipro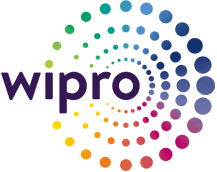 Wipro has been on an all time high with regards to partnerships and alliances. Wipro recently partnered with Nutanix to launch a digital database service and with Citrix as well as Microsoft on digital workspaces intended to drive business continuity for its customers.
Rank 4: IBM

IBM for years has been at the forefront of innovation in its industry. Case in point, IBM is now paving the way for a new offering – blockchain. With India putting emphasis on the 'digital' IBM is looking to bring the country to the bleeding edge of global innovation through technologies such as AI, cloud and cognitive computing.
Rank 5: Cognizant

Cognizant has been a prominent figure in IT for a number of years and has made a name for itself in the global arena as well. With the buying of CodeZero, acquisition of Chicago-based cloud specialist 10th Magnitude among others, Cognizant has made a very strong claim to a top ITeS firm in the country.
To collect your Wizikey Top Newsmaker badge, write to us at [email protected]!
If you would like to download your own copy, simply click here!