In the midst of the flu epidemic, startups in Australia raised the bar for innovation and entrepreneurship. Some have already solidified their places in their fields, while others are gearing up for competition and a few are about to become market leaders. A recent Wizikey's latest report on the Hottest Startups of Australia 2021 revealed that Canva, Rocket Lab, Sharesies, Tritium, and Culture Amp are the top newsmakers.
Wizikey is Asia's fastest-growing media monitoring and news intelligence company, which deploys AI, predictive analytics, and machine learning to analyze millions of news articles and produce actionable insights.
Wizikey News Score
Wizikey's News Score is the basis of the rankings. It is a standardized metric that measures news visibility for brands & individuals. In brief, the score is the result of analyzing the volume of news, headlines presence, the reach of publications, and much more.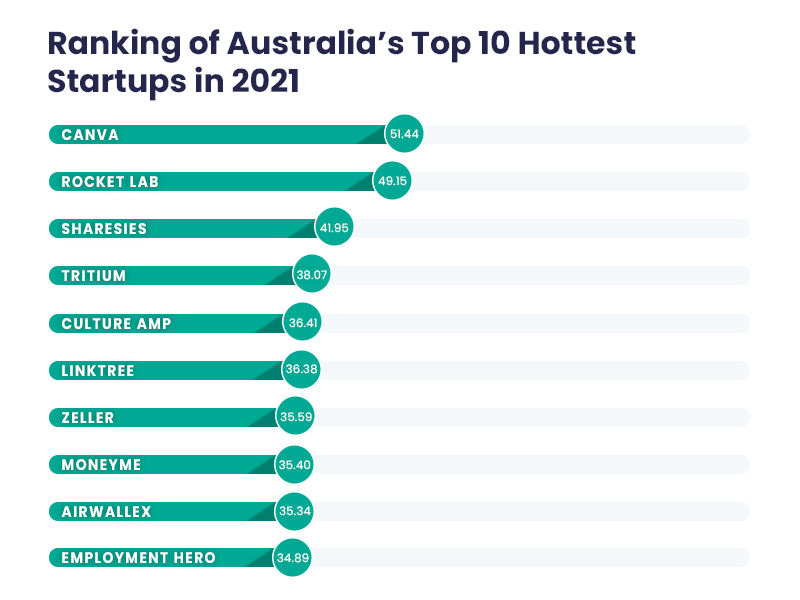 Canva ranked number one in the list for many right reasons, starting from their back-to-office policy to their partnership with TikTok.
Rocket Lab occupied the second rank for their employee stories. The third place in the newsmakers list is taken by Sharesies. Afterall, this startup attracted all the attention for topping the 'Kantar Customer Leadership Index'.
Tritium dominated the fourth position for the buzz it made for its new EV charger testing facility in Brisbane. And of course the deal with Evie for 158 new charging stations.
Other Startups that made it to the top 10 of Wizikey's Hottest Startups of Australia 2021 are Culture Amp (5), Linktree(6), Zeller(7), MoneyMe(8), Airwallex(9), and Employment Hero(10).
From the Leader
Anshul Sushil, CEO & Co-Founder, Wizikey, said, "Australia is one of the fastest-growing markets for startup and it is growing at a faster rate. The idea was to help brands understand where they stand in terms of their visibility. Therefore, this single standard metric helps measure PR & Communications. Further, this report is a reflection of the year that went by. And also a way to celebrate the most popular and influential startups of the year."
Startups in Fintech made the most news in the top 100. This was followed by Enterprise Application/SaaS, Health/Medical. Startups from Space Tech, IoT, and Blockchain also made it to the top 100.