Facebook, the social media giant, topped the 2021 Wizikey News Score ranking as an influential and visible multinational company in India. Google's parent company, Alphabet Inc is a close second on the ranking. This is followed by e-commerce player Amazon, Apple Inc, and Samsung Electronics, according to Wizikey's News Score Report.
Wizikey News Score
Wizikey's News Score is the basis of the rankings. It is a standardized metric that measures news visibility for brands & individuals. In brief, the score is the result of analyzing the volume of news, headlines presence, the reach of publications, and much more.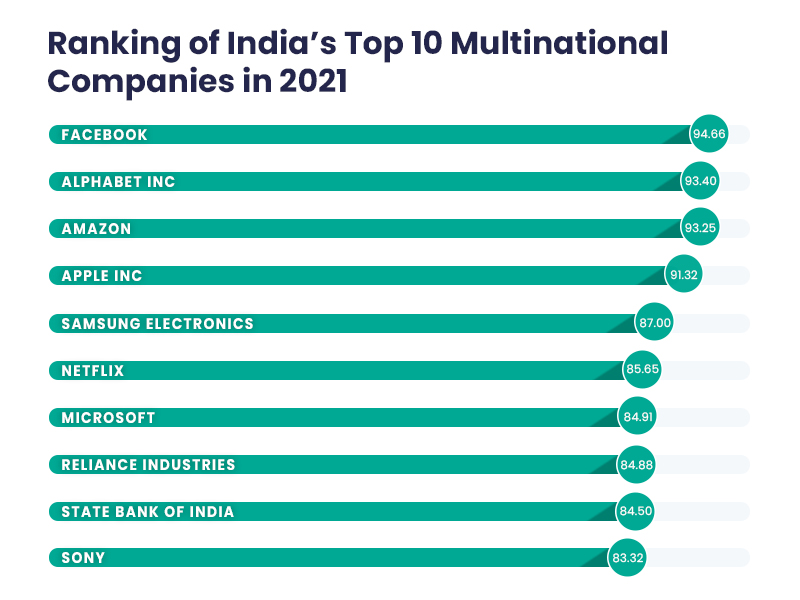 Facebook ranked number 1 as it made the headlines for multiple reasons. Starting from Facebook's partnership with 'Assassin's Creed' maker in the cloud-gaming push to change of name to Meta.
Others on the list include Netflix (6), Microsoft (7), Reliance Industries (8), State Bank of India (9), and Sony (10).
Wizikey's News Score is the world's first standardized metric to measure news visibility for brands and individuals using artificial intelligence, big data, machine learning, and media intelligence. And the score ranges from 0 to 100. Further, it is based on the monitoring of over 5,000 publications.
From the leader
Commenting on the report, Anshul Sushil, co-founder and CEO of Wizikey said, "We wanted to understand the visibility of the MNCs in India with our new metric News Score. Although we had clear winners, there are players from Automotive and FMCG making a good mark this year. In fact, it will be interesting to see how their news trajectory changes in the new year."
Banking/ Financial Services top the charts, followed by FMCG/F&B and Automotive sectors.