Facebook, Alphabet, and Apple emerged as the most visible multinational companies in Singapore in the year 2021, according to Wizikey report. The report divulges into the Most Influential Businesses of Singapore 2021.
Wizikey is Asia's fastest-growing media monitoring and news intelligence company, which deploys AI, predictive analytics, and machine learning to analyze millions of news articles and produce actionable insights.
Wizikey News Score
Wizikey's News Score is the basis of the rankings. It is a standardized metric that measures news visibility for brands & individuals. In brief, the score is the result of analyzing the volume of news, headlines presence, the reach of publications, and much more.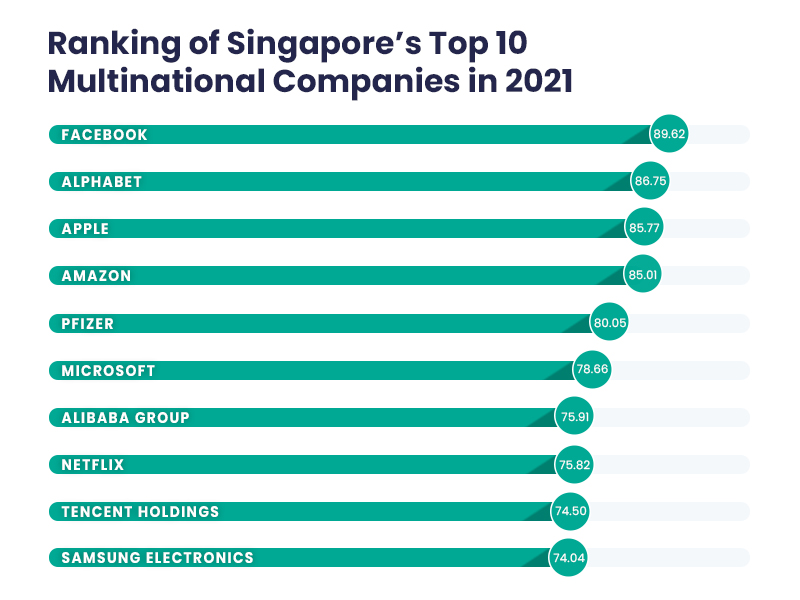 Facebook ranked number 1 and this shows its consistent popularity. It made the headlines for multiple reasons. Starting from bringing voice and video calling to the main app or be its changing the name to Meta. Definitely, Facebook knows to be on top of the news for the right reasons.
Alphabet, the parent company of Google, is ranked at number 2. Thanks, to the series of Google cloud partnership announcements and the several initiatives launched by Google maps.
In the 3rd position is Apple. It remained in news for various narratives around the product and Apple TV.
The list is followed by Amazon at 4 for its innumerable initiatives throughout the year. Pfizer at 5, Microsoft ranked 6th, Alibaba Group at 7th, Netflix at 8th, Tencent Holdings at 9th, and Samsung Electronics at 10.
From the leader
Anshul Sushil, CEO & Co-Founder, Wizikey, said, "Singapore is one of the fastest-growing markets for startups in South-East Asia. We wanted to understand the visibility of the MNCs in India with our new metric News Score. This report is a reflection of the year that went by and also a way to celebrate the most popular and influential startups of the year."
However, sector-wise, Banking/financial services seem to have dominated the list, followed by telecommunications and FMCG/F&B.