Imagine you had the ultimate PR calendar of the US for 2023? You would be able to plan ahead and stay on top of your game. This year's PR calendar is packed with tons of actionable insights to set your brand up for success. Our team has created a detailed, informative calendar for all professionals. This PR Calendar of the US for 2023 will help you schedule your brand's annual plan even more successfully.
Why is the PR calendar for the US for 2023 a MUST?
1. Prepare for launches: Planning your PR campaigns in advance will ensure that you get the word out soon. After all, many magazines work three months ahead. Hence, you can take advantage of that lead time to promote your campaign.
2. Use awareness days and causes: If your business is involved in a cause, it's important to keep track of scheduled awareness weeks. Subsequently, you can use these opportunities to generate attention.
3. Coordinate with other marketing activities: By planning in advance, you can coordinate your public relations activities with other marketing efforts.
4. Maintain a consistent flow of PR activities: You can build consistent PR activities instead of just one-off events. As a result, it will help you stay visible and enhance your credibility.
Having a PR calendar makes it easier for you to be proactive and less reactive. So, let's dive into the PR calendar for the US for 2023
January 2023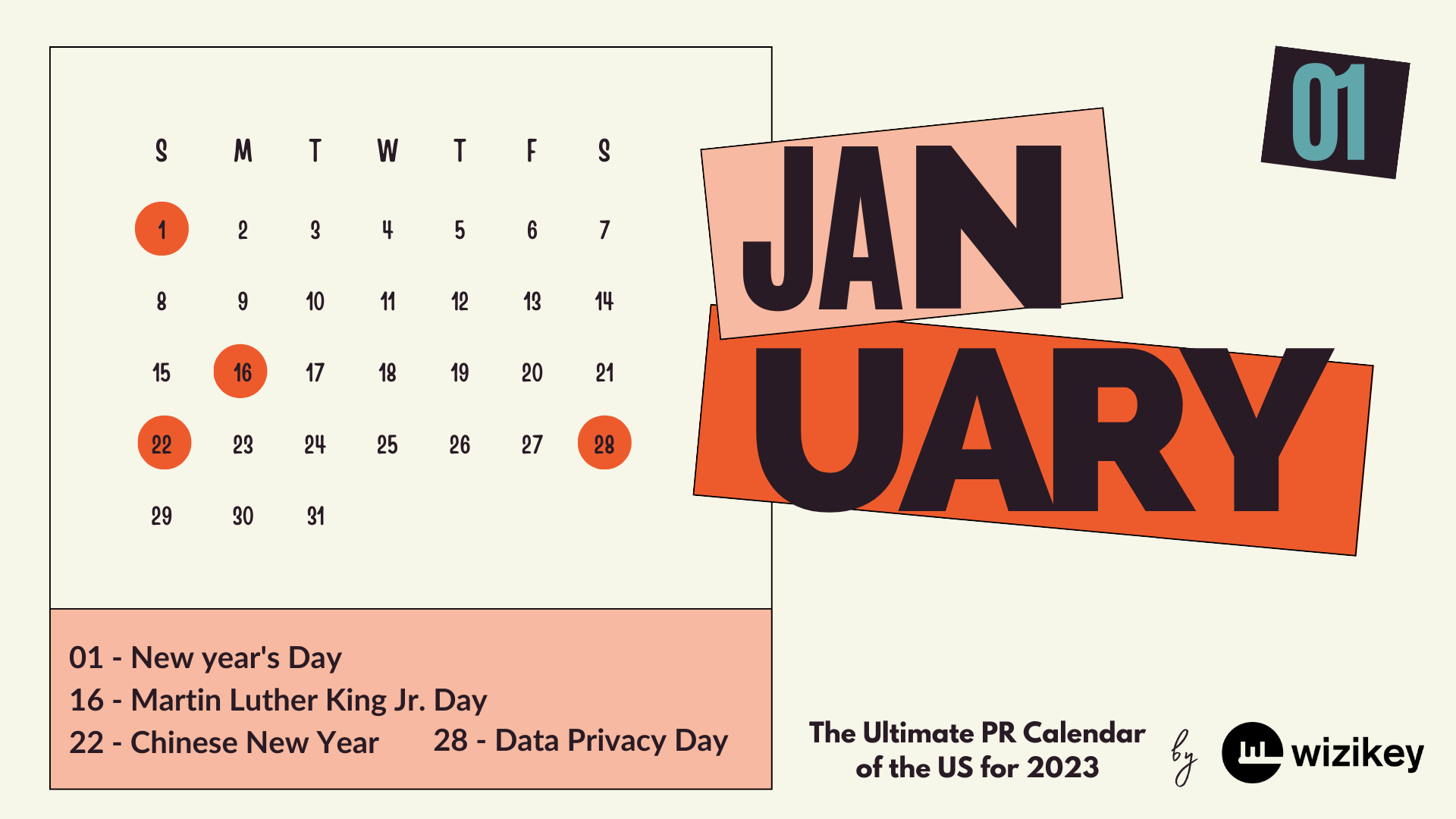 1 January, New year's Day
The first day of the year can be beneficial for setting the right tone for the rest of the year.  Furthermore, this could be an ideal time for coming up with a new communication strategy. After all, this is the time when brands revisit plans and map upcoming trends.
16 January, Martin Luther King Jr. day
In honor of Martin Luther King, take a day to volunteer or donate to a cause. Reel your audience in with conversational and educational posts.
22 January, Chinese New Year
28 January, Data Privacy Day
The purpose of Data Privacy Day is to raise awareness and promote privacy and data protection practices. Most importantly, this day is especially relevant for all internet startups and fintech businesses to associate with the cause of data privacy.
February 2023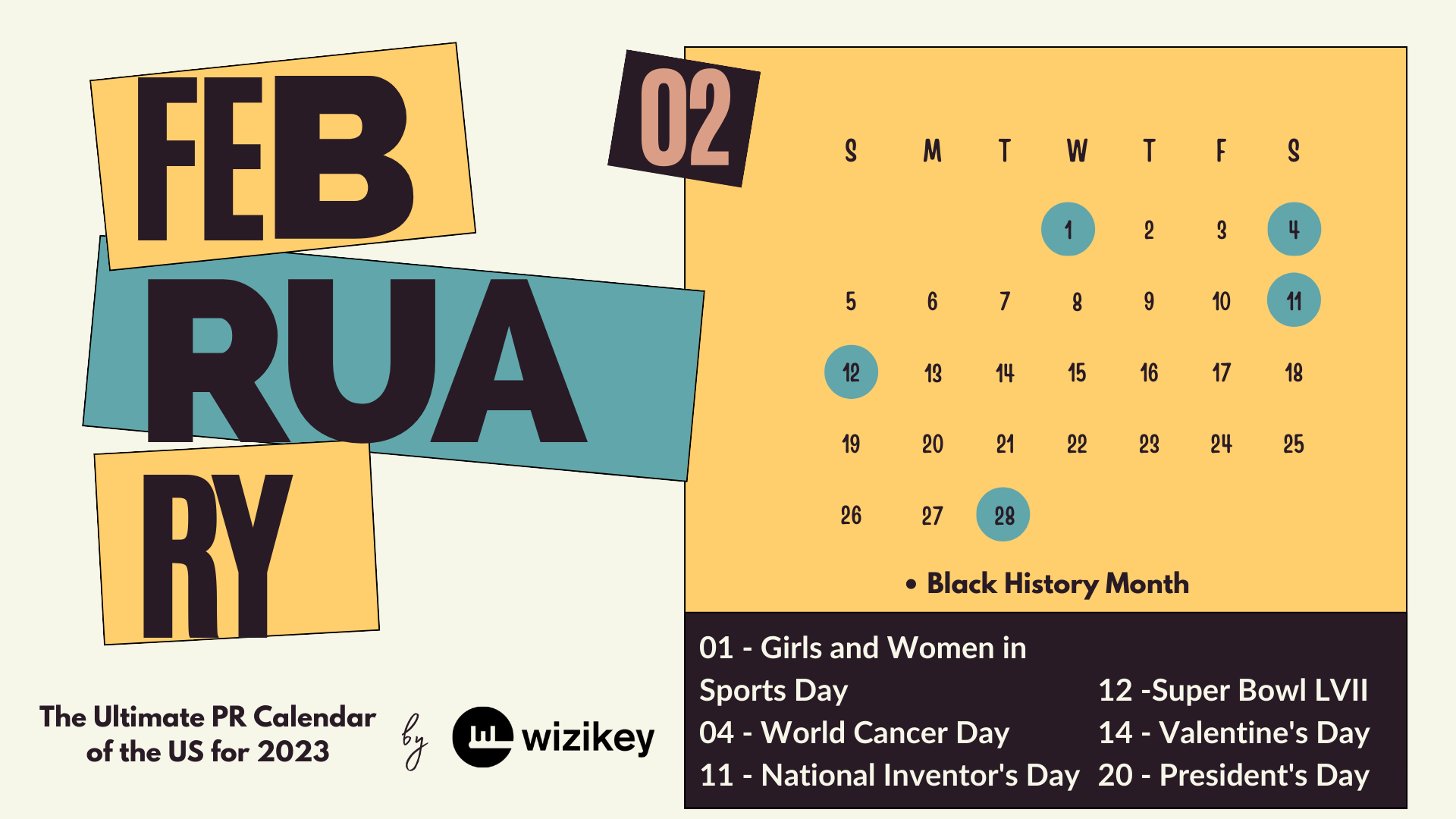 February 2023 – Black History Month PR Campaigns for the US
It's an opportunity for people to learn more about Black stories and experiences, celebrate the creative work and cultural contribution of black people, and take a deeper look at the ongoing effects of racism and negative stereotypes. This would be a great opportunity to talk about the contribution to building the brand or the industry.
1 February, Girls and Women in Sports Day
4 February, World Cancer Day
The day is dedicated to raising awareness about cancer and its prevention. Particularly, brands in health and pharma can fund relevant themes to associate with this day.
11 February, National Inventor's Day
12 February, Super Bowl LVII
14 February, Valentine's Day
Valentine's Day is a day in February when people celebrate love and affection. Brands show their creative powers by doing creative campaigns to get media mileage.
20 February, President's Day
It's time to make your business great again. You can tailor your message for millennials by using political graphics (infographics, charts, etc).
March 2023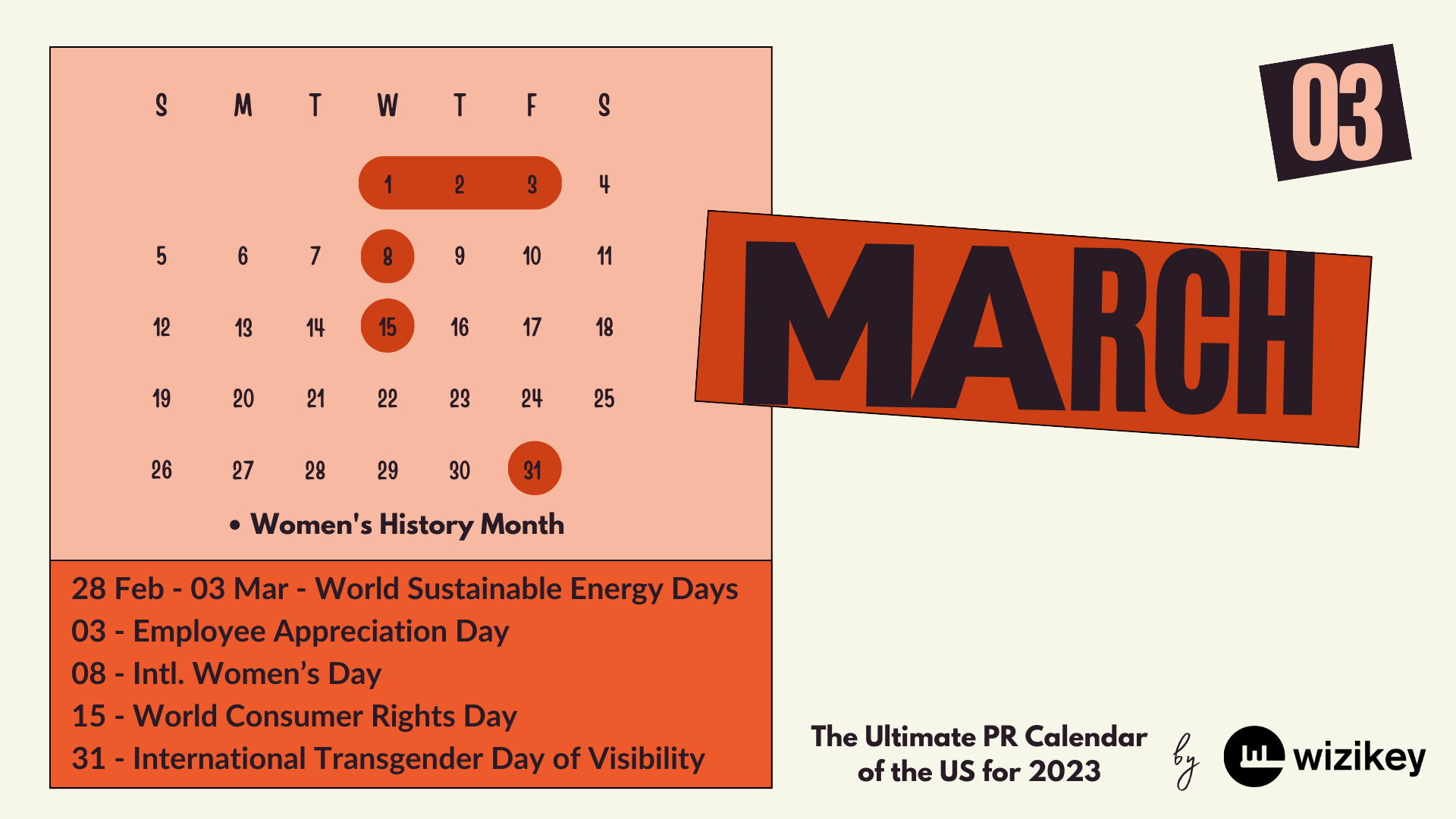 March 2023 – Women's History Month PR Campaigns for the US
It is Women's History Month, which is a time to celebrate the contributions women have made to culture, history, and society. It gives an opportunity for a brand to get an impact—to magnify the accomplishments of women and work to end gender discrimination, bias, and inequities in their current organization or the industry.
28 Feb – 3 March, World Sustainable Energy Days
3 March, Employee Appreciation Day
For many businesses, Employee Appreciation Day is a good way for brands to share the stories of their employees. Further, it is an opportunity to increase awareness around their employer's support programs.
8 March, International Women's Day
International Women's Day is a global day celebrating women's achievements across domains. Accordingly, campaigns usually center around the causes of women's empowerment. In addition, it is a great opportunity for women-centric brands to stand for the cause.
15 March, World Consumer's Rights Day
This day champions the cause of consumer rights. The news focuses on new practices that have a direct impact on consumer rights.
31 March, International Transgender Day of Visibility
April 2023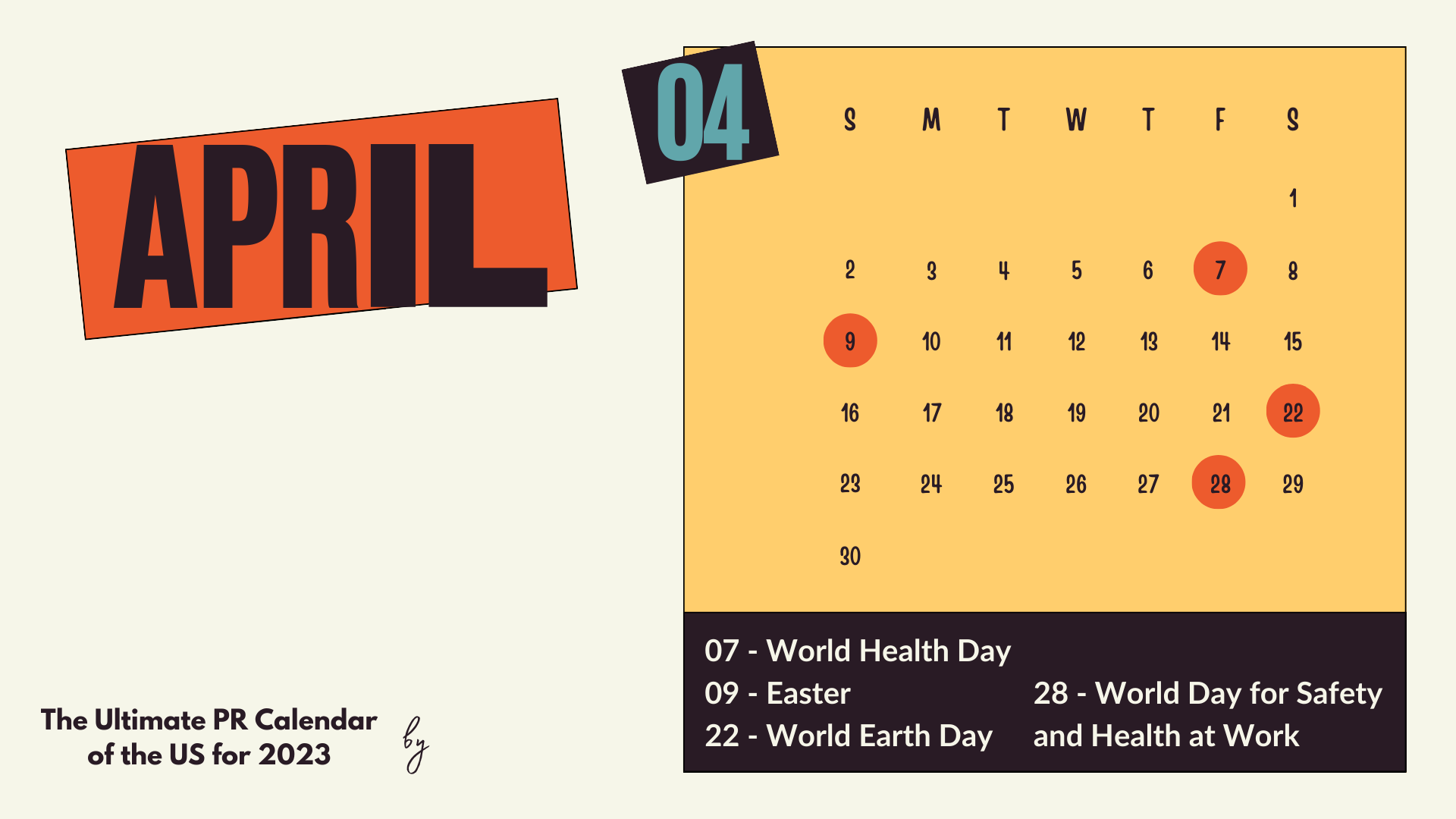 7 April, World Health day
World Health Day is a global health awareness day. Again, this is a great opportunity for campaigns based on the theme of health and earning media mileage.
9 April, Easter
22 April, World Earth Day
Earth Day is an annual event celebrated around the world on April 22 to demonstrate support for environmental protection. On this day, news in the media centers around themes of environmental protection.
28 April, World Day for Safety and Health at Work
May 2023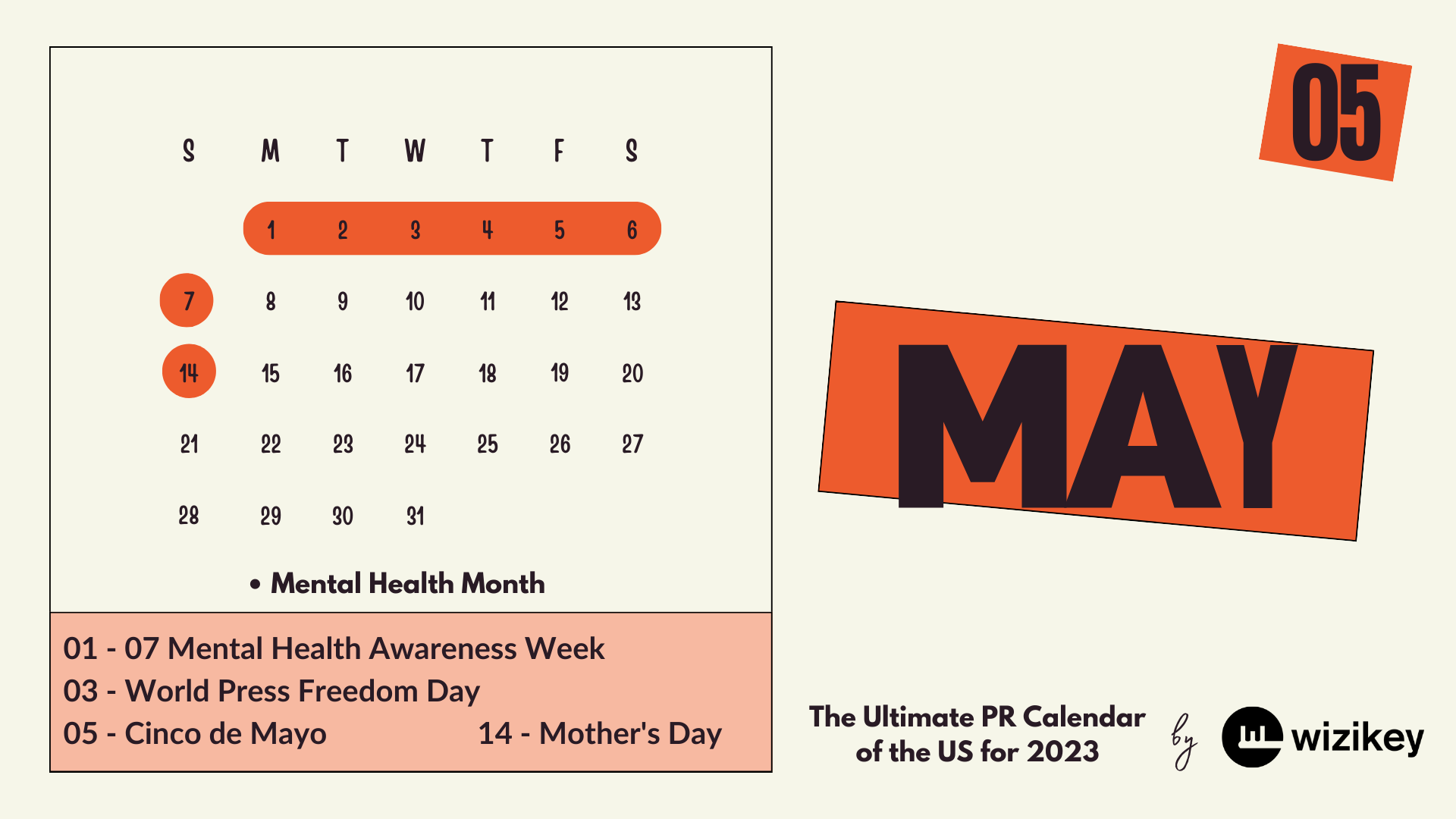 May 2023 – Mental Health Month PR Campaigns for the US
01 – 07 May, Mental Health Awareness Week PR Campaigns for the US
May is the perfect time to raise awareness for mental health conditions and encourage those struggling to seek treatment. For brands, mental health awareness campaigns aren't necessarily efforts to get more businesses, they're brand-building exercises in standing up for the things that really matter and talking about steps they took in their organization. They can also be a way of building brand loyalty, speaking from the heart, and authentically connecting with consumers.
3 May, World Press Freedom Day
The United Nations General Assembly declared May 3 to be World Press Freedom Day. It aims to raise awareness about the importance of freedom of the press and uphold the right to their freedom of expression. Consequently, media houses, publications, and content creators should leverage this opportunity to do their own PR.
5 May, Cinco de Mayo
14 May, Mother's day
Mother's Day celebrates the unmatchable and vital role of a mother. As a result, brands across the globe channel their creative powers and come out with amazing campaigns.
June 2023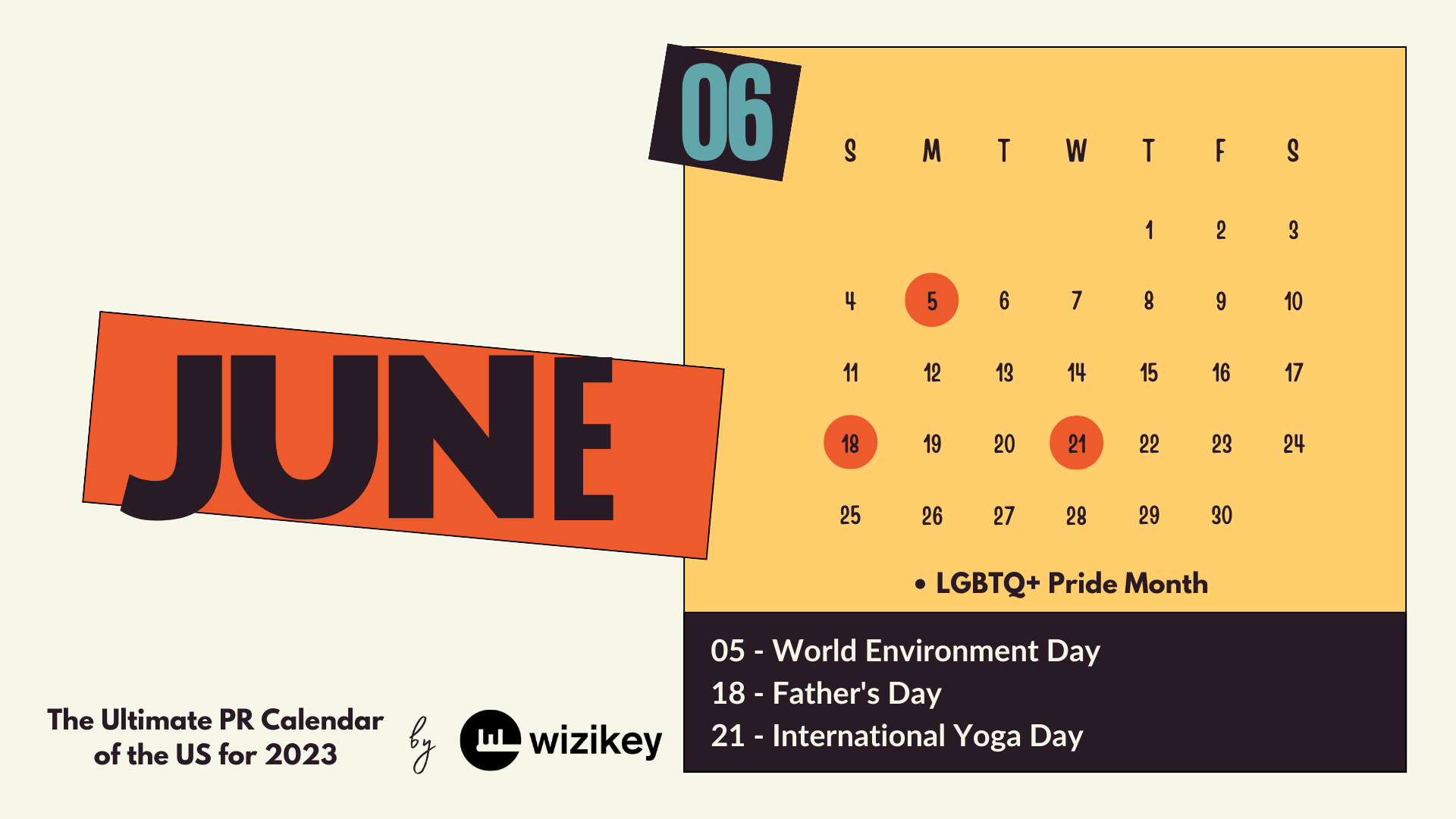 5 June, World Environment Day
This day is marked by the United Nations (UN) to create awareness about protecting the environment. For this purpose, a number of brands launch campaigns and initiatives championing the cause of the environment.
18 June, Father's Day
This is a day celebrating fathers and their contributions. In short, brands whose target audience comprises fathers can do campaigns that celebrate fatherhood.
21 June, International Yoga Day
International Yoga Day celebrates yoga, the importance of fitness, and the numerous health benefits that arise from it. To this end, news revolves around expert tips on fitness and health-focused campaigns by brands.
July 2023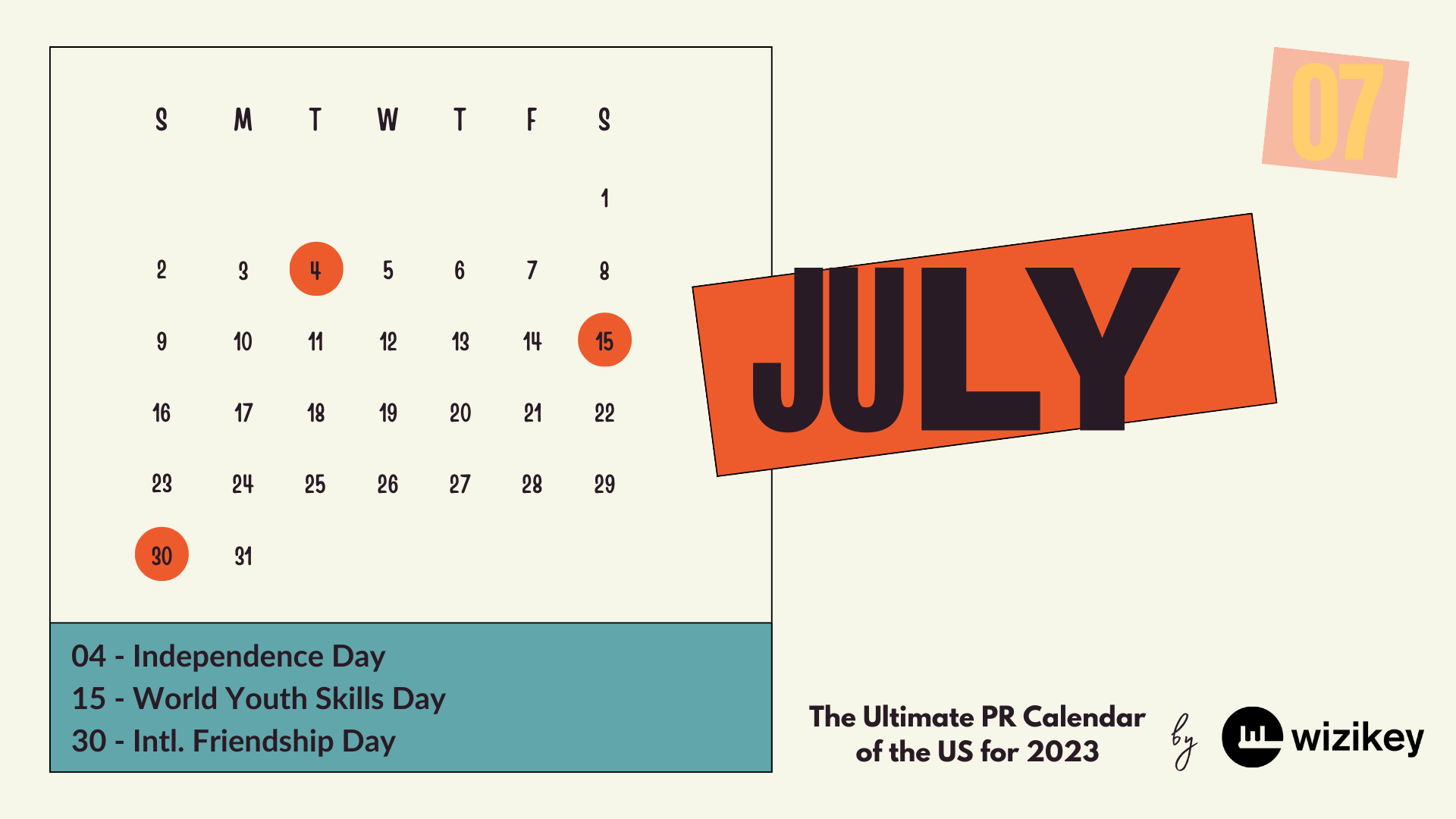 4 July, Independence Day
It's a time to celebrate America and what it stands for use this to tell stories about where you're from and convey your brand's values and arouse patriotism through PR.
15 July, World Youth Skills Day
30 July, International Friendship Day
A day that celebrates the golden relationship of friends throughout the world. Additionally, brands launch many challenges, polls, competitions, etc in which people can participate with their friends.
August 2023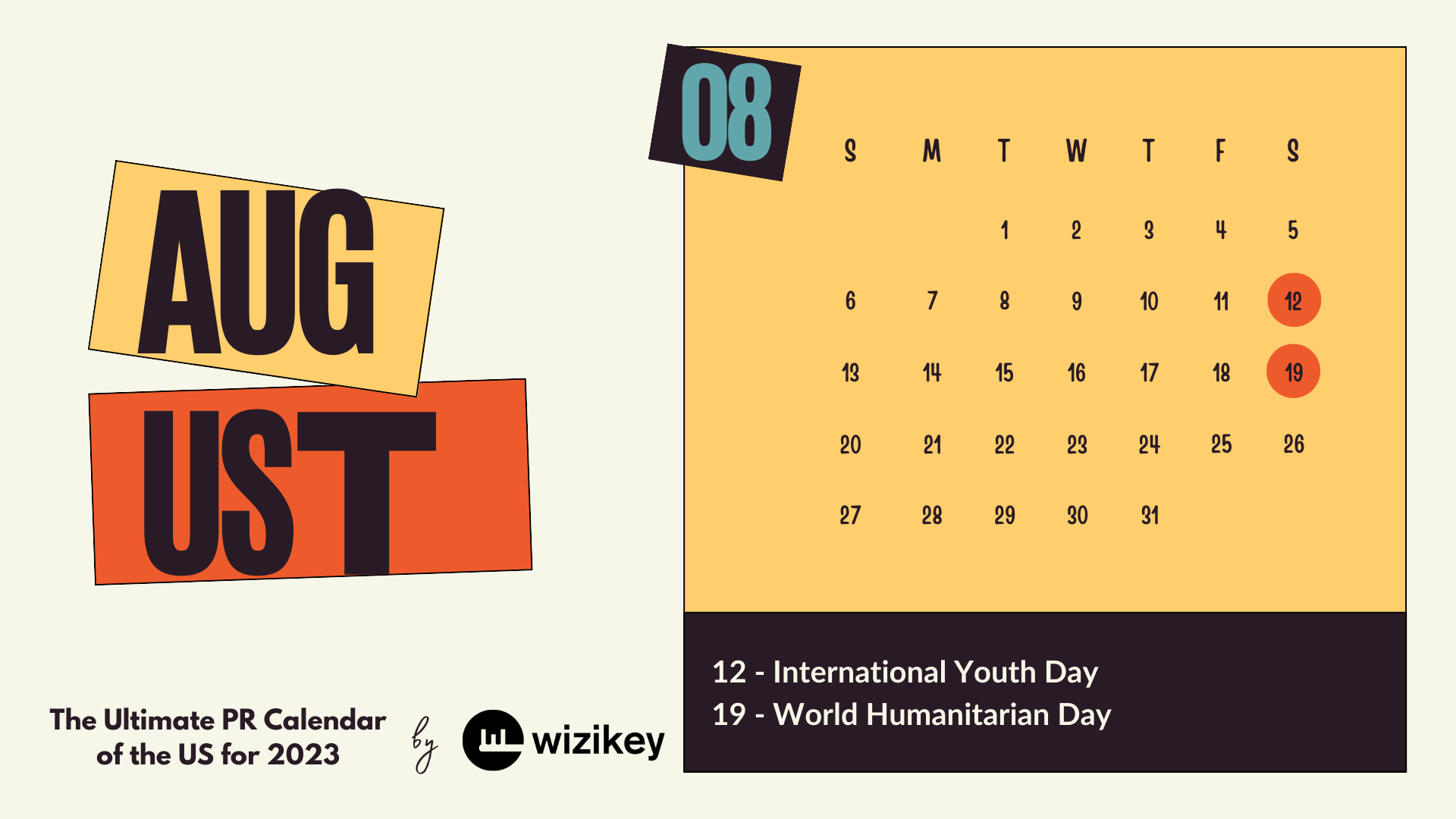 12 August, International Youth Day
This day celebrates around 2 million youth present in today's world. Each year the UN outlines a new issue concerning the welfare of youth.
19 August, World Humanitarian Day
Humanitarian personnel who lost their lives serving humanitarian causes are remembered on this day. Subsequently, brands also show their appreciation and encourage people to participate in humanitarian acts.
September 2023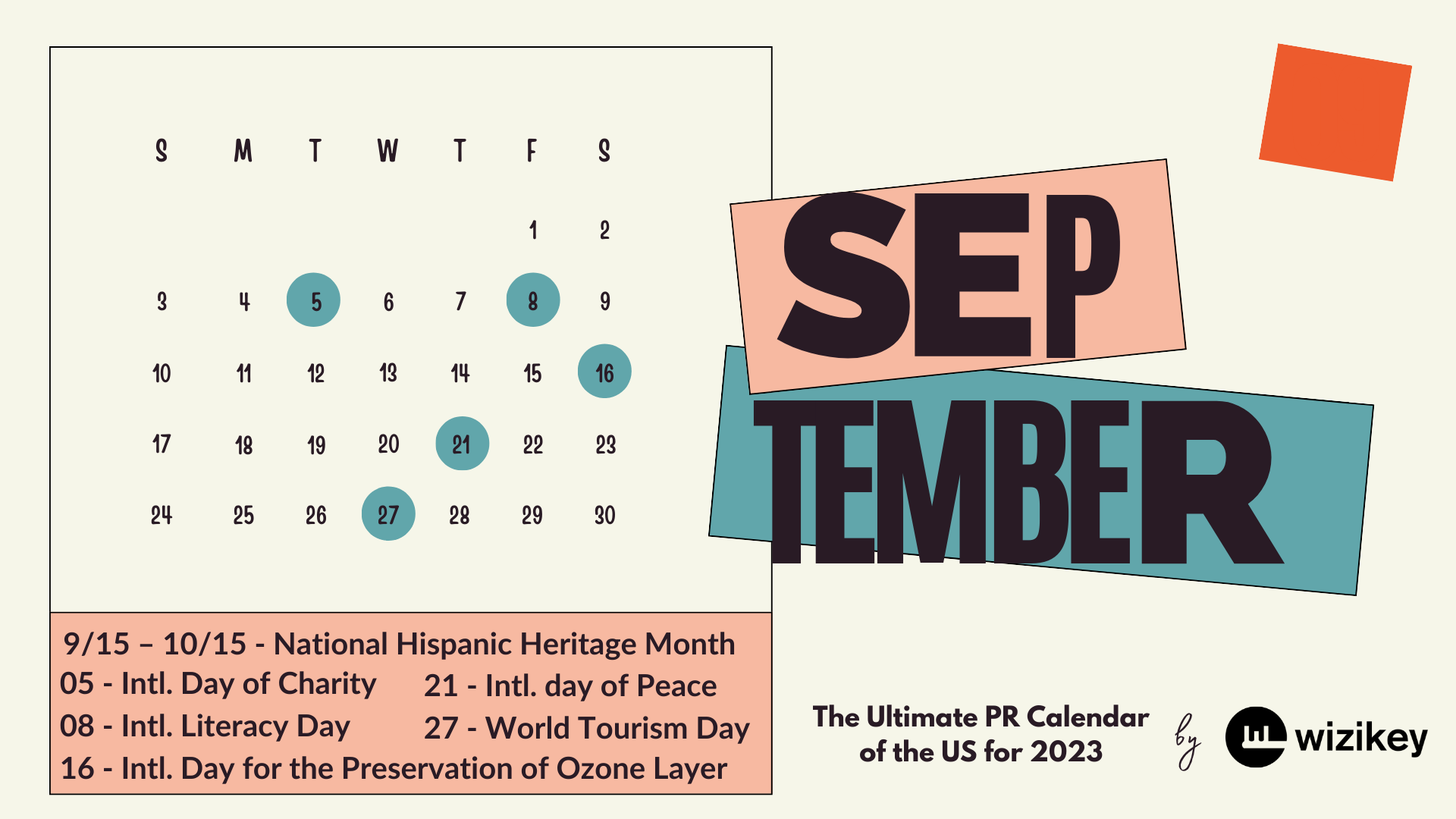 15 Sep 2023 – 15 October 2023 – National Hispanic Heritage Month
5 September, International Day of Charity
8 September, International Literacy Day
The importance of literacy is underlined on this day. Thus, brands focus on showing the power and need for literacy and the role it can play in the growth of a country.
16 September, International Day for the Preservation of Ozone Layer
This day is a reminder that the depletion of the Ozone Layer. It is one of the biggest environmental concerns faced by the world today. And, brands do stories that focus on how pollution can be reduced in the world. 
21 September, International day of Peace
27 September, World Tourism Day
This day highlights the importance of tourism for countries' economies and humans too. Hence, hotels, airlines, and other companies that profit from tourism are in the spotlight on this day.
October 2023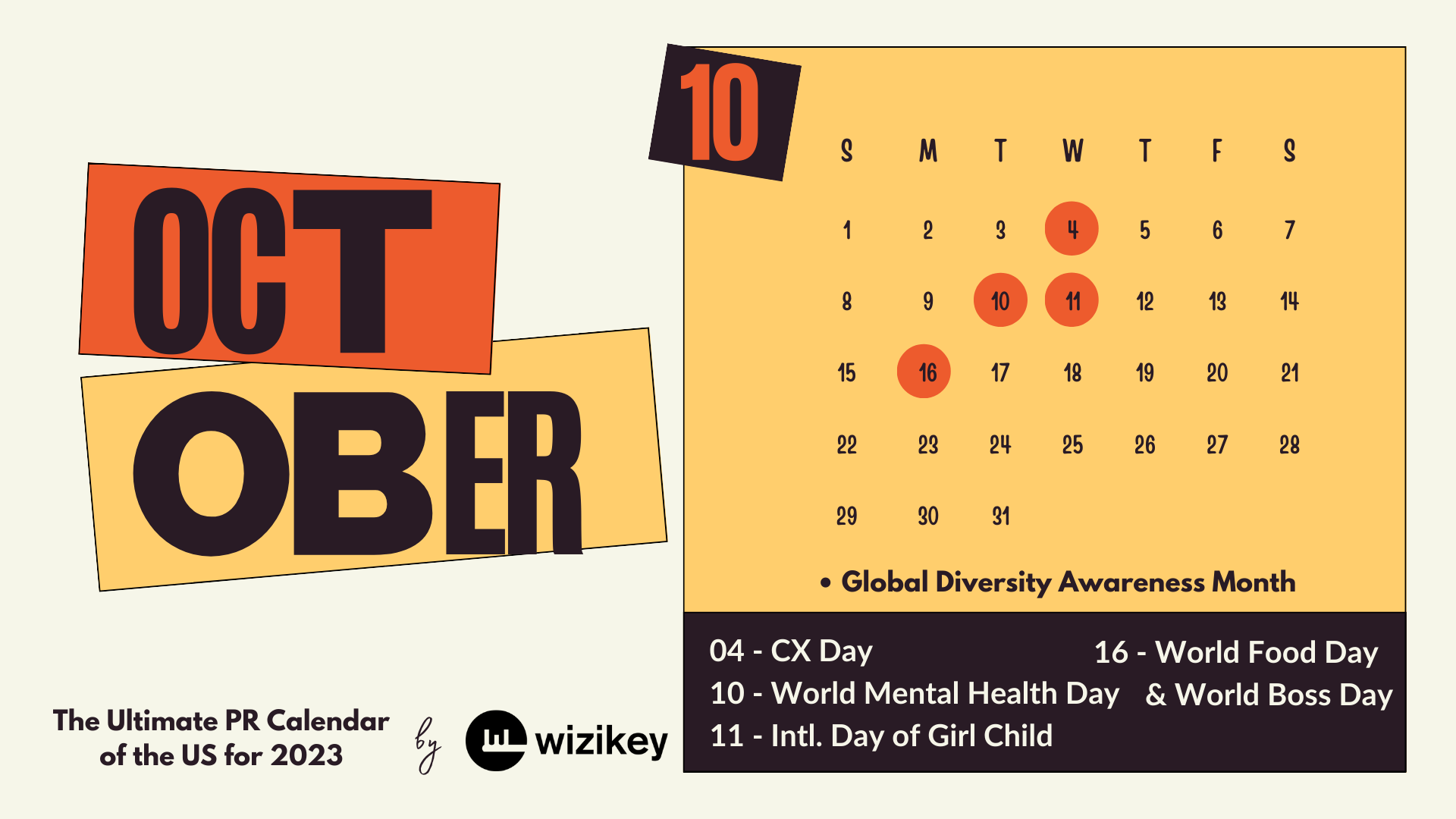 October 2023 – Global Diversity Awareness Month PR Campaigns for the US
04 October, CX Day
10 October, World Mental Health Day
This day raises awareness of mental health issues. Thus, encouraging people to remove the taboo surrounding it. In a similar fashion, brands celebrate people who have been through mental health issues.
11 October, International Day of the Girl Child
The girl child is put into focus on this day. On this day, issues regarding equal rights are put forward. Often, companies share their support for increasing opportunities for girls.
16 October, World Food Day
The Food and Agriculture Organization of the United Nations was established on this day. Notably, food companies leverage this and conduct several activities surrounding the day.
16 October, World Boss Day
This day is celebrated to appreciate bosses for their support to employees. In fact, it is a wonderful opportunity for brands to do humorous campaigns and PR stunts celebrating bosses. Furthermore, this is also an opportunity to do internal PR in organizations.
November 2023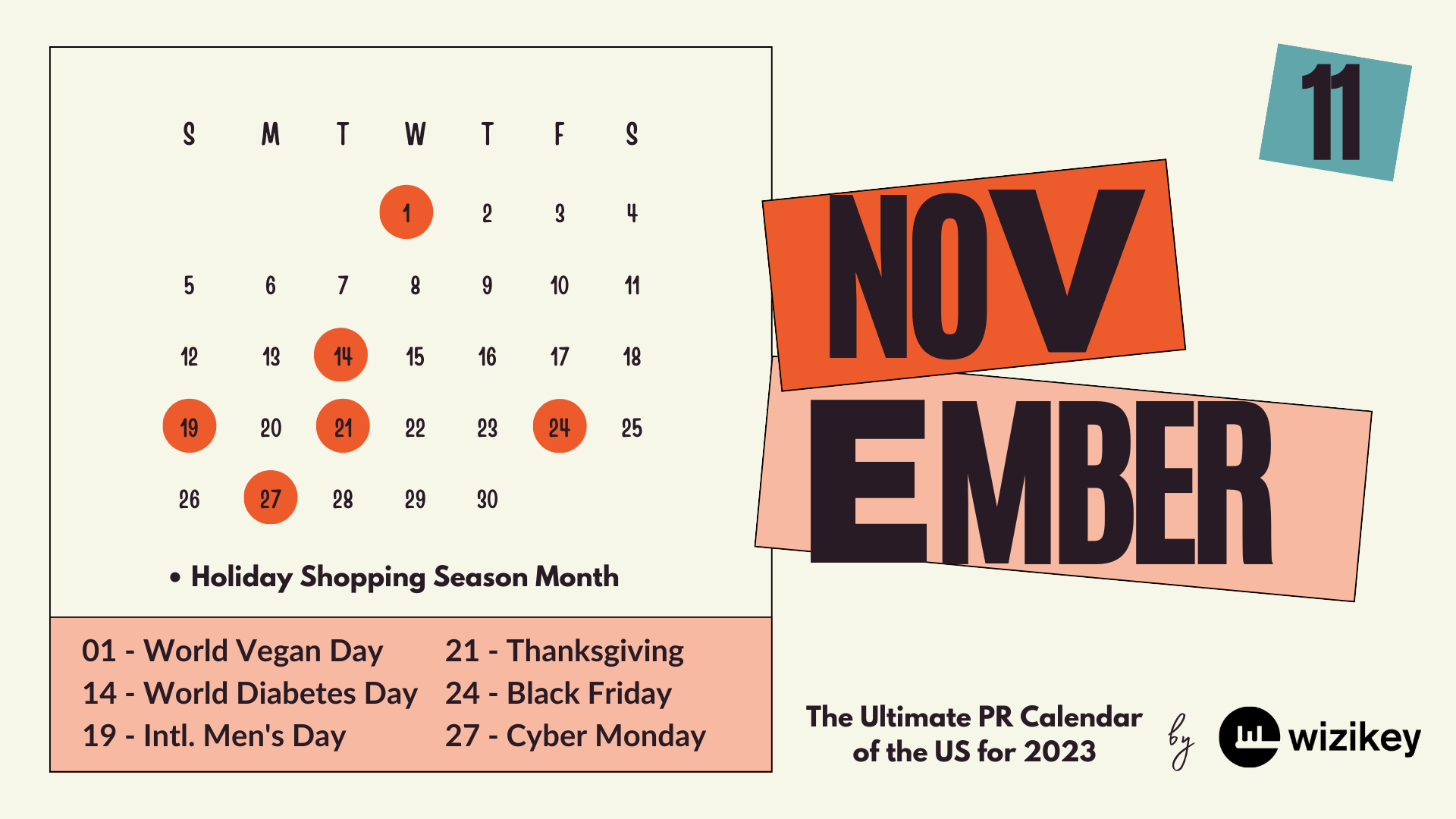 November 2023 – Holiday Shopping Season Month
1 November, World Vegan Day
14 November, World Diabetes Day
This day raises awareness about diabetes. Many events are held on this day to encourage the detection and prevention of diabetes.
19 November, International Men's Day
This day is celebrated to appreciate, honor and celebrate the men and the roles they play in the family and society. In other words, brands often come up with campaigns celebrating soldiers and fathers.
21 November, Thanksgiving
24 November, Black Friday
27 November, Cyber Monday
December 2023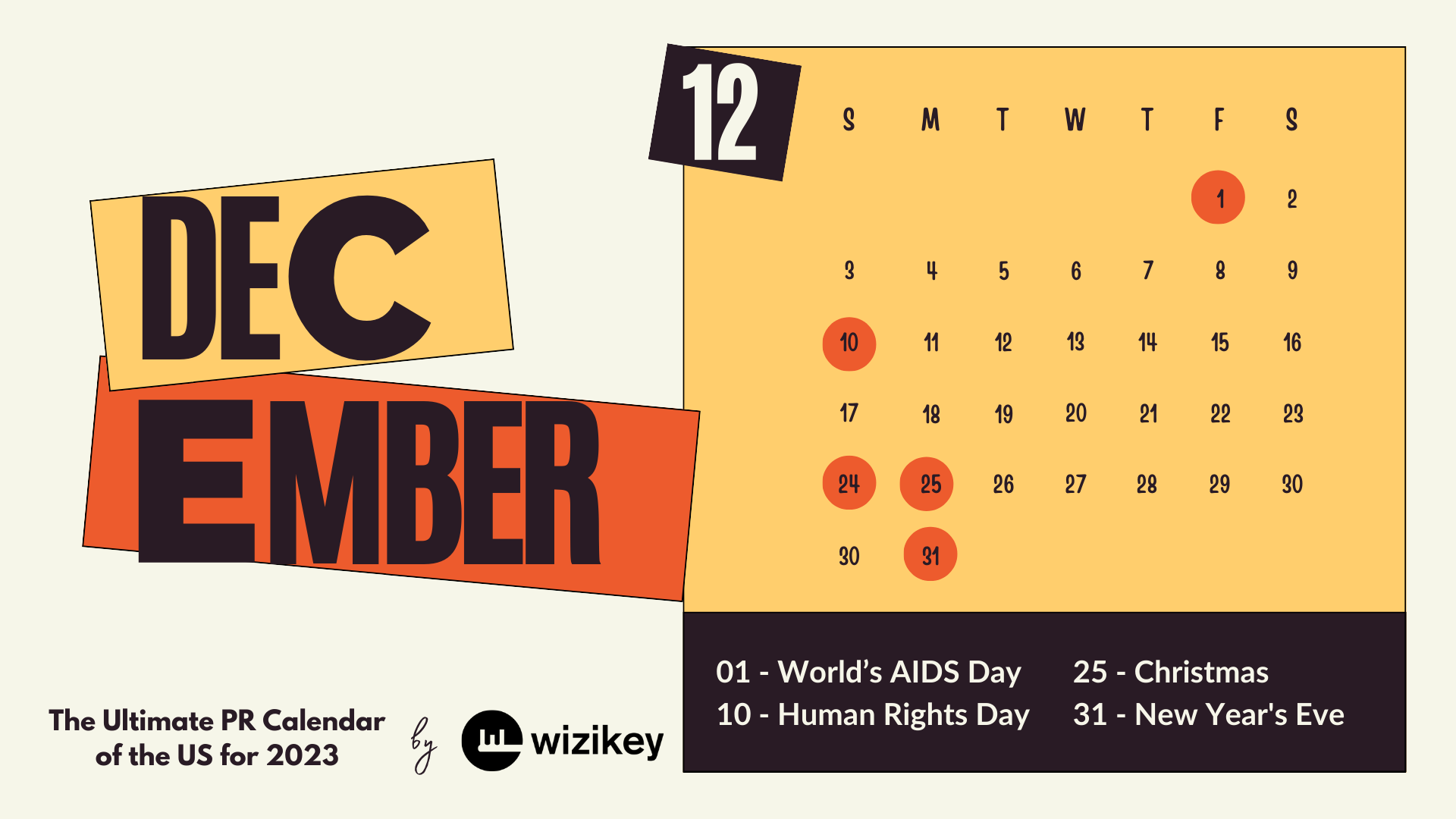 1 December, World's AIDS Day
This day raises awareness of AIDS and remembers those who lost their lives due to the condition. In all honesty, organizations share information about the prevention and control of HIV. With this intention, campaigns also focus on breaking the stigma against the victims and survivors.
10 December, Human Rights Day
Human Rights Day is celebrated to show unity for the protection of basic human rights and freedoms. Brands use this day to promote human rights.
25 December, Christmas
Christmas is the biggest festival for Christians. It marks the birth of Jesus Christ. Many deals and discounts are offered by brands on this day. Articles and blogs on buying the perfect Christmas gift are shared on digital news and social media.
31 December, New Year's Eve
Best time to execute End of year campaigns for your brand
That's the end of our PR calendar for the US for 2023.
Register to Wizikey and see insights on how other brands are telling their brand stories to reach out to the most relevant journalists and get covered.
Also, check out: The Ultimate PR Calendar of India for 2023
Check out Social Media Calendars for 2023
The Ultimate Social Media Calendar for 2023 for India
The Ultimate Social Media Calendar for 2023 for the US