It's no secret that social media is growing in popularity, and with this growth comes the need to plan out your social media calendar. A social media calendar is a helpful tool for scheduling posts on various platforms and keeping track of the best times to post. You might not be able to see everything that happens daily, but you can certainly follow the trends and patterns. The Social Media Calendar 2023 for the US makes sure that you can easily outline your goals for the year and strategically assign which platforms will support them best.
Why should you look forward to the social media calendar of 2023? Why it is important to have the calendar handy?
We're all aware that social media is vital for your brand. But it can become a time-suck and drain on your sanity. It turns out that the more you post, the more followers you have and thus more visibility for your content. Having a social media calendar is a great way to keep track of your posts and make sure you are posting the content and campaigns that will be most relevant to your audience.
So, let's dive right into the Ultimate Social Media Calendar 2023 for the US:
Social Media Calendar for the US – January 2023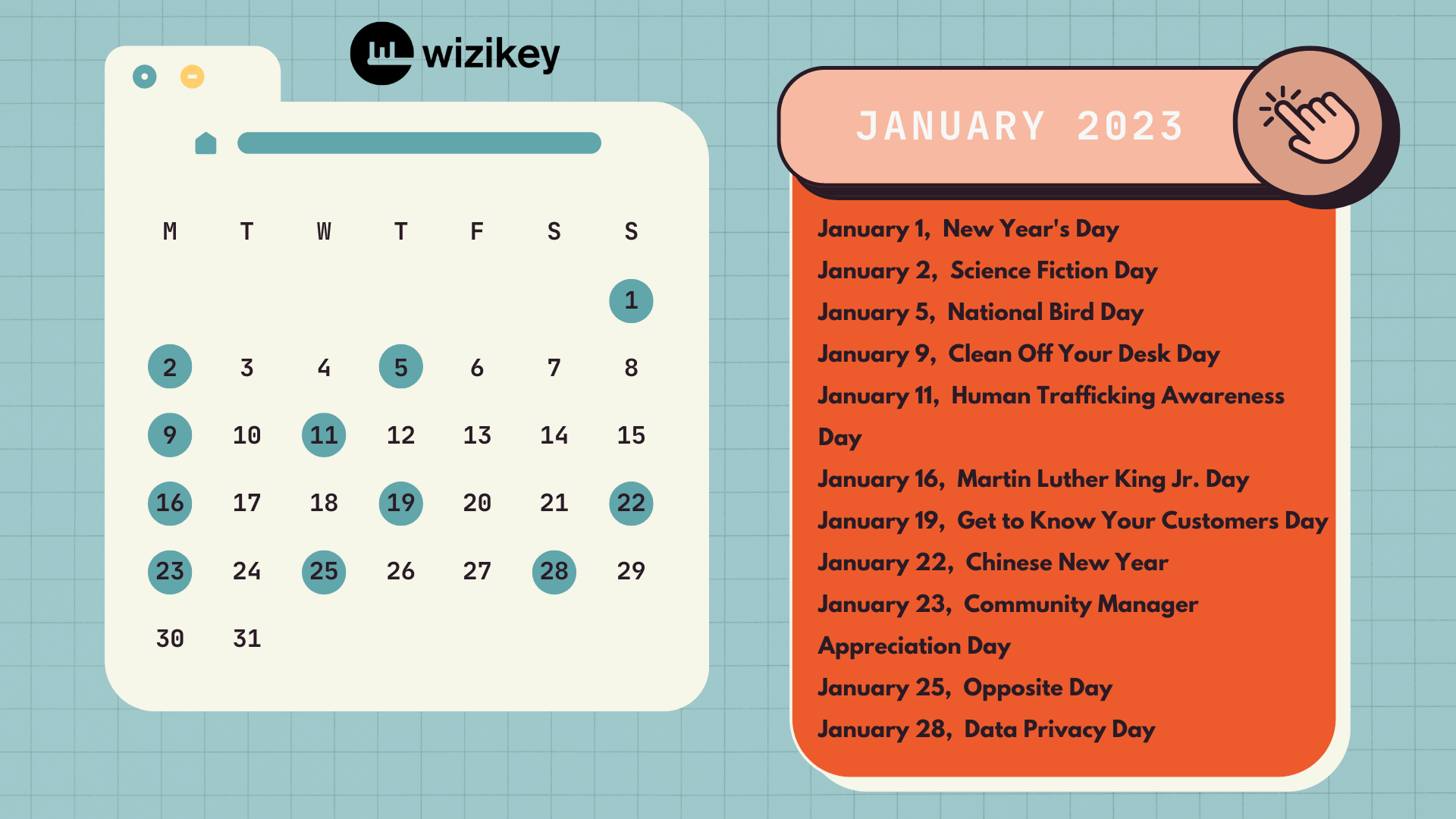 January 1, New Year's Day
January 1st is a fresh start for you and your audience. Engage your audience by sharing your goals for the new year.

January 2, Science Fiction Day
Honoring writer Isaac Asimov, Science Fiction Day is celebrated by many science fiction fans around the world. You can build an engaging post around the same where you can ask your audience to comment about their favorite science innovations in the section which will help you in increasing the reach of your post.

January 5, National Bird Day
January 9, Clean Off Your Desk Day
January 11, Human Trafficking Awareness Day
January 16, Martin Luther King Jr. Day (Third Monday in January)
In honor of Martin Luther King, take a day to volunteer or donate to a cause. Reel your audience in with conversational and educational posts.

January 19, Get to Know Your Customers Day (Third Thursday in Every Quarter)
January 22, Chinese New Year
January 23, Community Manager Appreciation Day (Fourth Monday in January)
January 25, Opposite Day
January 28, Data Privacy Day
Social Media Calendar for the US – February 2023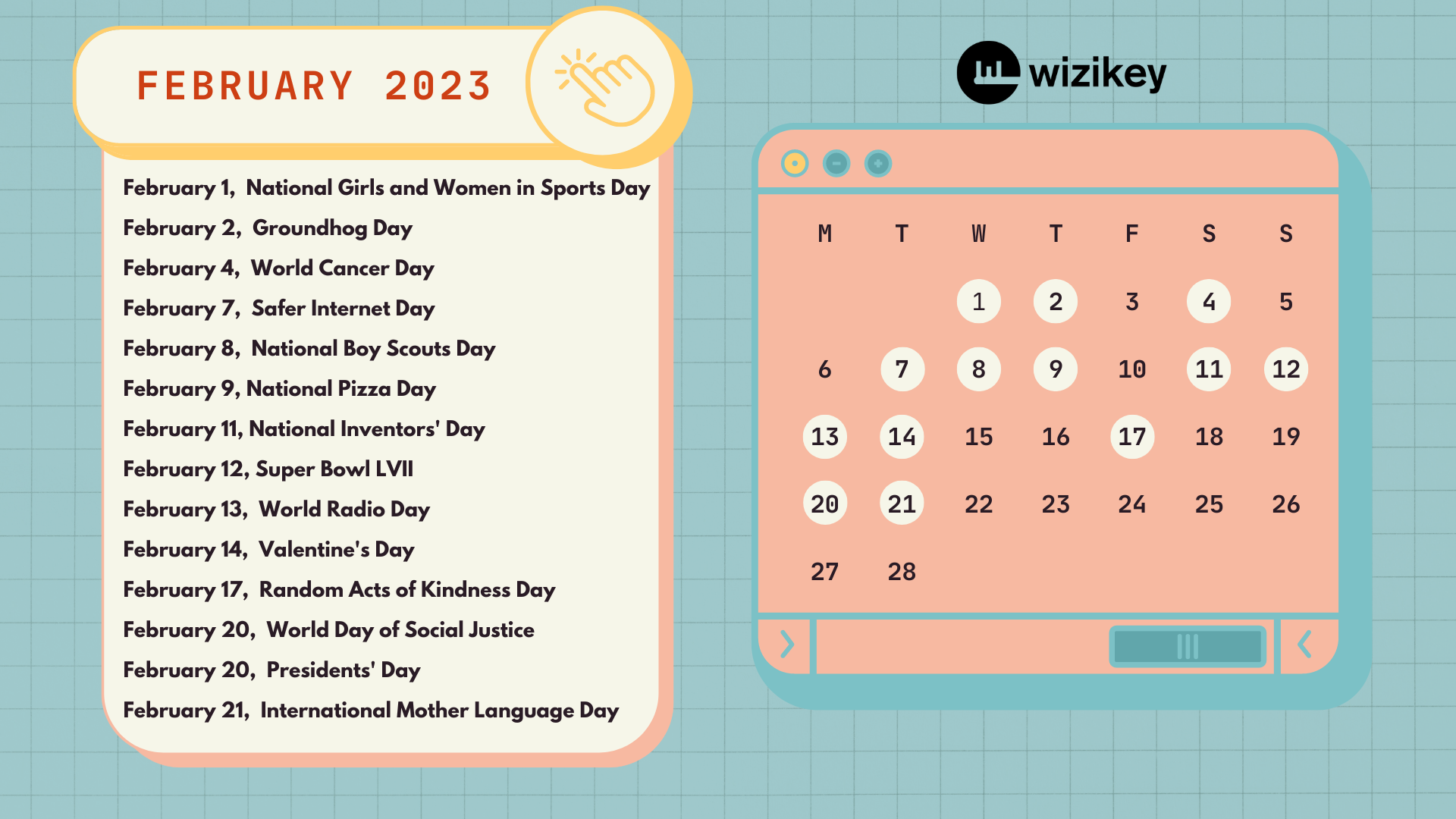 February 1, National Girls and Women in Sports Day
February 2, Groundhog Day
Groundhog Day is a condition of being stuck in a pattern of behavior. It's a special day to predict what the spring will bring. Start a discussion on Twitter using hashtags.

February 4, World Cancer Day
If your history textbooks hadn't done the job, we're sure your holiday calendar must have etched this day in your memory. January 26 is a great day to engage with your social audience and re-ignite the patriotic feeling within your audience.

February 7, National Send a Card to a Friend Day
February 7, Safer Internet Day
February 8, National Boy Scouts Day
February 9, National Pizza Day
Pizza isn't just-food. It's a love language. To those who understand the power of pizza, this day is a brilliant opportunity to collect all pizza lovers under one comment section.

February 11, National Inventors' Day
February 12, Super Bowl LVII
February 13, World Radio Day
February 14, Valentine's Day
There are plenty of relationships and milestones that deserve celebration. Brands can plan the order of posts in the lead up to February 14thand use #LoveFrom and #ValentinesDay.

February 17, Random Acts of Kindness Day
This unique day is ideal for doing something kind for people you know. In addition, you can build your content around motivating people to be more compassionate and kind towards each other.

February 20, World Day of Social Justice
February 20, Presidents' Day (Third Monday in February)
It's time to make your business great again. You can tailor your message for millennials by using political graphics (infographics, charts, memes).

February 21, International Mother Language Day
Social Media Calendar for the US – March 2023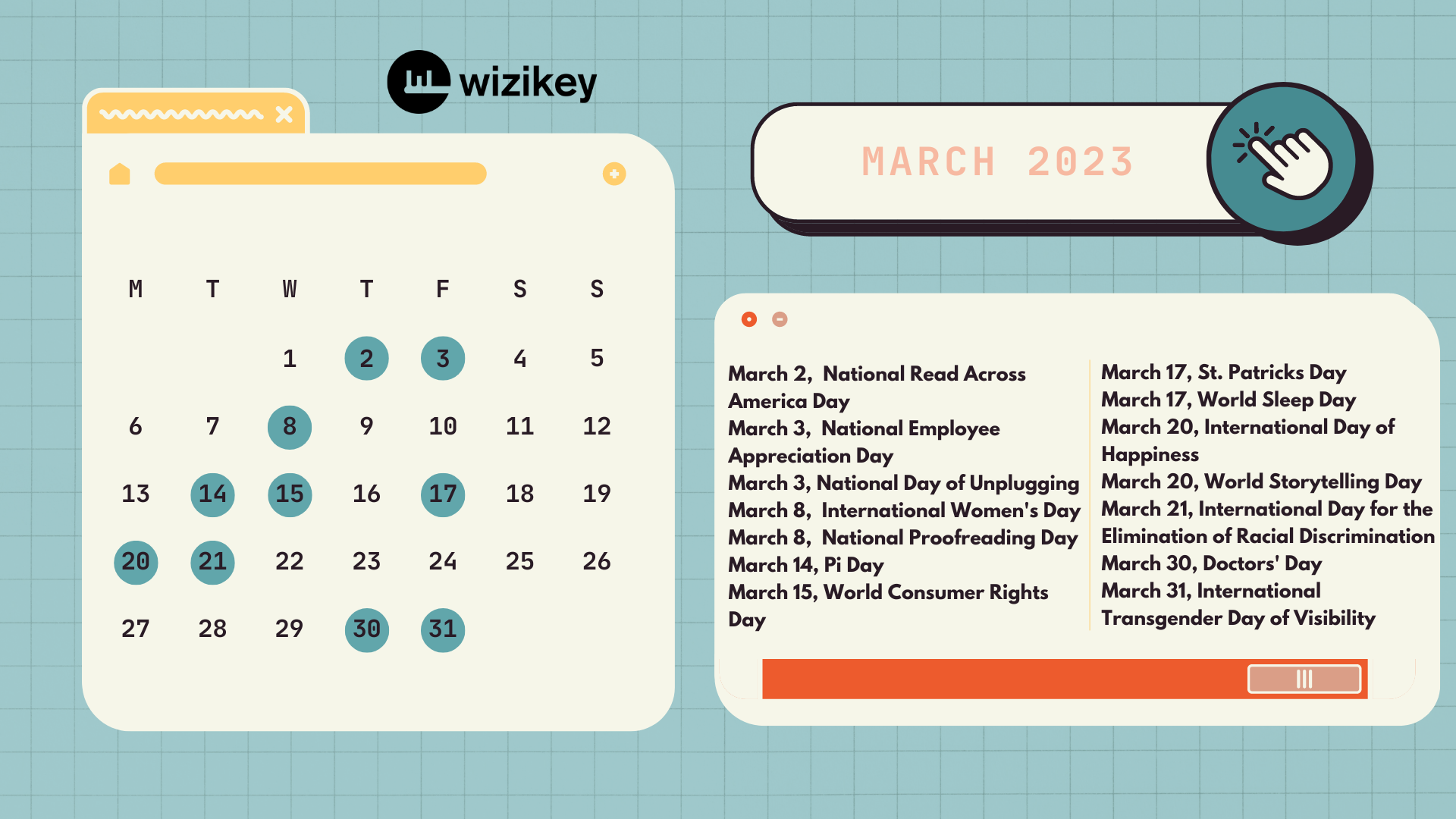 March 2, National Read Across America Day
March 3, National Employee Appreciation Day (First Friday in March)
March 3, National Day of Unplugging (First Friday in March)
March 8, International Women's Day
This day celebrates women and their importance in the world. Brands can engage with their audience by highlighting the powerful women that society has seen over the years which will motivate young women and will inspire them to be one.

March 8, National Proofreading Day
March 14, Pi Day
March 15, World Consumer Rights Day
This day is celebrated to increase awareness about consumer rights around the world. Likewise, you can educate your audience to be aware consumers.

March 17, St. Patricks Day
Join the worldwide party and put on some green and share your story on Instagram! Use green and gold as your colors to bring a festive atmosphere to all your posts.

March 17, World Sleep Day
This is the exact trend spotting that will keep your social media game on track. There is no one who'll ever complain about getting that extra 5 min of sleep, you can use this opportunity to create a funny post around this.

March 20, International Day of Happiness
The kind of problems that we all have seen in the past few years, we need to celebrate days like these just to remind people that our ultimate goal should just be to #behappy.

March 20, World Storytelling Day
March 21, International Day for the Elimination of Racial Discrimination
March 30, Doctors' Day
March 31, International Transgender Day of Visibility
Social Media Calendar for the US – April 2023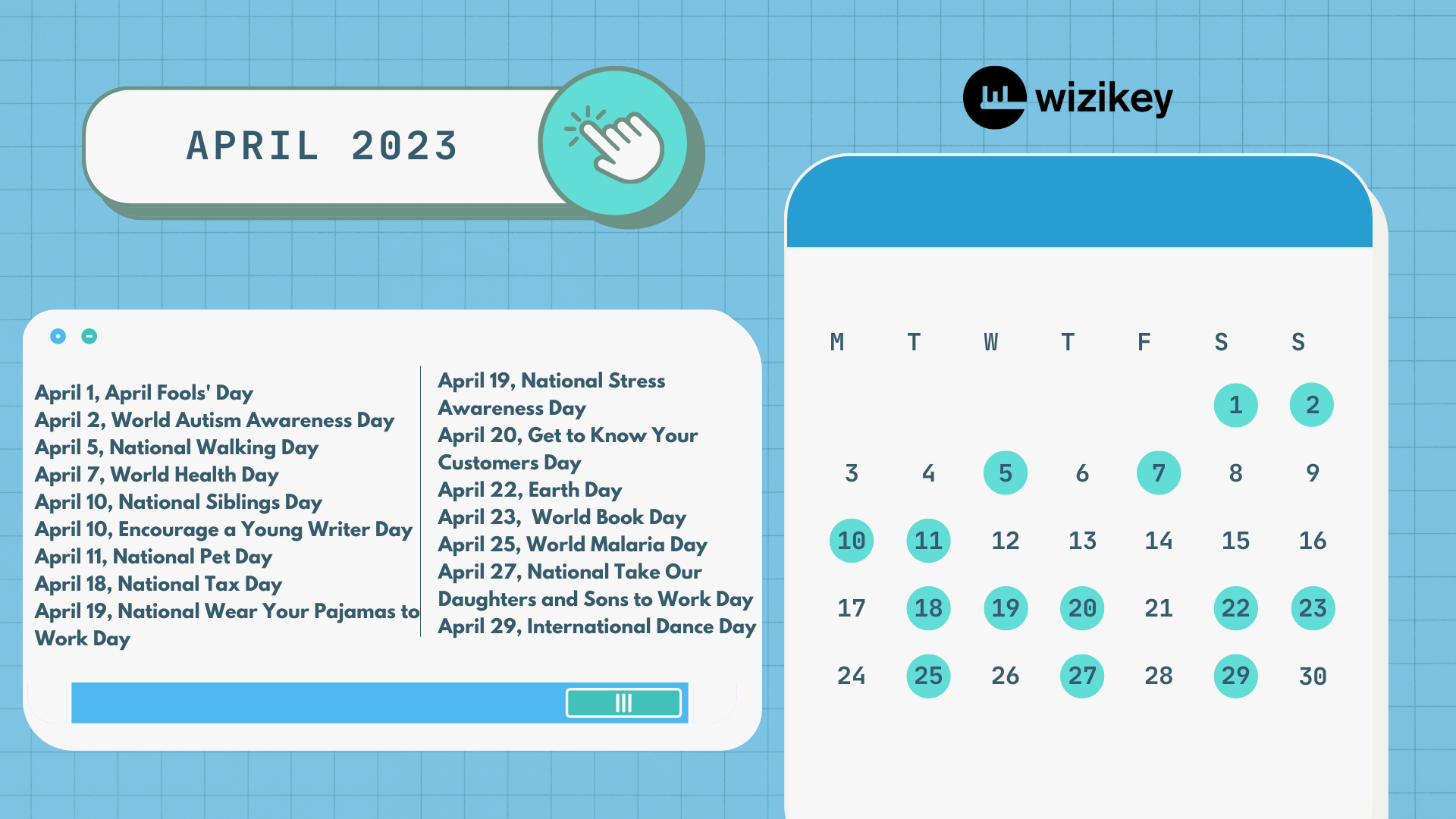 April 1, April Fools' Day
It's time to bring out the prankster in you because today is your day to let loose. And brands are no exception, campaigns can be focused on practical jokes.

April 2, World Autism Awareness Day
April 3, Find a Rainbow Day
April 5, National Walking Day (First Wednesday in April)
April 7, World Health Day
April 10, National Siblings Day
April 10, Encourage a Young Writer Day
This day promotes Global Health Awareness. It's the best day to position your brand with the healthcare media.

April 11, National Pet Day
April 18, National Tax Day
April 19, National Stress Awareness Day
April 19, National Wear Your Pajamas to Work Day
April 20, Get to Know Your Customers Day (Third Thursday of Every Quarter)
April 22, Earth Day
Earth Day is a great way to get your company's name out there. Talk about how you're helping to make a difference.

April 23, World Book Day
April 25, World Malaria Day
April 27, National Take Our Daughters and Sons to Work Day (Fourth Thursday in April)
April 29, International Dance Day
Social Media Calendar for the US – May 2023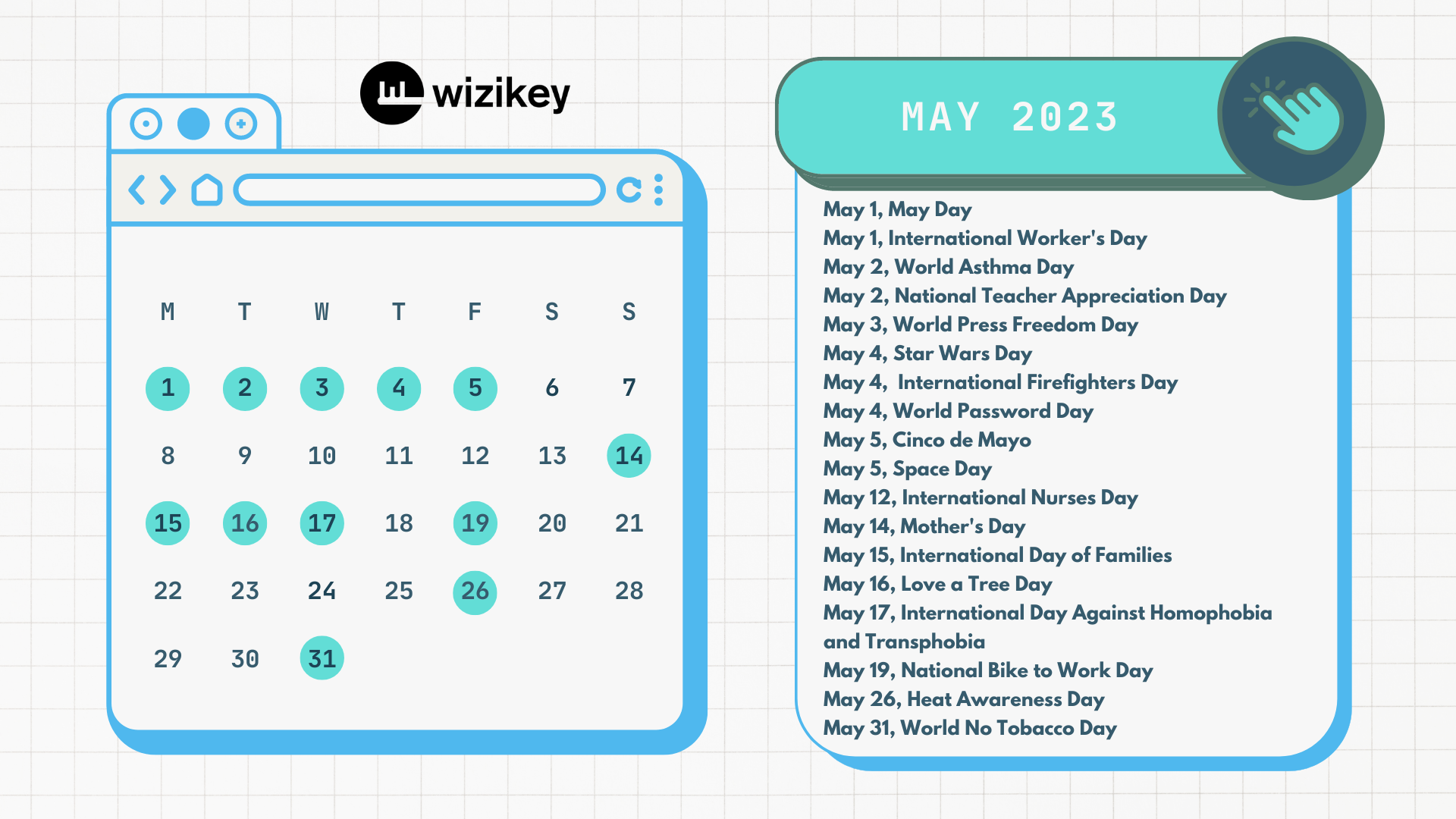 May 1, May Day
This month starts strong with International Workers Day, also referred to as May Day. In fact, this day should definitely be one of the most important in your social media calendar as it's a day of commemoration of the labor movement, its struggles, and its wins.

May 2, World Asthma Day (First Tuesday in May)
May 2, National Teacher Appreciation Day
May 3, World Press Freedom Day
May 4, Star Wars Day
This day celebrates the famous sci-fi franchise Star Wars, which has thousands of fans around the world. It being a big franchise, with one post you can target a larger set of audiences.

May 4, International Firefighters Day
May 4, World Password Day
May 5, Cinco de Mayo
May 5, Space Day (First Friday in May)
May 12, International Nurses Day
May 14, Mother's Day (Second Sunday in May)
Let's celebrate moms, and make sure they know we appreciate everything they do for us. Appeal to your audiences' emotions by including a photo showing the user's special relationship with their mother.

May 15, International Day of Families
A globalized man has a very small tribe, but it's important to celebrate it nonetheless. Uniquely, this day reminds us to appreciate those we take most for granted, yes that's right – our families.

May 16, Love a Tree Day
May 17, International Day Against Homophobia and Transphobia
May 19, National Bike to Work Day (Third Friday in May)
May 26, Heat Awareness Day (Last Friday in May)
May 31, World No Tobacco Day
Social Media Calendar for the US – June 2023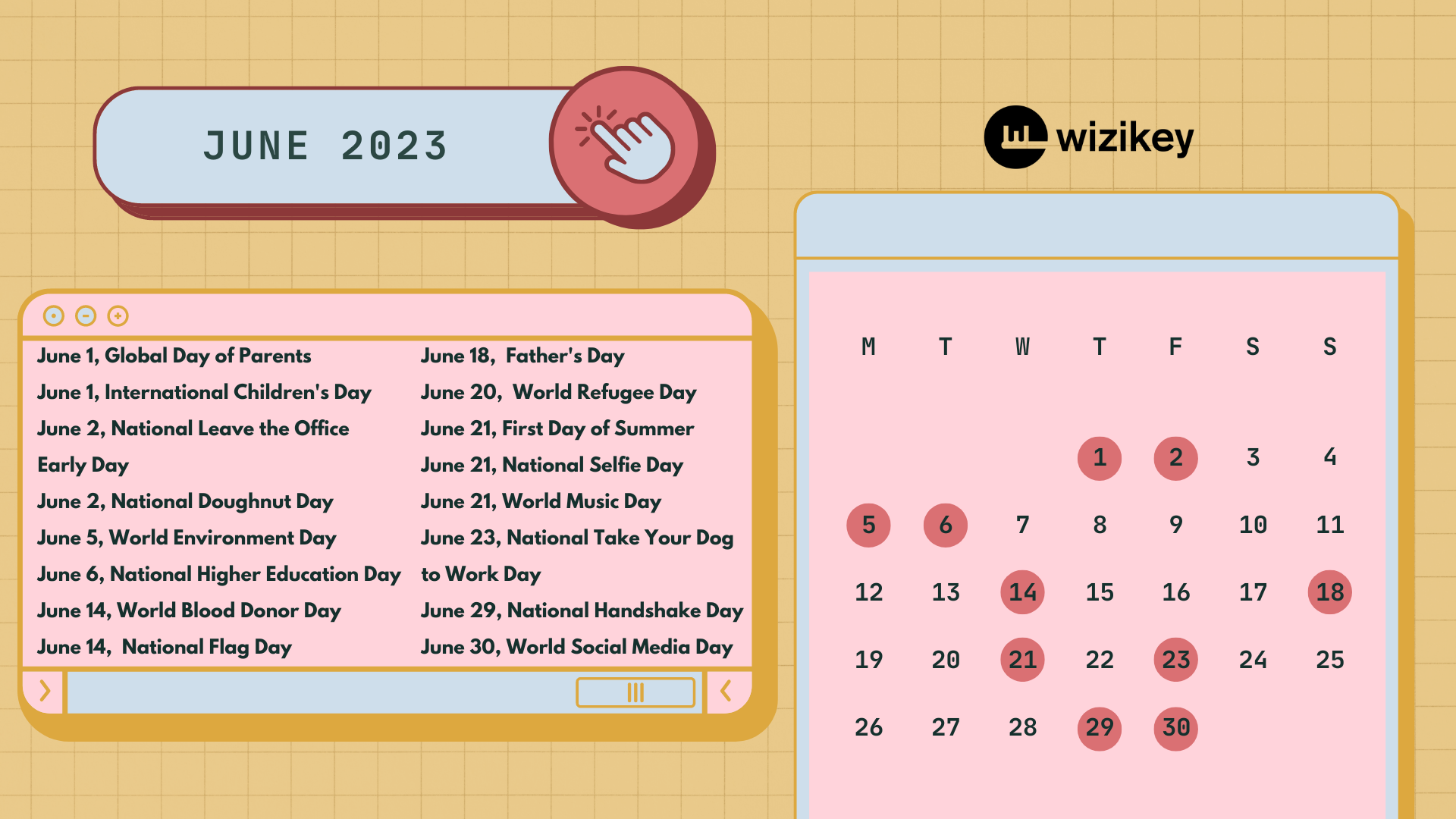 Pride Month (June 1) – Show that you care by elevating LGBTQ+ awareness during Pride Month
June 1, Global Day of Parents
June 1, International Children's Day
June 2, National Leave the Office Early Day
June 2, National Doughnut Day
June 5, World Environment Day
This day is marked by the United Nations (UN) to create awareness about protecting the environment. A number of brands launch campaigns and initiatives championing the cause of the environment.

June 6, National Higher Education Day
June 14, World Blood Donor Day
June 14, National Flag Day
June 18, Father's Day
The best way to show Dad how much we care is a nice gift, a hug, or making it to his party on time. Brands can write copies that are personal and nostalgic.

June 20, World Refugee Day
June 21, First Day of Summer
June 21, National Selfie Day
June 21, World Music Day
Go ahead and sing outside your shower today! This day encourages people to play music in public. Brands can engage "melophiles" and bathroom singers with fun music trivia today.

June 23, National Take Your Dog to Work Day
June 29, National Handshake Day (Last Thursday in June)
June 30, World Social Media Day
It saves us from boring lectures and awkward conversations. Yes, it even lets you be vain now and then. How can we not celebrate this constant companion?
Social Media Calendar 2023 for the US: July to Dec
Social Media Calendar for the US – July 2023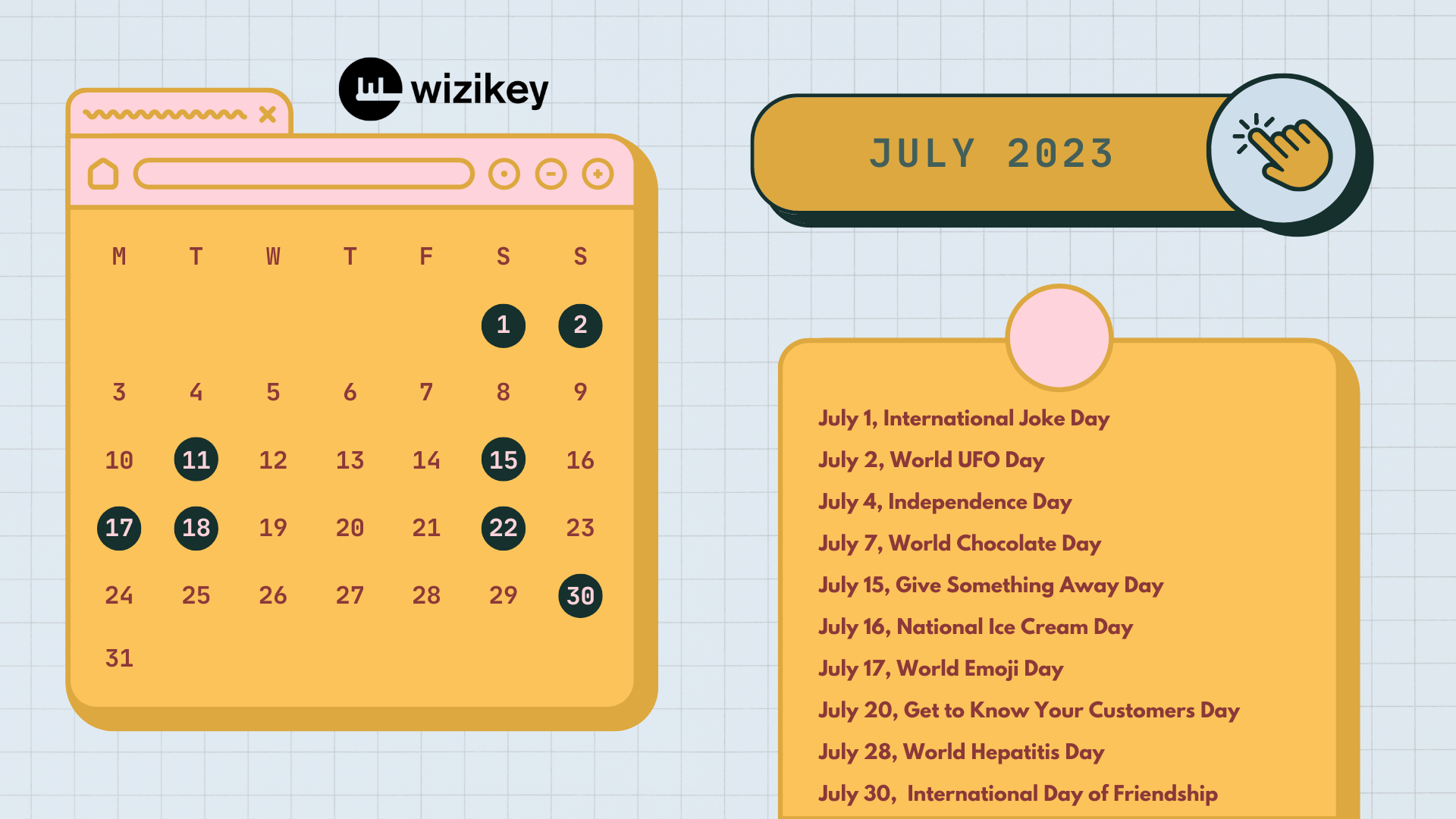 July 1, International Joke Day
The joke should literally be on you on this day!

July 2, World UFO Day
July 4, Independence Day
Marketing on the 4th of July is a staple for many brands. If you can hit the holiday sales beat, be sure to do so. It's a time to celebrate America and what it stands for use this to tell stories about where you're from and convey your brand's values.

July 7, World Chocolate Day
Celebrate the best invention in the world! Chocoholics can feel free to binge guilt-free, but only if you promise to share!

July 15, Give Something Away Day
In case you didn't know, there's a Give Something Away Day in July. Needless to say that giveaways are a must on that day. Get creative and offer your audience some special treats.

July 16, National Ice Cream Day (Third Sunday in July)
July 17, World Emoji Day
Can you text without emojis for a day? Come on we dare you to try! In the world of text messages, emojis have saved us from losing the ability to express emotions. Not to mention, brands can get innovative and communicate only with emojis.
July 20, Get to Know Your Customers Day (Third Thursday of every quarter)
July 28, World Hepatitis Day
July 30, International Day of Friendship
Is the office gloomy today? Maybe because your lunch buddy is on leave. Friendships make the mundane more special, and so do some brands on this day.

July 31, National Avocado Day
Social Media Calendar for the US – August 2023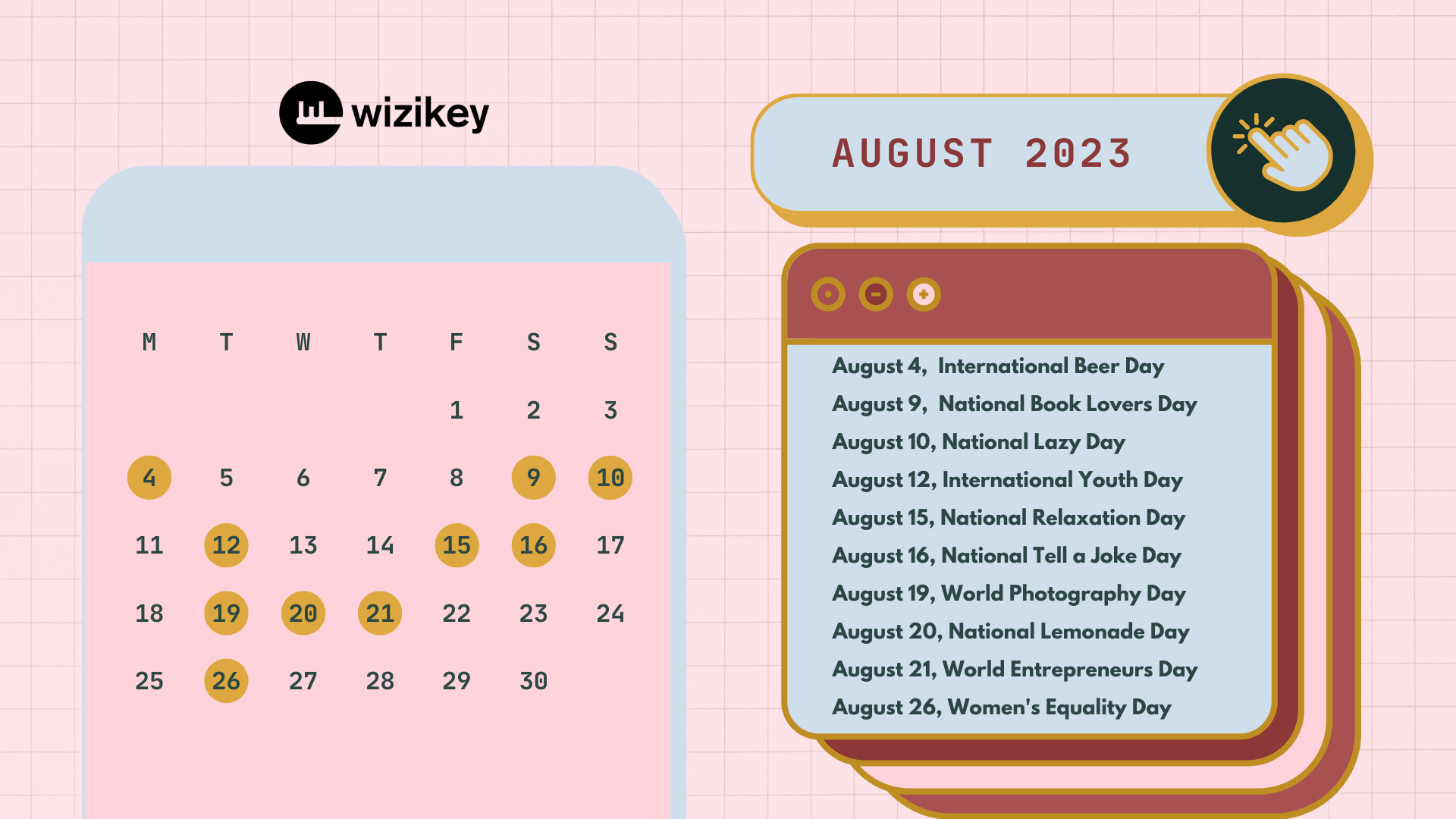 August 4, International Beer Day (First Friday in August)
August 9, National Book Lovers Day
Put down your phones, shut down your laptops, and get yourself a cup of coffee, because today's daybooks make a comeback.

August 10, National Lazy Day
August 12, International Youth Day
August 15, National Relaxation Day
August 16, National Tell a Joke Day
August 19, World Photography Day
August 20, National Lemonade Day
August 21, World Entrepreneurs Day
August 26, Women's Equality Day
Social Media Calendar for the US – September 2023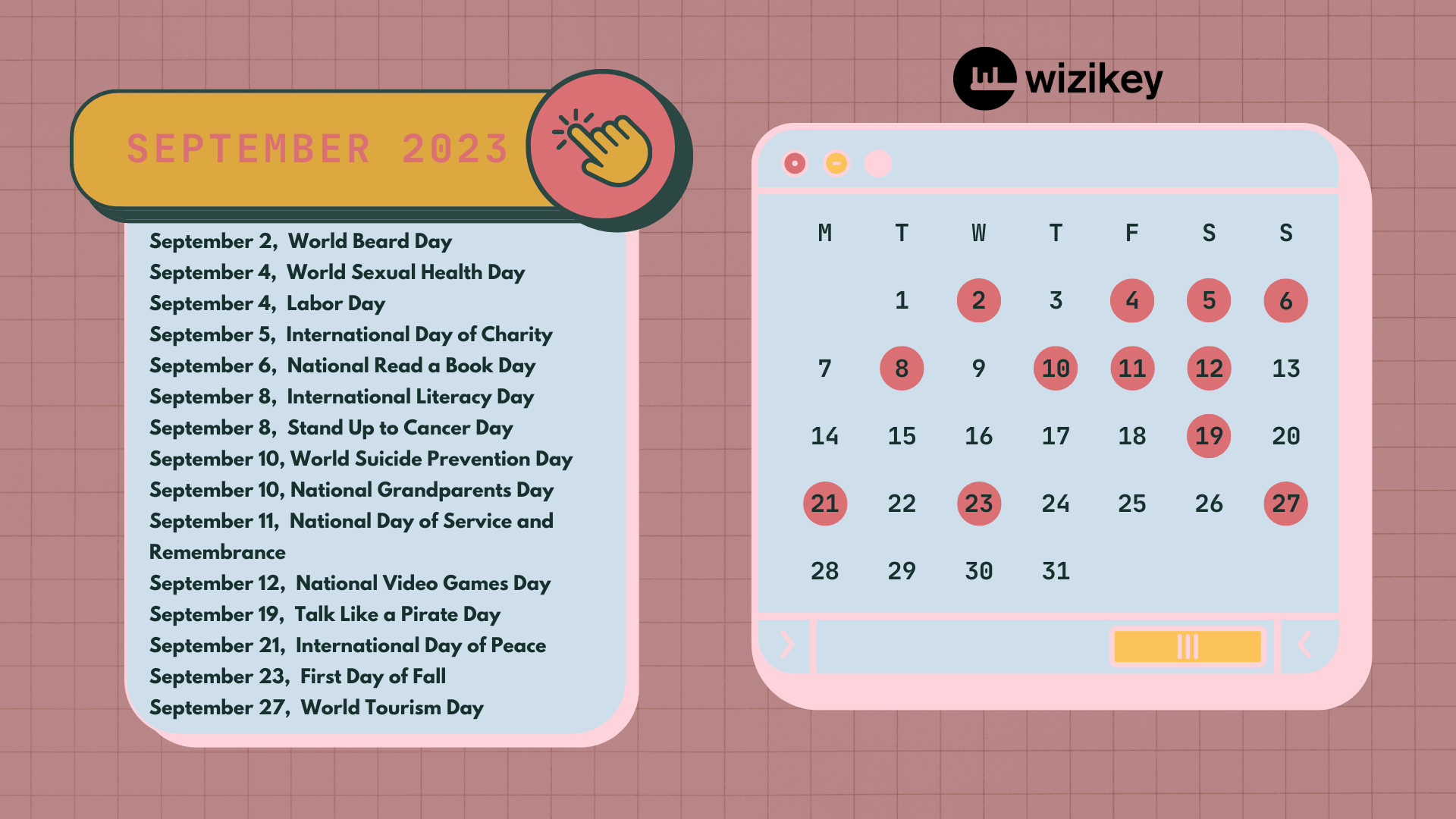 September 2, World Beard Day (First Saturday in September)
September 4, World Sexual Health Day
September 4, Labor Day (First Monday in September)
To stand out from other brands, shift the focus from profits to the appreciation of American workers. Create opportunities for your followers to contribute to the conversation.
September 5, International Day of Charity
September 6, National Read a Book Day
September 8, International Literacy Day
September 8, Stand Up to Cancer Day (Second Friday in September)
September 10, World Suicide Prevention Day
September 10, 👵👴 National Grandparents Day (First Sunday after Labour Day)
September 11, National Day of Service and Remembrance
September 12, National Video Games Day
Whether you love crushing candy or are a battle strategist, today we celebrate your first love.

September 19, Talk Like a Pirate Day
September 21, International Day of Peace
Also known as world peace day, this day remembers those who fought for peace and ending the conflict.

September 23, First Day of Fall
September 27, World Tourism Day
With the rising expansion in tourism around the world which contributes greatly to the economy, the UN declared World Tourism Day.
Social Media Calendar for the US – October 2023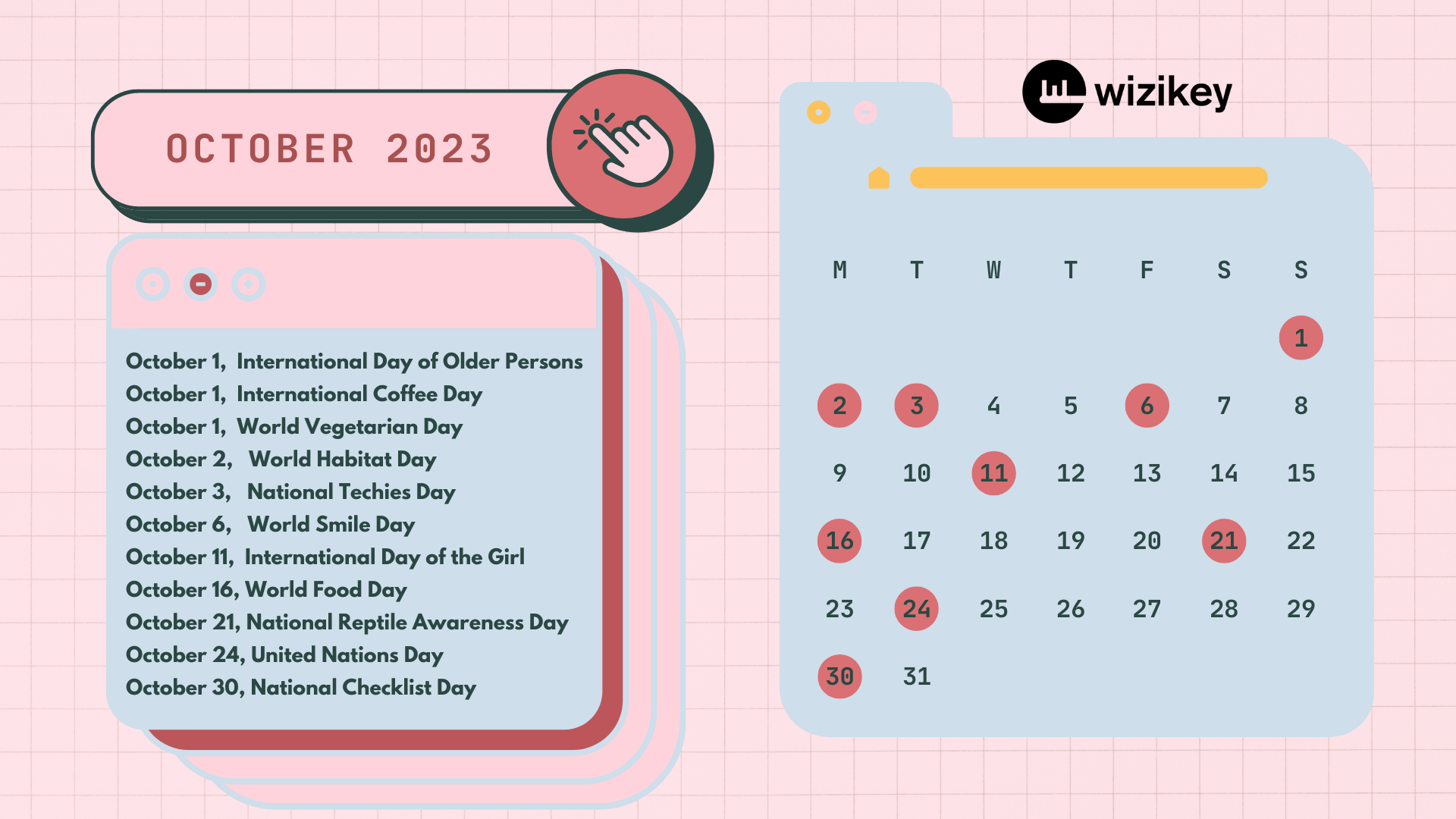 October 1, International Day of Older Persons
October 1, International Coffee Day
Are you one of those people who can't start their day without coffee? Then this is the day for you!

October 1, World Vegetarian Day
October 2, World Habitat Day (First Monday in October)
October 3, National Techies Day
October 6, World Smile Day (First Friday in October)
October 11, International Day of the Girl
October 16, World Food Day
October 21, National Reptile Awareness Day
October 24, United Nations Day
October 30, National Checklist Day
Social Media Calendar for the US – November 2023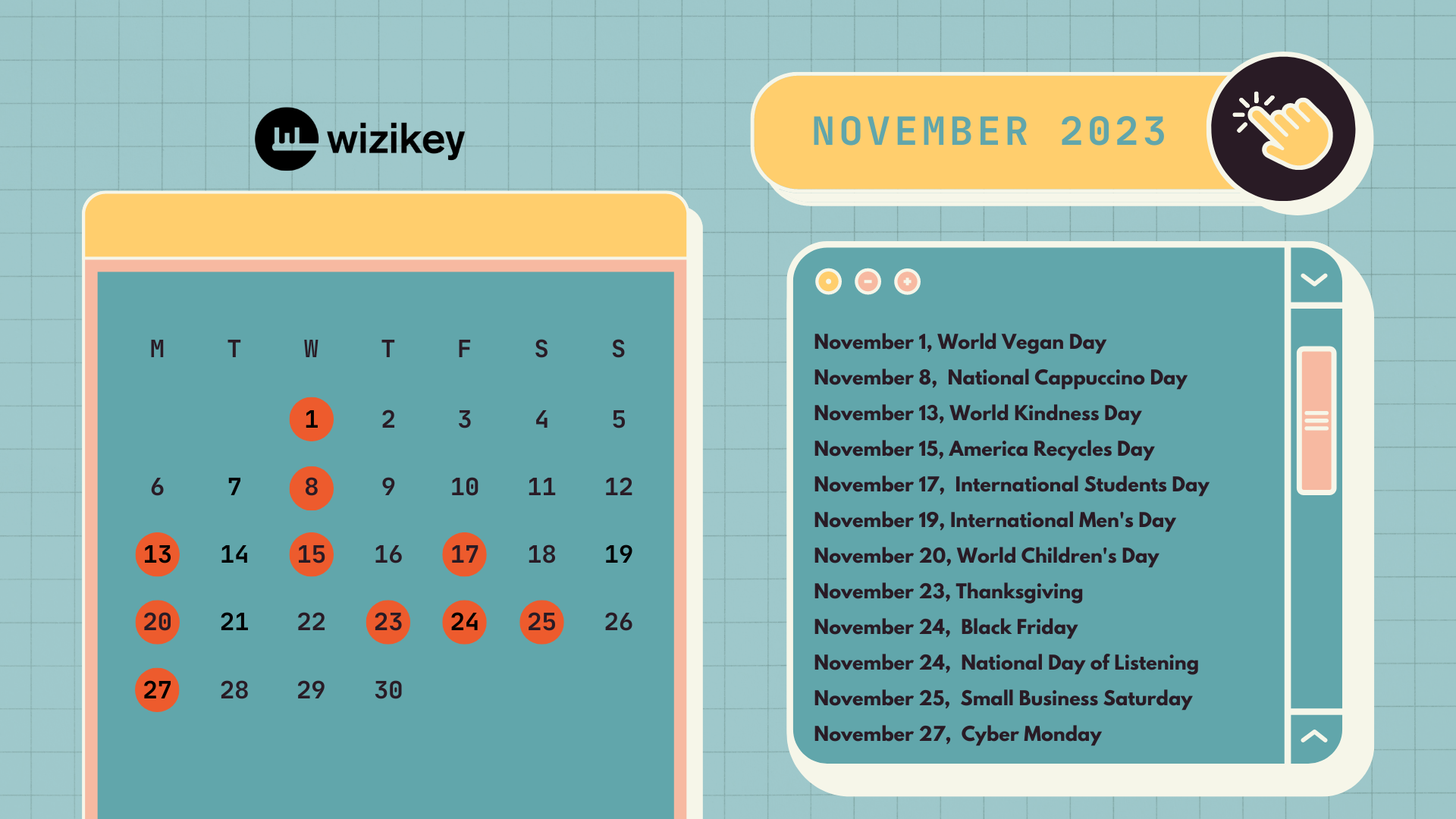 November 1, World Vegan Day
Vegans are people who consume a plant-based diet and do not support animal cruelty of any kind. On this day of honoring vegans, food brands post about vegan-friendly options.

November 8, National Cappuccino Day
November 13, World Kindness Day
World Kindness day celebrates encouraging kindness and sharing among people

November 15, America Recycles Day
November 17, International Students Day
November 19, International Men's Day
November 20, World Children's Day
November 23, Thanksgiving (Fourth Thursday in November)
It's Thanksgiving Day, a holiday where we celebrate the Pilgrims and Native People. It's a day to reflect on our blessings and to give thanks. When posting about thanksgiving, always mention 'shopping' and 'holiday deals'.

November 24, Black Friday (Fourth Friday in November)
The days after Thanksgiving means, to many people, that Black Friday is right around the corner. There are simply too many different Black Friday ideas you can take to your social media. For now, let's just say that a good discount would do.

November 24, National Day of Listening (Fourth Friday in November)
November 25, Small Business Saturday (Last Saturday in November)

November 27, Cyber Monday (Monday following Thanksgiving)
Social Media Calendar for the US – December 2023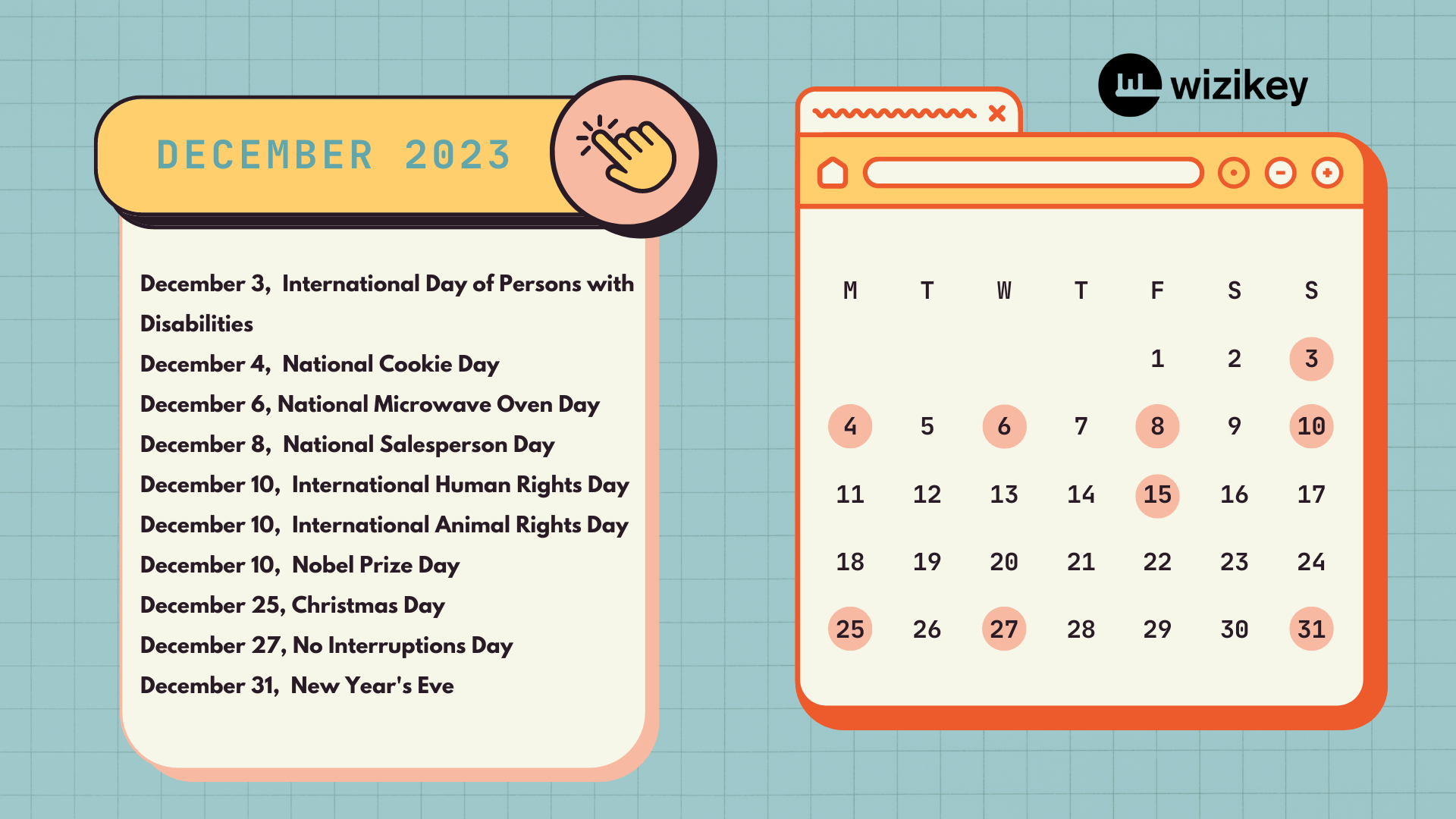 December 1, World AIDS Day
This day raises awareness about the disease and mourns those who lost lives due to it. Brands can participate in the dialogue by posting creatives on ways to prevent and detect AIDS.
December 3, International Day of Persons with Disabilities
This day promotes the inclusion of disabled people in all spheres of life and makes opportunities more accessible to them. Brands can show their interest in the welfare of disabled people online or through on-ground activations.

December 4, National Cookie Day
December 6, National Microwave Oven Day
December 8, National Salesperson Day (Second Friday in December)
December 10, International Human Rights Day
The 10th of December is dedicated to all humans on the planet. It's Human Rights Day. Let's spend a day highlighting the importance of owning our own lives and validating our rights as human beings.

December 10, International Animal Rights Day
December 10, Nobel Prize Day
December 25, Christmas Day
Christmas Day is the favorite day of the year for many people across the planet. Although you've probably started sharing Christmas content earlier in the year, on this day, you'll need to make sure that your content screams Merry Christmas.

December 27, No Interruptions Day (Last workday of the year)
December 31, New Year's Eve
The last day of December means one thing. It's New Year's Eve and you need to make festive content to celebrate a year ending and another one commencing soon.
That's the end of our Ultimate Social Media Calendar for 2023 for the US.
Check out our Ultimate Social Media Calendar for 2023 for India
Also, Check out PR Calendars for 2023
The Ultimate PR Calendar for the US for 2023
The Ultimate PR Calendar for India for 2023