This Social Media Calendar 2021 for India gives you relevant dates for your brand activities in India!
In the competitive world of brand marketing, nobody wants to miss out on the important dates where they can engage with their target audience or make a public splash… However, it is difficult for marketers to keep track of all the events and occasions throughout the year.
There is no place online where they can access a calendar that gives them information on the days they should be focusing on. Furthermore, even after a lot of research, most of the calendars found online are more suitable for the western audience.
It is of no use for a milk brand to celebrate Columbus Day in India while their customers are celebrating Janmashtami! Furthermore, with a country as diverse as India, there is always something fun to celebrate around the corner if you. The problem is keeping track of them!


Wizikey decided to make it easier for you to plan your marketing endeavors and skip the FOMO with our Social Media Calendar 2021. It's your one-stop destination for all the buzz-worthy events and days that you would want your clients/ brands to participate in. So don your creative hats and make your brand go viral!

Why is this Social Media Calendar 2021 a MUST for you?
While the audience grows more active on social media each year, their attention span has reduced to goldfish levels! Marketers have to try harder to impress this tough crowd. In this scenario, last-minute generic posts on Diwali and Janmashtmi are doing your brands no favours. Smart content, driven by visuals is the ticket to engaging them. In most cases, this can only happen with proper planning and scheduling.
We understand that compiling all information can be a tedious task so we have done the homework for you.
So let's dive right into the Ultimate Social Media Calendar 2021 for India:
January 2021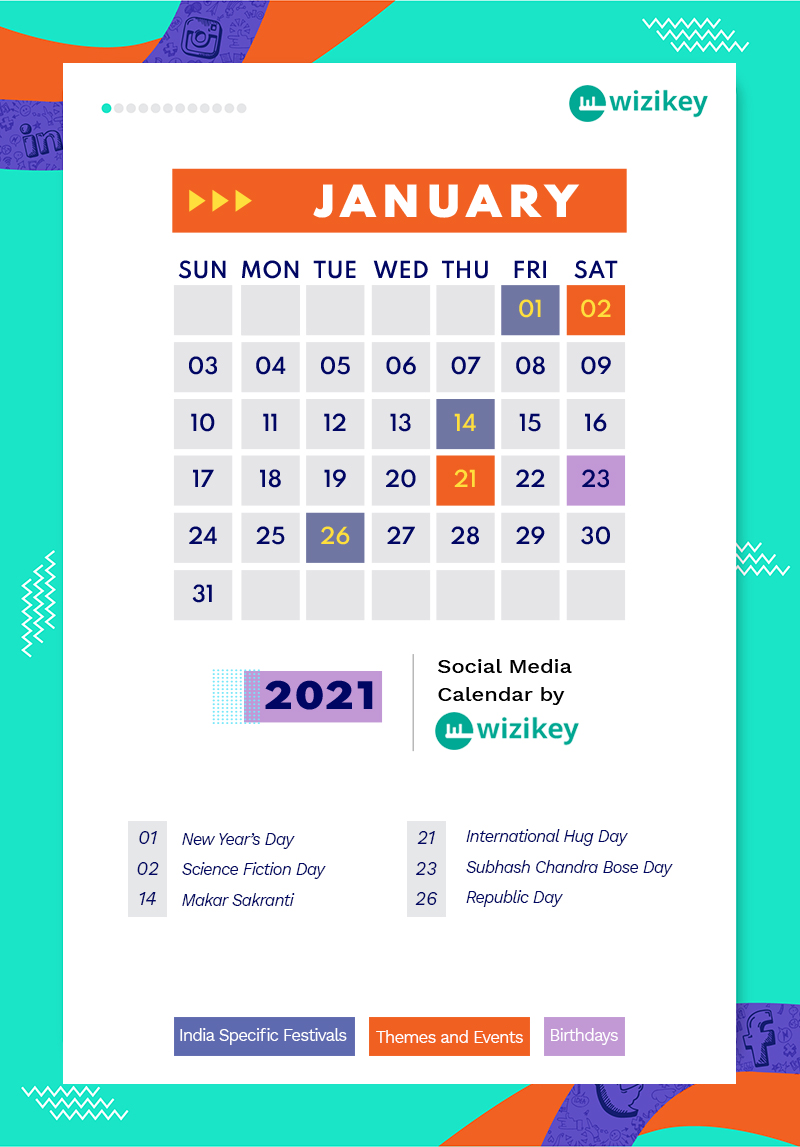 New Year's Eve, January 1

New Year signifies change and inspires people to improve their lifestyles. This could be a clean slate for many if they choose it to be. Brands can be a part of the change by posting inspirational or funny creatives to mark the beginning of 2020.
Science Fiction Day, January 2

Honouring writer Isaac Asimov, Science Fiction Day is celebrated by many science fiction fans around the world. Brands can engage sci-fi fans by celebrating popular franchises like Star Wars and Marvel.
Makar Sakranti, January 14

Makar Sakranti is a Hindu religious festival celebrated to mark the end of Winters and welcome spring. Brands can be a part of this celebration with kites dotting their creatives.
International Hug Day, January 21

Hugs make you feel closer to people and relieve stress. Social Media can be used to encourage giving a hug to family and friends.
Subhash Chandra Bose Day, January 23

This day commemorates the birth of freedom fighter Subhash Chandra Bose and is celebrated with great enthusiasm in the North- East.
Republic Day, January 26

If your history textbooks hadn't done the job, we're sure your holiday calendar must have etched this day in your memory. To those living under a rock, the Constitution of India came into effect on this day 69 years ago. It's time to bring out that inner patriot today! (maybe for more than just today)
February 2021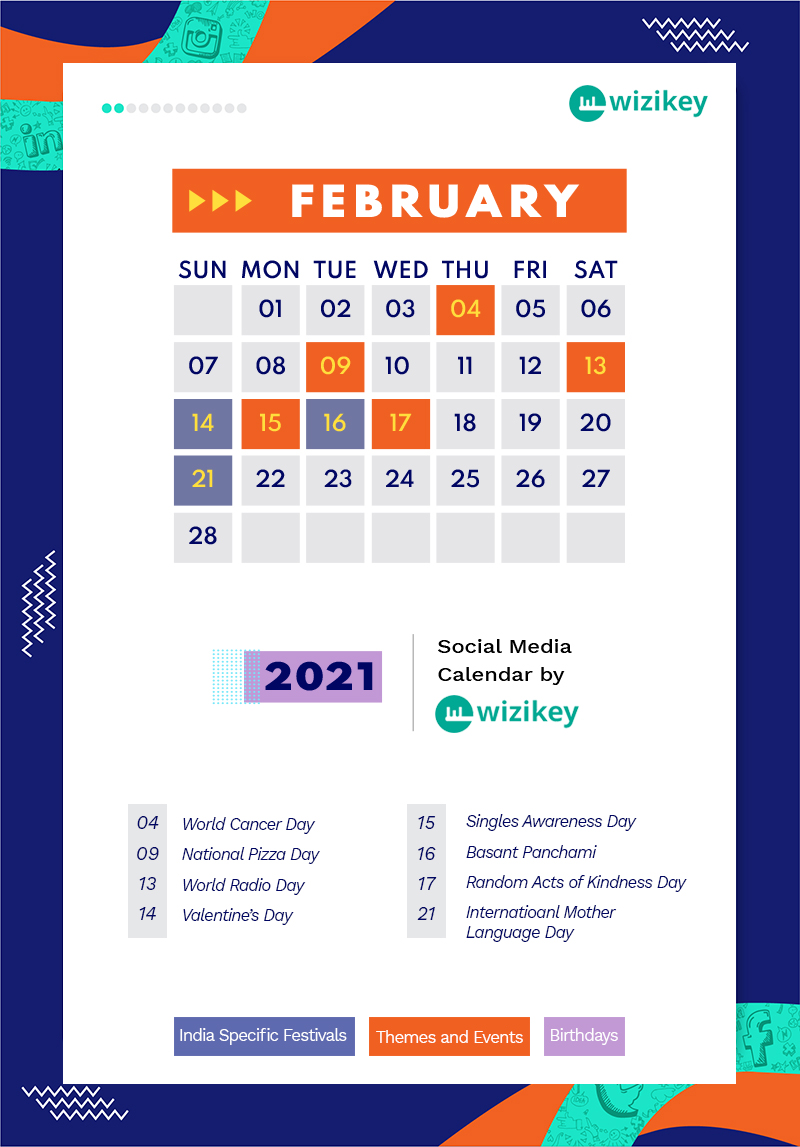 World Cancer Day, February 4

The purpose of World Cancer Day is to spread awareness about cancer and encourage early detection and proactive treatment.
National Pizza Day, February 9
Pizza isn't just-food. It's a way of life. To those wise to the power of pizza, this day is a jackpot for engagement with the pizzaholics.
World Radio Day, February 13

This day is celebrated to mark the importance of the radio in transforming society by providing freedom of expression across the world.
Valentine's Day, February 14
Couples show their love for each other on this day by giving gifts or spending time together. Posts on the power of love and gift ideas are shared on this day by brands.
Singles Awareness Day, February 15

#AntiValentiners- Following Valentine's Day, this day takes a humorous approach to focus on people who do not have lovers, giving brands an opportunity to conceptualize campaigns for the anti-valentines
Basant Panchmi, February 16

Basant Panchmi marks the onset of spring in India. Brands can channelize DDLJ and celebrate it by posting creatives featuring blooming flowers and fresh crops.
Random Acts of Kindness Day, February 17

This day encourages kindness in people. Bonhomie posts inspiring people to be kind are a norm on this day.
International Mother Language Day, February 21

India is the land of languages. This day celebrates this diversity of speech and the unity we preserve despite it.
March 2021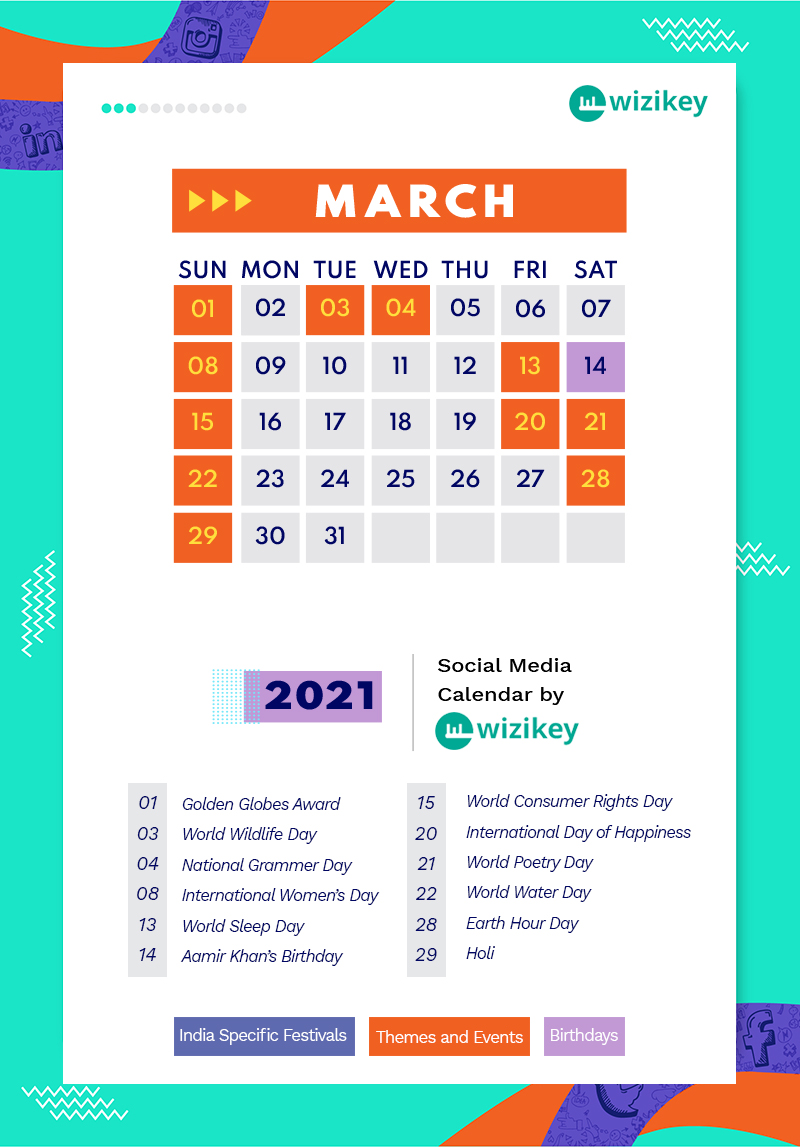 Golden Globes Awards, March 01

Golden Globes Awards are hosted each year and are attended by famous personalities around the world. Fashion critics in the making are bound to analyze the best and worst dressed of the evening. Apparel brands and those in the entertainment industry should not miss out on the opportunity to engage in the conversation.
International Women's Day, March 8

This day celebrates women and their importance in the world. The theme for 2021 is 'Choose to Challenge'. history and significance of day. Brands can engage with it by remembering the women that inspired them or spreading awareness about the social issues that continue to affect them.

World Sleep Day, March 13

World Sleep Day highlights sleep as a necessity and encourages people to focus on it despite the modern busy lifestyle. Funny posts about sleep habits are shared on this day.
Aamir Khan's Birthday, March 14

#Aalizzwell. Aamir Khan is one of the most popular actors in India, known for his perfectionism.
World Consumer Rights Day, March 15

This day is celebrated to increase awareness about consumer rights around the world. On this day brands let their consumers know that they care about them through social media.
International Day of Happiness, March 20

This day tries to put focus on the goals of happiness, well being, and freedom for all by the United Nations.
World Poetry Day, March 21

In the wise words of Professor Keating, "poetry, beauty, romance, love- these are what we stay alive for." This day appreciates poetry and encourages people to remember the power of words.
World Water Day, March 22
Water is a scarce resource, and world water day emphasises the importance of saving water. Brands can participate in the dialogue about water conservation by sharing tips and tricks to save water.
Earth Hour Day, March 28

Darkness could become a reality with climate change and its unchecked pace. Earth Hour Day encourages individuals across the world to observe an hour of darkness between 8:30 pm – 9:30 pm IST to understand the privilege of light, and start conserving resources.

Holi, March 29

Often referred to as the festival of colours, Holi is one of the biggest festivals for Hindus. Posts about colours and Holi fun are spread across social media on this day.
April 2021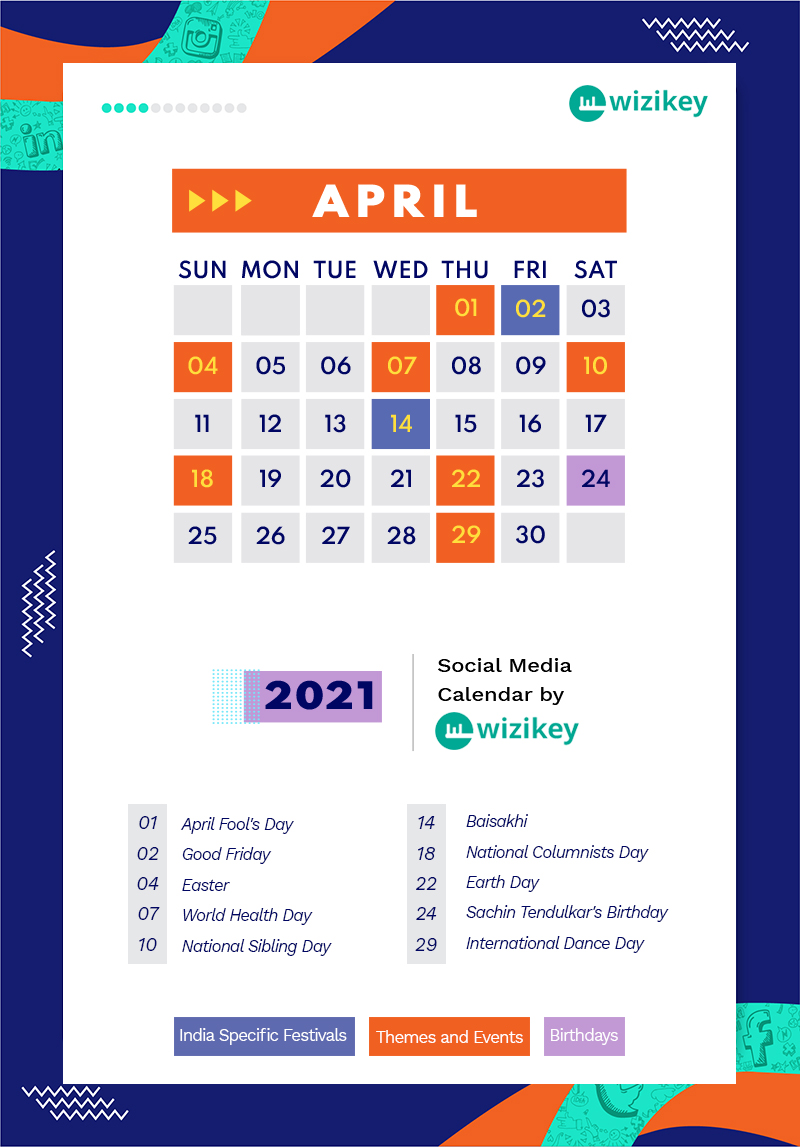 April Fools Day, April 1

It's time to bring out the prankster in you, because today is your day to let loose. Brands are no exception, campaigns can be focalized around practical jokes.
Easter, April 12

Easter, also referred to as Pascha or Resurrection Sunday, is a Christian holiday that celebrates the resurrection of Jesus Christ.
World Health Day, April 7

This day promotes Global Health Awareness. 2020's theme is accessible healthcare for the poor.
National Sibling Day, April 10

They're biologically programmed to hate and love you with the same intensity, yes we're talking about that best friend you have but didn't pick. This day celebrates the bittersweet relationship between siblings.
Baisakhi, April 14

Celebrated by farmers in North India, especially Punjab, Vaisakhi is the Punjabi New Year which gives thanks to God for an abundant harvest.

Earth Day, April 22

2020 will see the 50th Earth Day in the world. This day promotes environmental sustainability globally and social media can be used to promote the cause further. This year's efforts will be focused on the theme of climate action…
Sachin Tendulkar's Birthday, April 24

This is the birthday of the cricketing god! Master blaster Sachin Tendulkar definitely put India on the map for cricket, and brands can try making themselves more visible by remembering his legendary skills.
International Dance Day, April 29

This day is dedicated to Jean-Georges Noverre, the creator of modern ballet and falls on his birthday. Posts about dance or even showing people dance are uploaded on this day.
May 2021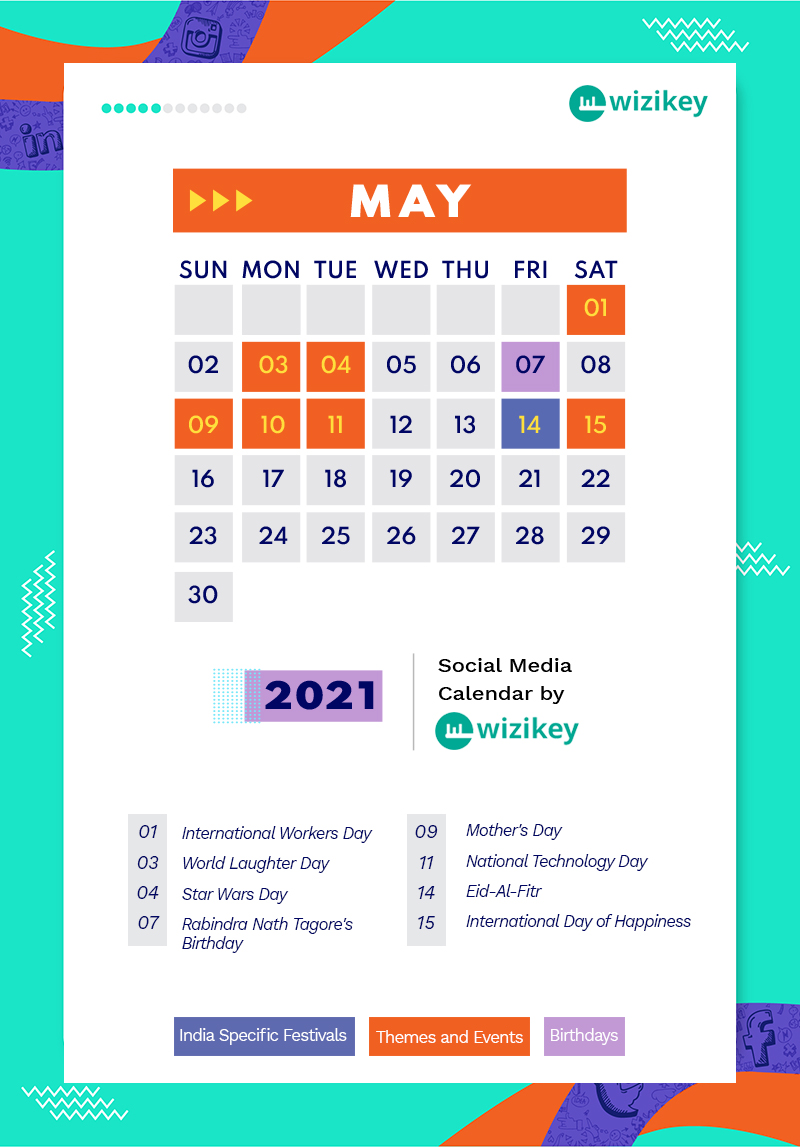 International Workers Day, May 1

Also called Labours Day or May Day, this day celebrates the labour and working class of the world. It can be used by brands to show their appreciation for the working class, by commemorating the team behind their success through activities and posts.
World Laughter Day, May 3

Laughter is the best medicine, especially when there are so many social ills plaguing the world. This day encourages people to live and laugh more, because #YOLO.
Star Wars Day, May 4

This day celebrates the famous sci-fi franchise Star Wars, which has thousands of fans around the world.
Rabindranath Tagore's Birthday, May 7

Many have labelled him as the most progressive minds that India was privileged to have. An accomplished writer and thinker, Tagore's birthday is in many ways the birth of modern India. Brands can remember his contribution to Indian oeuvre by sharing his stories, poems, and sayings by Rabindranath Tagore on this day.
Mother's Day, May 09

Artist, cook, teacher, doctor and so much more! They don many hats and today is the day to celebrate all the love and support they've given us over the years.
National Technology Day, May 11

Many exemplary entrepreneurs and innovators in the field of technology are awarded on National Technology Day. Brands show their appreciation for the advancements in technology on this day.
Eid-Al-Fitr, May 14

This is one of the biggest festivals for Muslims in India. After fasting for the entire month during Ramadan, Muslims across the world share a meal together after the sunsets.
International Day of Families, May 15

A globalized man has a very small tribe, but it's important to celebrate it nonetheless. This day reminds us to appreciate those we take most for granted, yes that's right – our families.
June 2021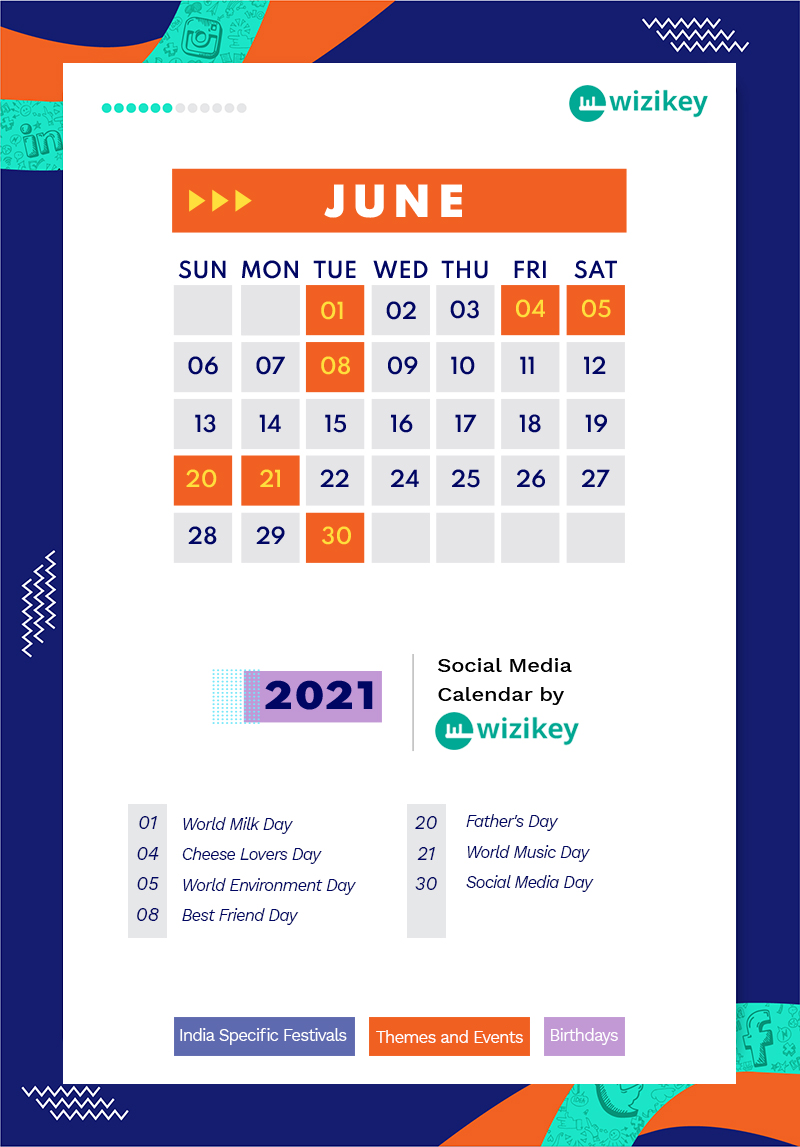 World Milk Day, June 1

It's our first drink and an important ingredient to most of our beloved food items. The Food and Agriculture Organisation introduced this day to show the importance of milk in a nutritious diet. Milk companies like Amul, Mother Dairy and Country Delight innovate engaging posts and on-ground activities like food drives and bike rallies to celebrate this topical day.
Cheese Lovers Day, June 4

This day is for everyone who loves eating cheese. Milk and food brands have full permission to get "cheesy" today!
Best Friends Day, June 8

Who is the keeper of your secrets and partner in crime? Today's the day to celebrate this borderline crazy bond. Social media is flooded with Best Friend Tags and challenges.
World Music Day, June 21

Go ahead and sing outside your shower today! This day encourages people to play music in public. Brands can engage "melophiles" and bathroom singers with fun music trivia today.
Father's Day, June 2

Today celebrates the men who taught us that not all superheroes wear capes and that crying in movies doesn't make you less manly!
World Music Day, June 21

Go ahead and sing outside your shower today! This day encourages people to play music in public. Brands can engage "melophiles" and bathroom singers with fun music trivia today.

Social Media Day, June 30

It saves us from boring lectures and awkward conversations. Yes, it even lets you be vain now and then. How can we not celebrate this constant companion?
July 2021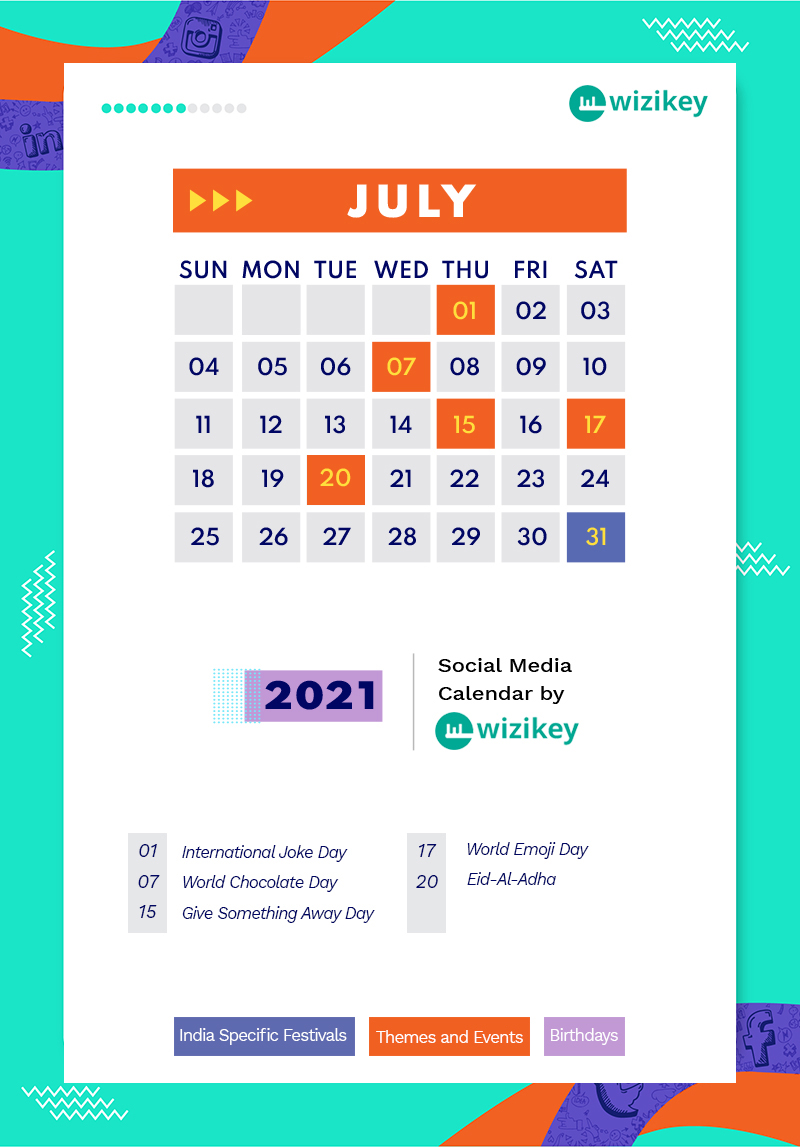 International Joke Day, July 1
The joke should literally be on you on this day!

World Chocolate Day, July 7
Today celebrates the best invention in the world! Chocoholics you can feel free to binge guilt-free, but only if you promise to share!

Give Something Away Day, July 15
You will always have more than you need, while some go without. Pledge to do your bit today and #ShareYourPrivilege. This day encourages people to give away things like clothes, shoes, food to those in need.

World Emoji Day, July 17
Can you text without emojis for a day? Come on we dare you to try! In the world of text messages, emojis have saved us from losing the ability to express emotions. Brands can get innovative and communicate only with emojis.
Eid-Al-Adha, July 20

Also called, Sacrifice Feast, this is one of the biggest Muslim celebrations.

International Friendship Day, July 30
Is office gloomy today? Maybe because your lunch buddy is on leave. Friendships make the mundane more special, and so do some brands on this day.
August 2021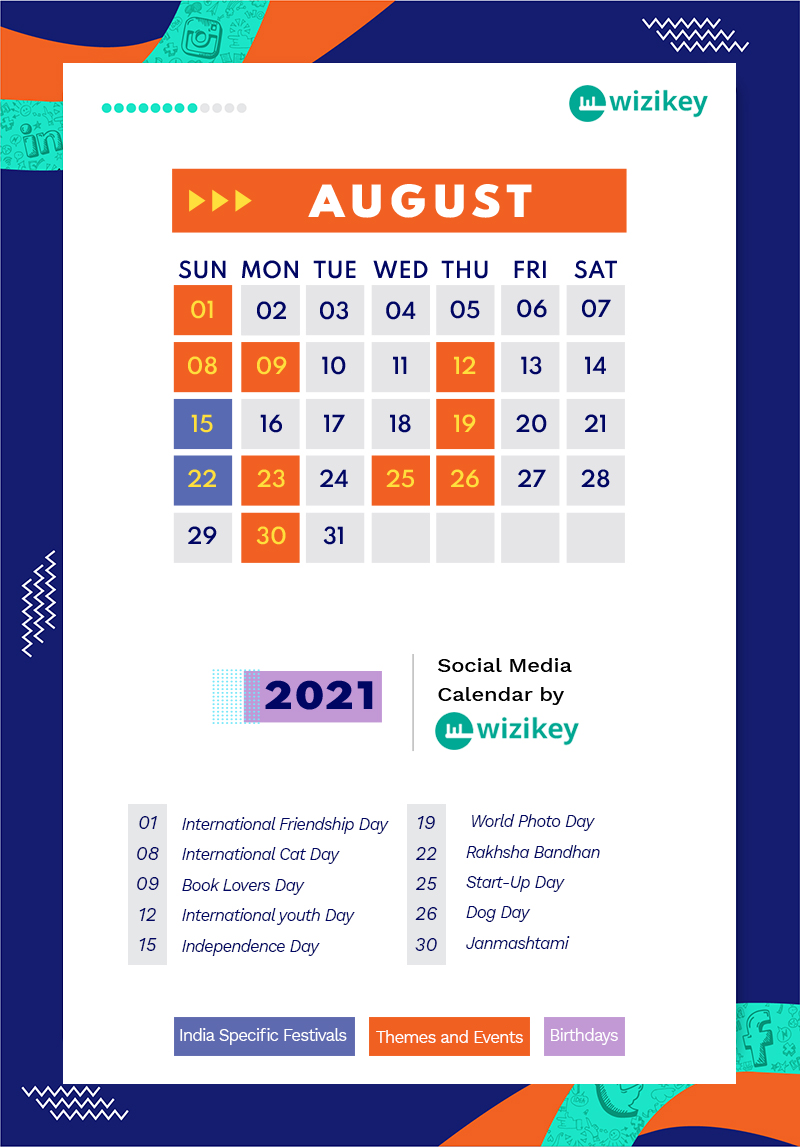 Friendship Day, August 1
Whether you're just "study buddies" or friends who gossip over chai, today's the day you celebrate this special bond.
International Cat Day, August 8

They may be moody, but if they've picked to dote on you, you're definitely special! Created in 2002 by the International Fund for Animal Welfare, this day celebrates cats.
Book Lovers Day, August 9

Put down your phones, shut down your laptops and get yourself a cup of coffee, because today's the daybooks make a comeback.

Independence Day, August 15

Today's the day the roars of "Inquilab Zindabad" fulfilled their promise. India got freedom from the British Empire and became an independent country.
World Photo Day, August 19

World Photo Day inspires photographers around the world to share their work.
Raksha Bandhan, August 22

Who gets control of the TV remote today? Raksha Bandhan isn't an old fashioned celebration of brothers as protectors anymore, but an acknowledgement of the special bond siblings share and an opportunity to extort gifts from each other.
Raksha Bandhan is a celebration of the bond between brothers and sisters which usually involves exchanging gifts.
Dog Day, August 26

Dogs are definitely man's best friend. Giving them just one day in the year is just plain wrong, we're pissed and want more! #Doggoloversunite
Janmashtmi, August 30

Hindus celebrate the birth of Lord Krishna on this day. Since this God was fond of milk and its products, milk brands share many innovative posts on this day.
September 2021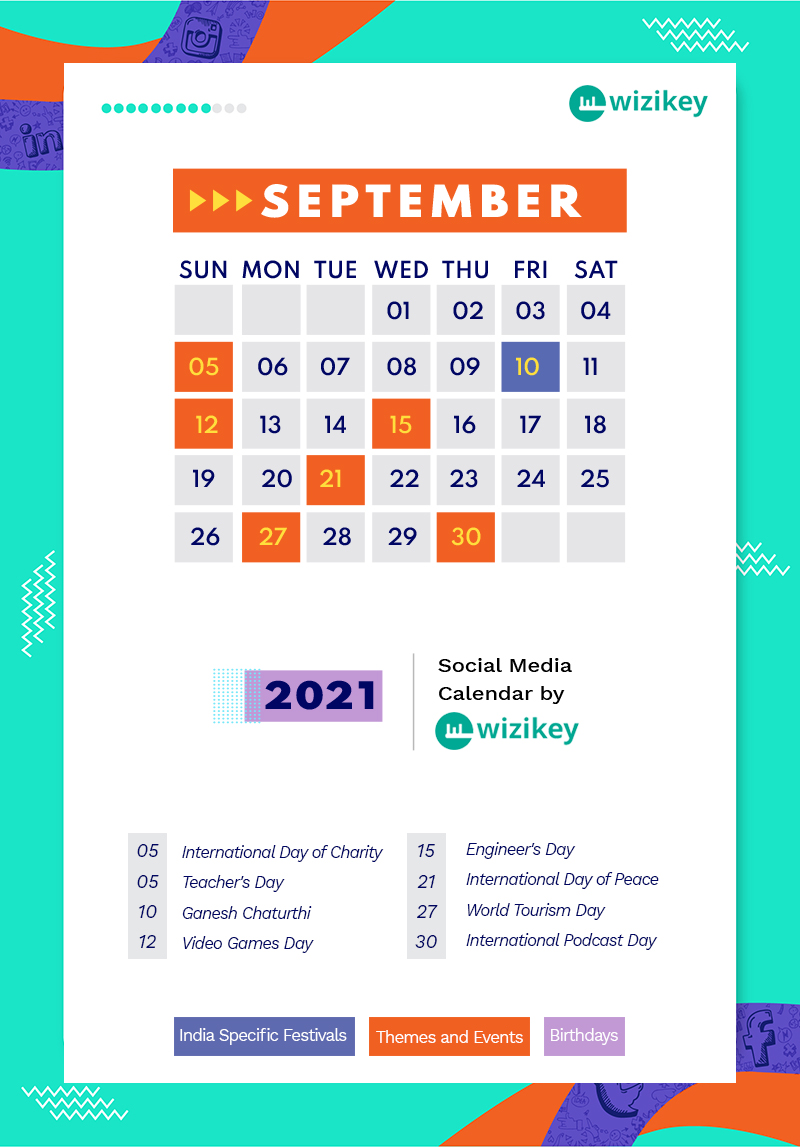 International Day of Charity, September 5

This day announced by the United Nations focuses on spreading awareness about eradicating poverty. Social Media is used to encourage people to participate in charity.
Teachers Day, September 5

This day is celebrated on the birthday of S. Radhakrishnan who is one of the most distinguished scholars in India. Throwback to school posts and posts appreciating teachers can be uploaded on this day.
Ganesh Chaturthi, September 10

#GanpathiBappaMorya Ganesha Chaturthi is the celebration of the birth of our rollu-pollu Lord Ganesha. Since he is associated with abundance and prosperity, messages surrounding that are shared by brands on social media.
Video Games Day, September 12

Whether you love crushing candy or are a battle strategist, today we celebrate your first love.
Engineers' Day, September 15

This day is celebrated in honour of distinguished engineer Mokshgundam Vishveshsaraya. Brands share posts about engineers and their humourous habits on this day.
International Day of Peace, September 21
Also known as world peace day, this day remembers those who fought for peace and ending the conflict.
World Tourism Day, September 27
With the rising expansion in tourism around the world which contributes greatly to the economy, the UN declared World Tourism Day.
International Podcast Day, September 30

Whether you're learning on the go or just killing some time on the metro ride home, there's no denying the power of podcasts. This day celebrates this new age teacher/entertainer.
October 2021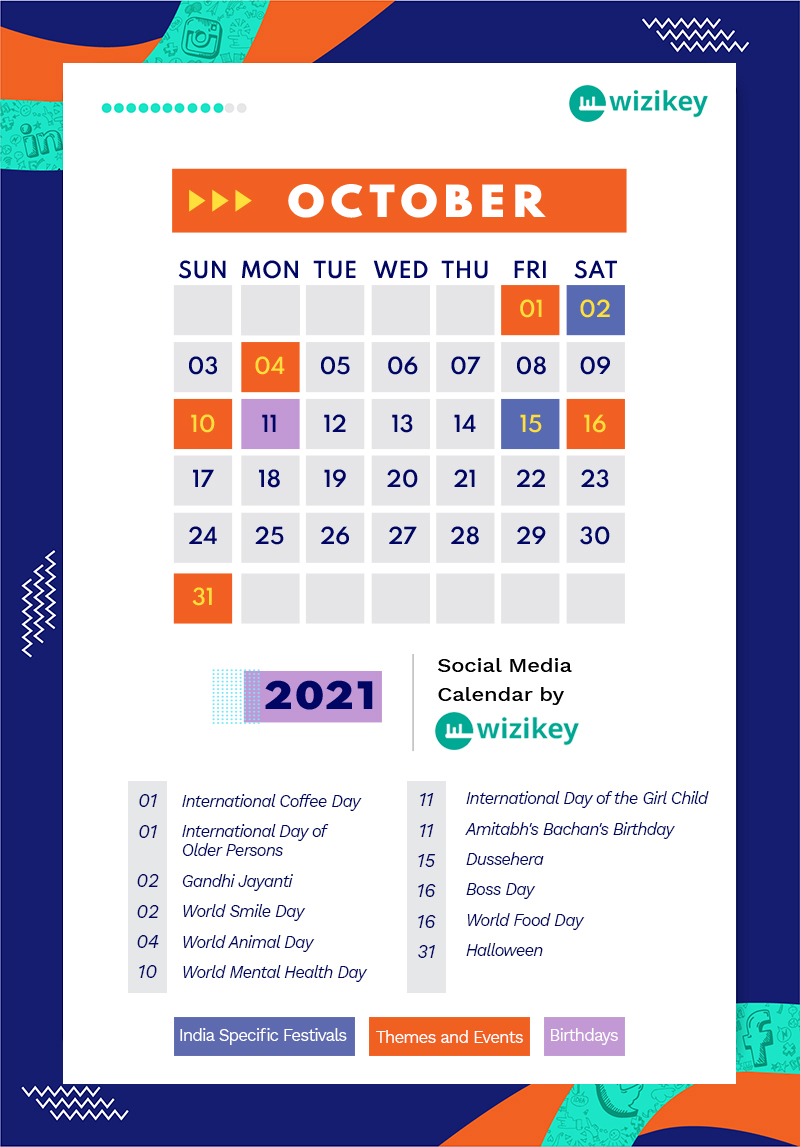 International Coffee Day, October 1

Are you one of those people who can't start their day without coffee? Then this is the day for you!
International Day of Older Persons, October 1

Like a fine wine, some people just get better with age. Sit down for a cuppa with your grandparents or white-haired neighboUrs today, we're sure they have some interesting stories to share. #OldIsGold
Gandhi Jayanti, October 2

The father of our nation, an international symbol of peace and non-violence. Yes, today's the day Mahatma Gandhi, our homegrown #rebel was born.
World Smile Day, October 2

Encouraging positivity, World Smile Day is celebrated to spread smiles.
World Animal Day, October 4

This day highlights animal rights and shows the increase in animal welfare over the years. Brands post about cute animals and even do competitions which encourage people to post about their favourite animal.
World Mental Health Day, October 10

This day attempts to remove the stigma attached to mental health and promotes awareness. Brands can also share stories of mental health patients and show their support.
International Day of the Girl Child, October 11

#BetiKoMatSamjhao. They don't have to wear pink or play with kitchen sets if they don't want to. International Day of the Girl Child celebrates the needs and rights of the girl child, while promoting awareness.
Amitabh Bachchan's Birthday, October 11

"Rishte mein to…" Did you just complete the dialogue? Then you're def a #BacchanFan. Get out your inner Shehenshah today and groove to Big B's tunes.
Dusshera, October 15
Get the lamps out and have a #lit Dusshera to celebrate the ultimate victory of good over evil. This day remembers Lord Rama's final battle and win over Raavana.
Boss Day, October 16
This day celebrates the contributions of bosses in their employee's lives. Many posts featuring funny and relatable content based on the boss-employee relationship sare shared by brands.
World Food Day, October 16

World Food Day is celebrated on the founding date of the Food and Agriculture Organization of the United Nations. 2020's theme is centered around building a "Zero Hunger Generation".
Maha Navami, October 24
Maha Navami marks the end of the Durga Puja period. The story shows that on this day Goddess Durga slayed Mahishasura, becoming the most #badass goddess of the Indian oeuvre.
Halloween, October 31

If you think you saw a ghost today.. you probably did. Ironically, Halloween started out as a day where people would don disguises to ward off ghosts, but these days they tend to disguise themselves as ghosts!
November 2021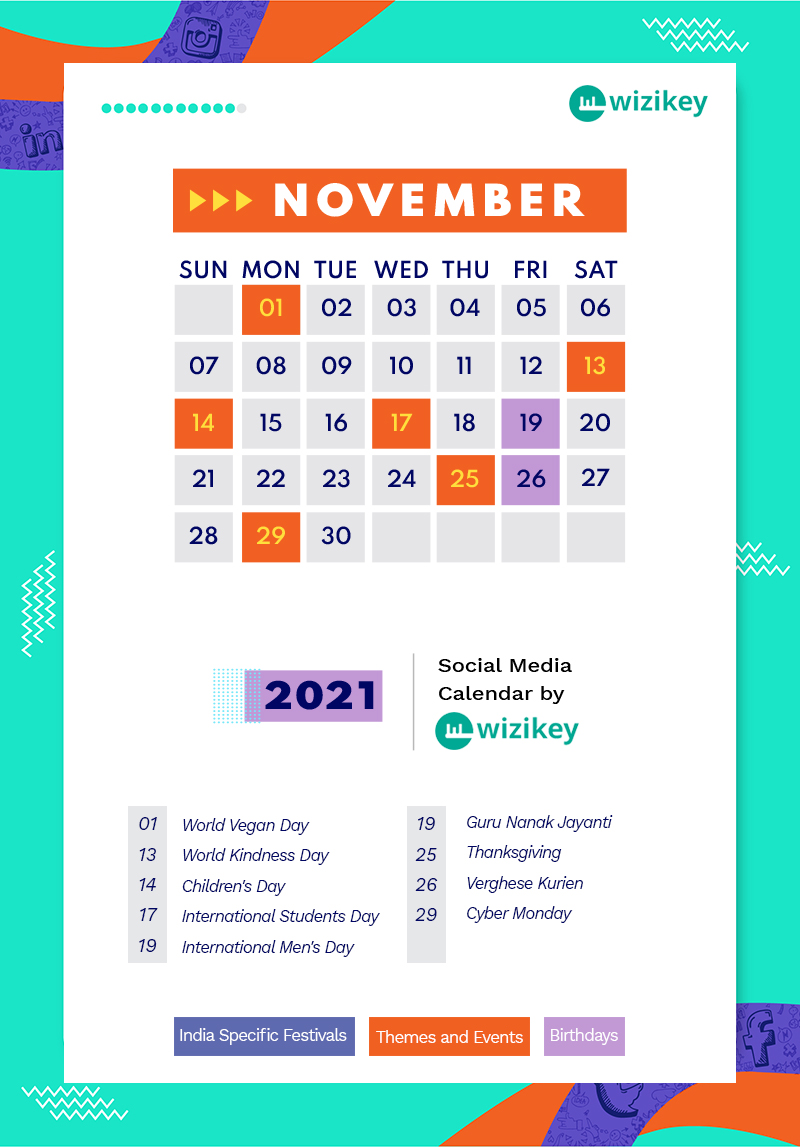 World Vegan Day, November 1

Vegans are people who consume a plant-based diet and do not support animal cruelty of any kind. On this day honouring vegans, food brands post about their vegan-friendly options.
World Kindness Day, November 13

World Kindness day celebrates encouraging kindness and sharing among people.

Children's Day, November 14

Brands bring out the inner child in them today and post throwback creatives remembering their days in school or their favourite food items growing up.
International Students Day, November 17

This day celebrates students around the world, focusing on their role as future innovators and leaders, International Mens Day, November 19 – This day honours men who are making a difference and defining the qualities that men should have.
Guru Nanak Jayanti, November 19

This day celebrates the birthday of the first Sikh Guru, Guru Nanak Dev Ji. Brands post about his teachings on their accounts.

Thanksgiving, November 25

USA popularly celebrates Thanksgiving. Indian brands also post about Thanksgiving and promote spending time with family and friends.

Verghese Kurien's Birthday, November 26

Verghese Kurien was The Father of the Milk Revolution. Milk brands honour Verghese Kurien on this day through social media.
Cyber Monday, November 29

Created to encourage people to shop online, companies often have discounts on Cyber Monday. Brands can promote their discounted products online around Cyber Monday.
December 2021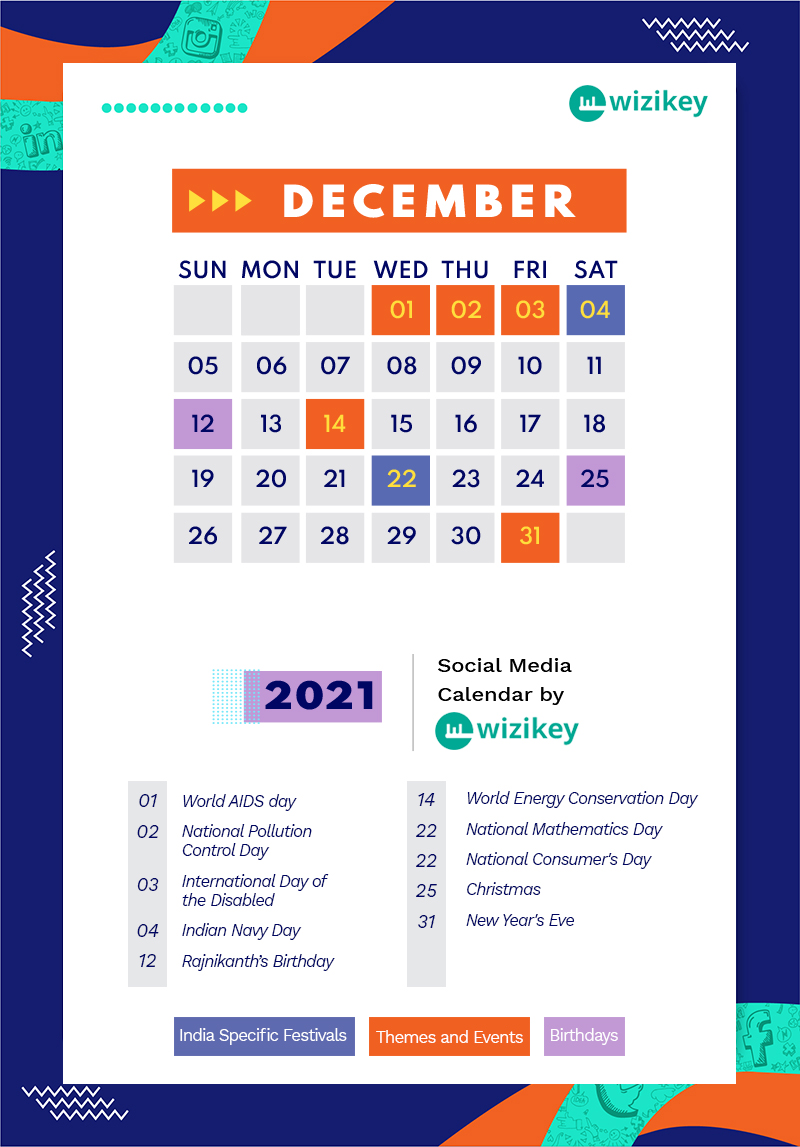 World AIDS Day, December 1

This day raises awareness about the disease and mourns those who lost lives due to it. Brands can participate in the dialogue by posting creatives on ways to prevent and detect AIDS.
National Pollution Control Day, December 2

This day mourns the people who lost lives during the Bhopal Gas Tragedy. Brands can promote the adoption of environment-friendly habits on their social media
International Day of the Disabled, December 3

This day promotes the inclusion of disabled people in all spheres of life and making opportunities more accessible to them. Brands can show their interest in the welfare of disabled people online or through on-ground activations.
Indian Navy Day, December 4

This day honours the members of Indian Navy and applauds their achievements.

Rajnikanth's Birthday, December 12

#Thalaiva- For Rajnikanth nothing is impossible! He is one of the most popular actors in India, venerated by many hardcore fans as a God!
World Energy Conservation Day, December 14
This day brings the need to conserve energy into the limelight. Brands use their social handles to encourage people to save energy.
National Mathematics Day, December 22

One of the greatest mathematicians of India, Srinivasa Ramajuna was born on this day. Brands with a student audience usually post on this day.
National Consumer's Day, December 24
This day highlights consumer rights. Brands show their appreciation towards their customers through posts on them.
Christmas, December 25

With many parties hosted on Christmas, all religions celebrate the birth of Jesus Christ across India.
New Year's Eve, December 31

We've come full circle. Today's the day you regret 2020 for the last time and hope the next year treats you better. Your clean slate is waiting for you when the clock strikes twelve!