Do you feel like you live in oblivion of the media landscape and its trends? Have you ever wished to deliver PR outcomes for your organization based on real information rather than relying on a hunch? What if I told you can have some insightful data to trace your media trajectory vis-a-vis your competitors. Or you could deep dive into your PR campaigns and identify areas of improvement. Sounds surreal, is it? Good news is we are in an age where data is the new oil. Gone are the days when you had to purely act on your gut and assumptions. At Wizikey, we provide instant data-driven metrics to amplify your visibility and credibility, resulting in more cohesive PR strategies. 
Wizikey operates in a data-happy age and focuses on all relevant metrics to help organizations enhance their next PR strategy. Thus, allowing you to get the right attention and share of voice. You can get data that predicts news trends, information on the type of stories being picked up, giving you more control over your content, and much more.
Let's take a look at the different tools, metrics and graphs that the Wizikey platform offers you.
Embrace metrics for optimal PR strategies
The Volumetric Trend provides metrics to understand your overall brand visibility in comparison to others. To access the metrics and have a comparative analysis of you versus your competition, you have to create a landscape via the set up tab. The setup tab also lets you update your landscape and get a detailed view by filtering your search with related keywords or eliminating keywords.
Brand Share of Voice will provide you data to understand your overall presence in the media compared to your competitors. This metrics enable you to analyse your position in the media landscape, different types of stories you can capitalize on and rise up the ladder. It also showcases the trends in your landscape and reporters writing about you and your competitors.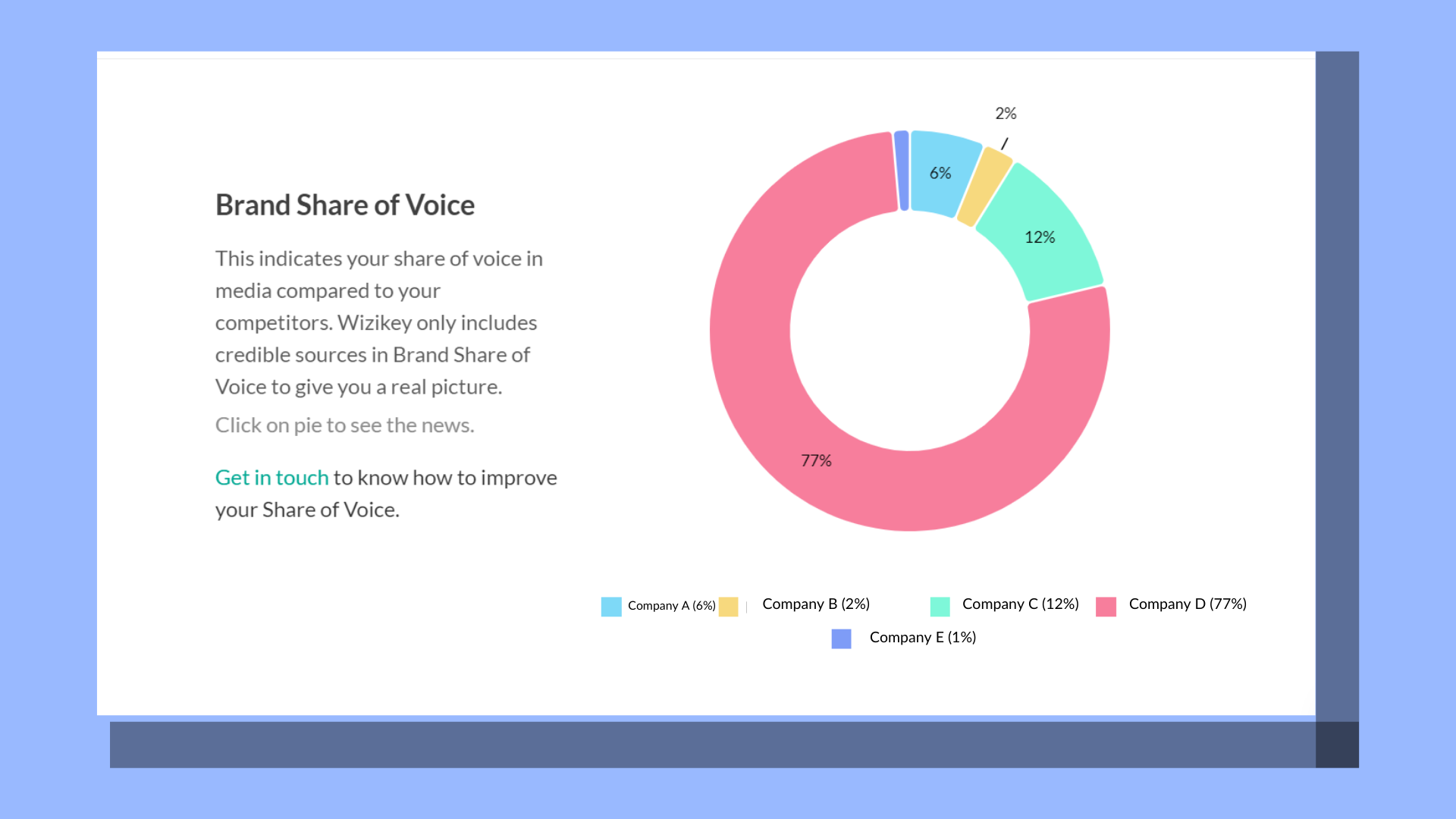 The Share of Voice Trend facilitates an analysis of your earned branding on a monthly basis. Subsequently, this data helps you identify and take proactive PR efforts in the months to come if there is a dip in your visibility.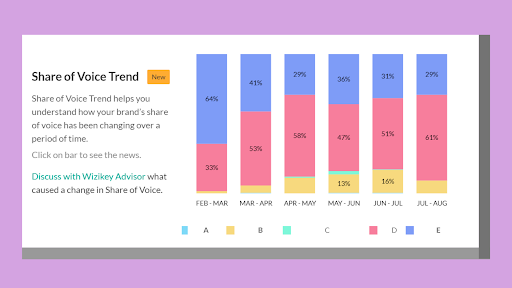 The News Volume Trend provides a week by week analysis and lets you see who peaked and when. This enables you to make improvements in areas of concern.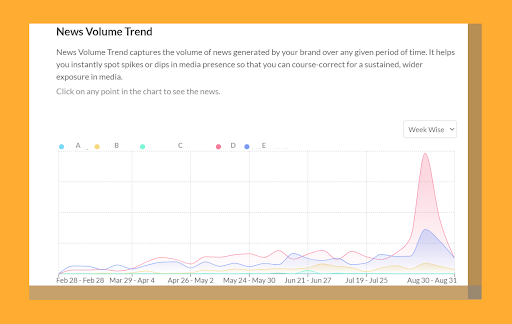 Anything that comes from the horse's mouth carries humongous value and trust. This makes the role of Leadership Share of Voice utterly important. Wizikey provides data to evaluate the presence of leadership participation in media, thereby, enabling you make the necessary amendments.
To see the metrics of your leadership share of voice in the media, visit the setup tab and update Leadership Keywords by entering your spokesperson's name and company's name in related keywords section.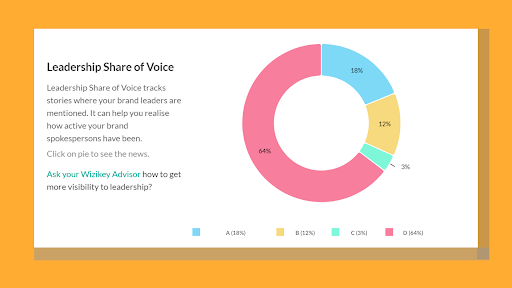 Analyzing quality for long-time credibility
The News Analysis tab in Wizikey gives you a deep insight into the quality of news.
Headline Grab informs you about the stories where you and your competition have been able to grab the headline for. It tells you the different kinds of stories you can do to be on the headline. The metrics displays your stand in the race of headline grab which undoubtedly plays a prominent role in maximizing your visibility. Further, it enables you to identify the kinds of pitches your PR team should work in order to be on the headline.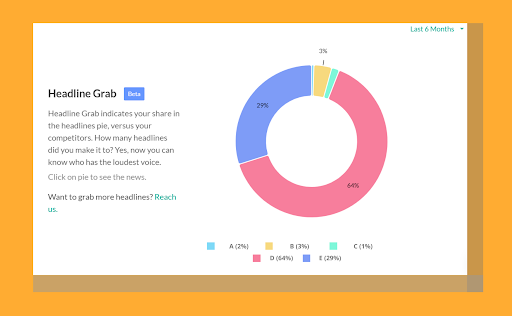 Proactive PR Meter reflects on your proactive PR efforts. The metrics show you the share of headlines in your story universe. If your rate is lower than your competitors, you know it is time for some aggressive PR campaigns.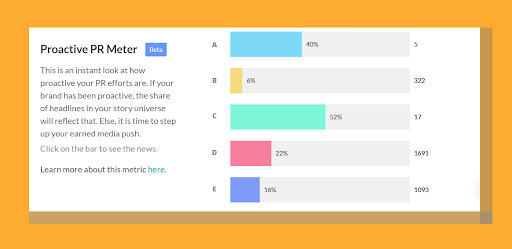 Own your space
Narrative Analysis enables you to see how you are performing in certain keywords and attributes.
Attribute Affinity lets you know the attributes that your brand best resonates with and how well do you own these attributes. The metrics help you in crafting the right kinds of stories for your audience. The feature is in its beta stage currently.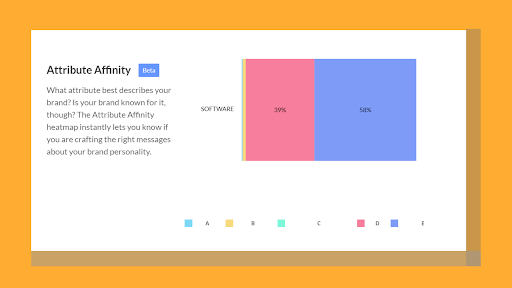 Attribute Movement gives a clear indication of how your brand personality is being shaped by media narratives over a period of time. The metrics show how the attributes are changing and if there is an intervention required from your end. A beta version of this feature has been launched recently.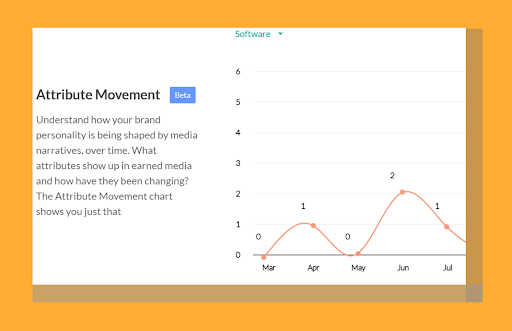 Expand your reach
Press analytics tells you how many unique journalists you are reaching every month. It gives you real-time insight into the media placements.
Reporters reach gives a clear picture of your engagement with the media. The metrics precisely indicate if there is a need to speed-up and expand your media outreach program. At present this feature is in beta stage.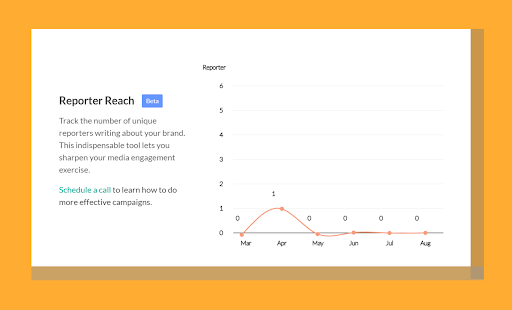 Publication reach enables you to understand the number of media publications writing about your brand. The data will reveal if your media reach is broader or narrow. The metrics will indicate if there is a need to reach out to a wider audience. The feature is under improvement phase, a beta version is out there for you to experience it.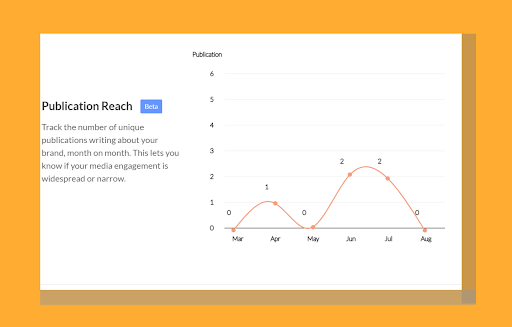 Reporters who covered you vs competitors enables you to know the reporters writing about you and your competitors or topics related to your landscape. The feature is still in beta stage. But with these metrics soon you will be able to track down the most prominent journalists writing about your verticals.
Metrics to monitor your PR campaigns
Now that you know what your positioning is, it's time to utilize the data to its maximum with some high-octane PR campaigns. Using Wizikey's regularly refreshed and curated lists of reporters, create a campaign . Once you pitch your story, monitor the response and engagement of reporters from thereon.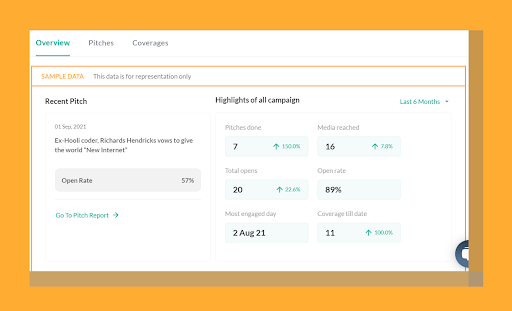 The best part about having a platform like Wizikey is the fact that you never have to act on your gut but on real-time metrics. The Overview section under Analytics gives an overall picture of the campaigns, the performance of pitches, reporters reached, engagement level, open rates, etc. These metrics enable you to decide on your next step much faster and with clarity. A lower open rate indicates a lacuna on content or missing information. This means it is time to retarget by revising, refurbishing, deleting, and adding. The open rates also tell you the right and interested journalists to reach out for follow-ups and save time on the endless cold calls.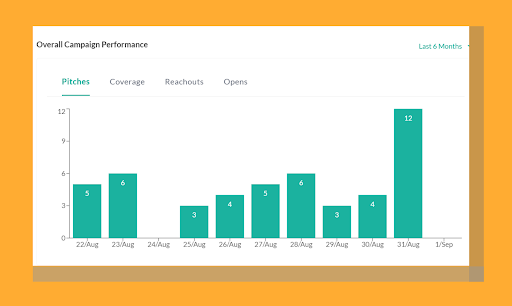 Real-time metrics is the present and future of PR
Evaluation and monitoring are the two key aspects of successful PR strategies. And real-time metrics is the only solution to keep up the game. To help you reach your set goals or maintain the status quo in your landscape, you ought to rely on the power of real-time metrics. If you would like to find out how you can reshape your PR strategies with metrics and hidden data, get in touch with team Wizikey.