Sometimes it takes more than gut!
Public relations is what we like to term "earned media". There is an art to how we earn media versus simply paying for it. Straight-out asking for media coverage is not the answer. As a PR professional you have to be able to "sell" your story, your customer's story to be precise, to a journalist. 
Securing media coverage is a complex process in itself. There are several elements that go into writing the perfect press release or pitch. You have to be able to not just connect with the journalists whom you want covering your news, but you also have to think like them.
And then there are those nerve-wracking moments that pass between sending out your pitches and hearing back from the media houses. Sometimes the news is good and sometimes, let's face it, it's not what you want to hear.
Reasons your pitch just got rejected could range from your subject line just not being interesting enough, to a jaded journalist who does not want to write about your industry today.
Beyond trying to follow up and ask them for more insight, and relying on what your instinct as a PR professional (a fine-tuned skill) tells you, what can you look to for evidence that you have to change something about your pitch?
Use data to help you decide
We know you work hard on building relationships with the press, developing new approaches to engaging your audience and getting your story told. These are all part of the PR strategy. Wizikey can help you create a targeted media relations campaign, tailored to address your requirements.
However, sometimes it takes more than all of this to get your story out there. Sometimes you have to re-work it. And for those times when you do, we have the data to help you decide.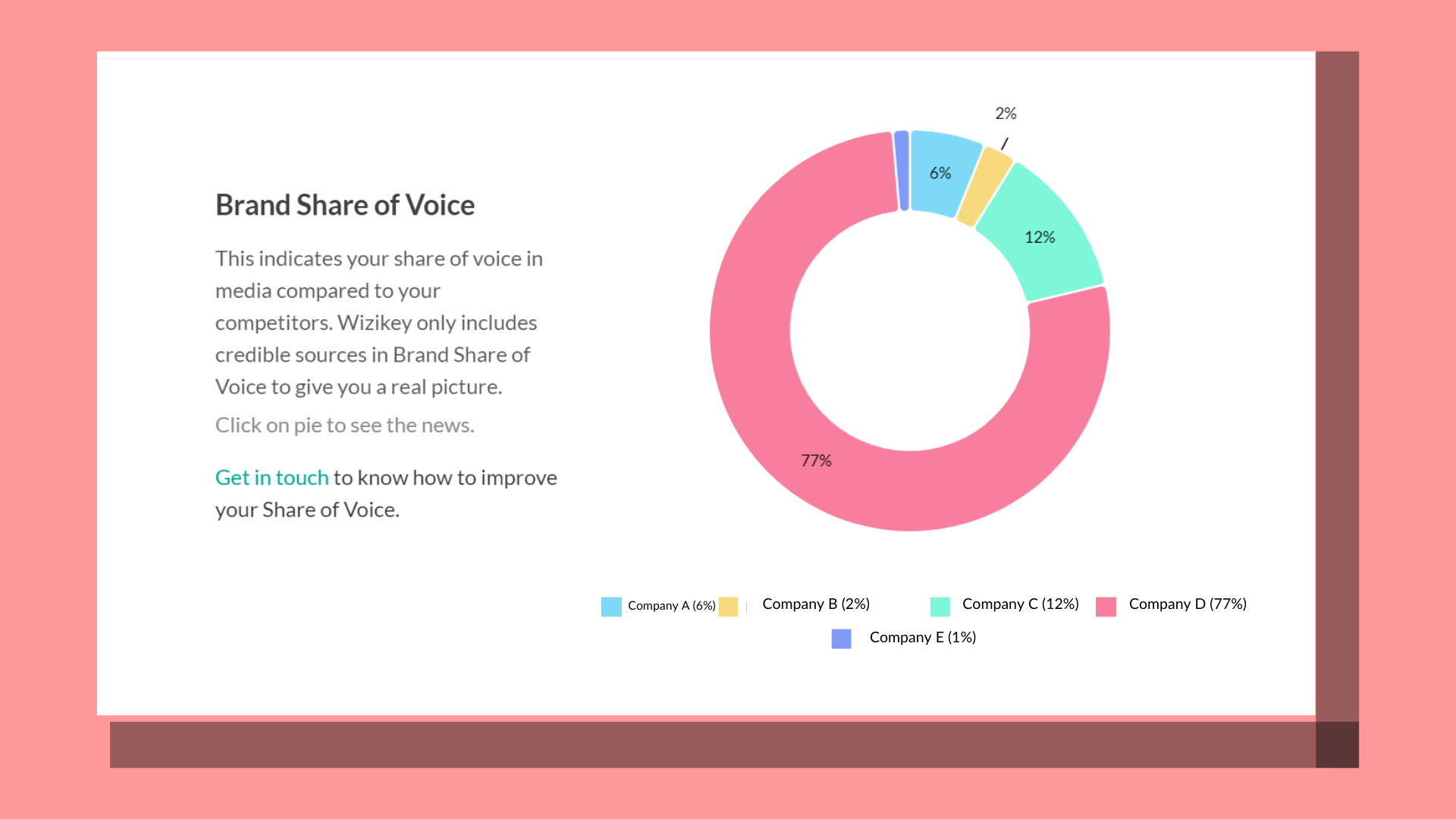 Wizikey's visual metrics give you data and information on how well your pitch is doing out there. Once you have gone through the process of understanding the landscape, your Brand Share of Voice, creating your press release (for example), and identifying the right journalists, you send out your pitch to say a list of the top 20 publications that you would love to be featured in. 
Wizikey has a data analysis team that are constantly crunching data to provide frequently refreshed lists. In the easy to use feature Search Media all you have to do is enter a keyword or topic that you need reporter information on, and hit enter. Immediately you are served up a list of current and relevant journalists and publications to match.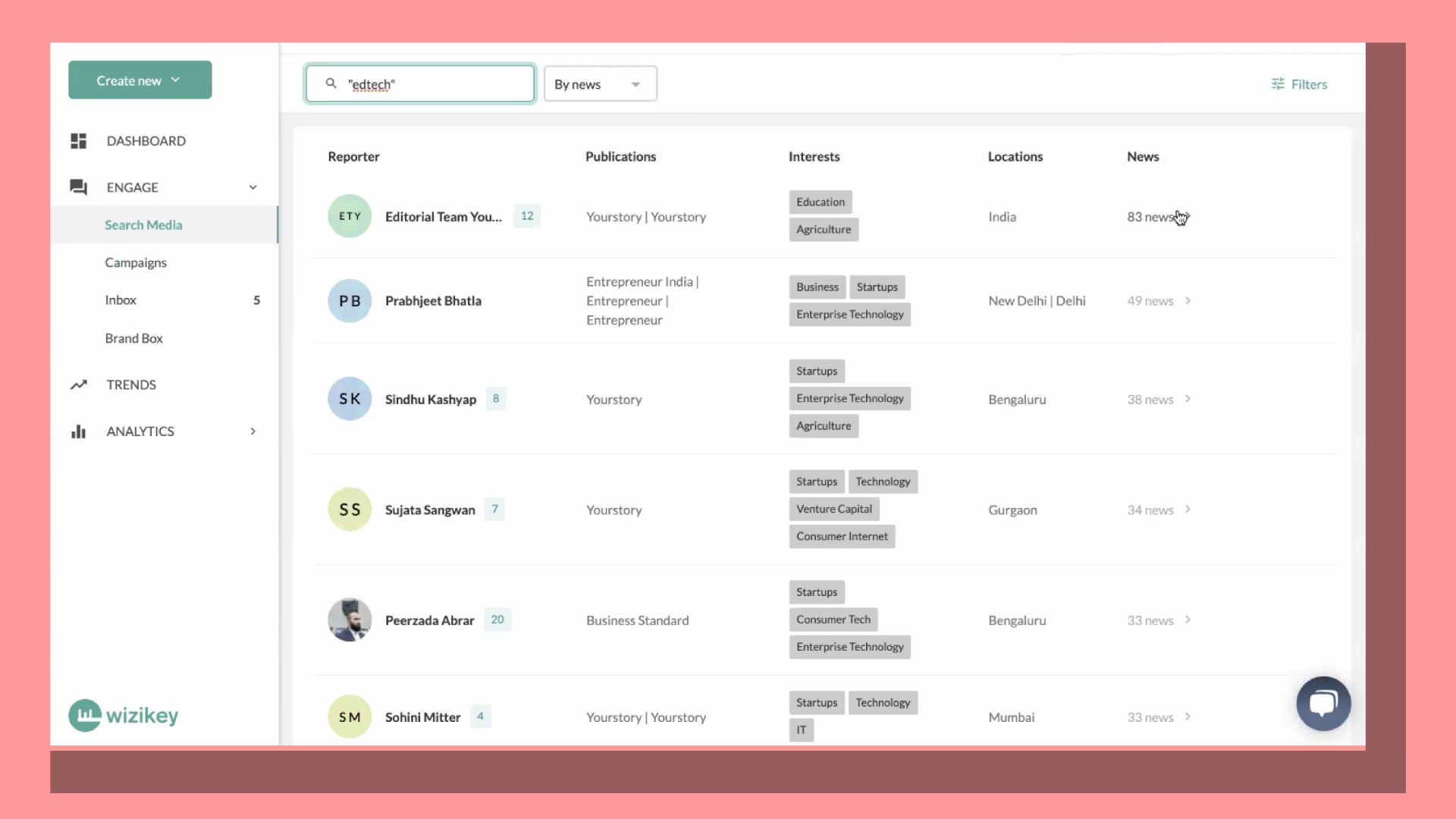 You can select your list and send out your pitch to them. You can read more about creating pitches with Wizikey here.
Reasons to retarget a pitch?
As opposed to the old ways of working, not everything depends on how you feel about something.
Wizikey shows you reasons that a campaign does well or doesn't.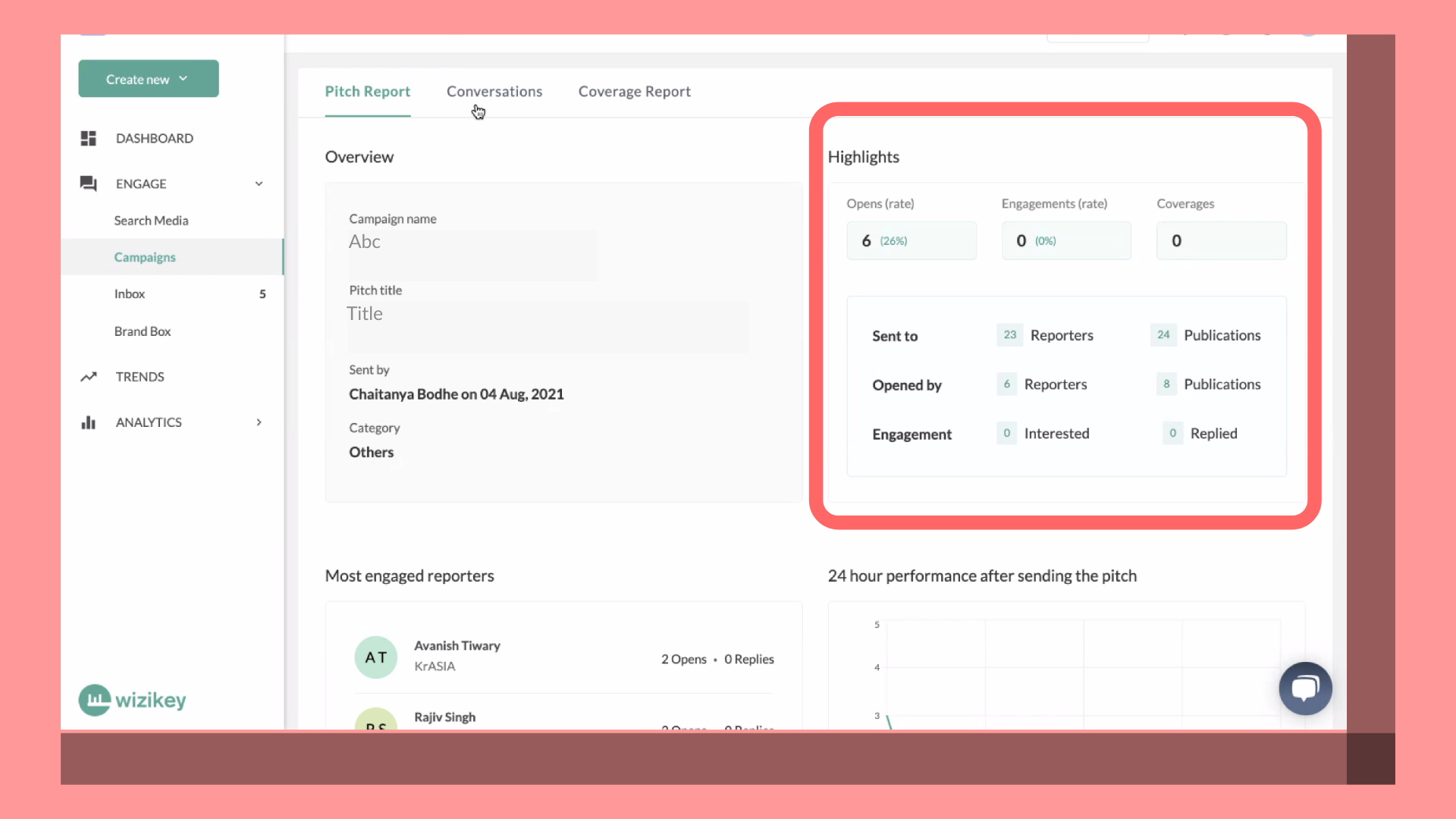 A Campaign in Wizikey can be, for example, all your pitches for a particular launch, event, news etc. for a customer.
In the screenshot above, you can see the Pitch Report data for a release someone sent out. Wizikey gives you insights enough to tell you that they sent the release to 23 reporters, of which 6 were interested enough to open the email. 
Every email you send out also has a button for the reporter in question to express "interest". When they do that, you will get a notification to let you know. Even better, if they reply to you, that is also recorded. Therefore, everything you need to know about how your pitch is received, is presented to you right here in the product.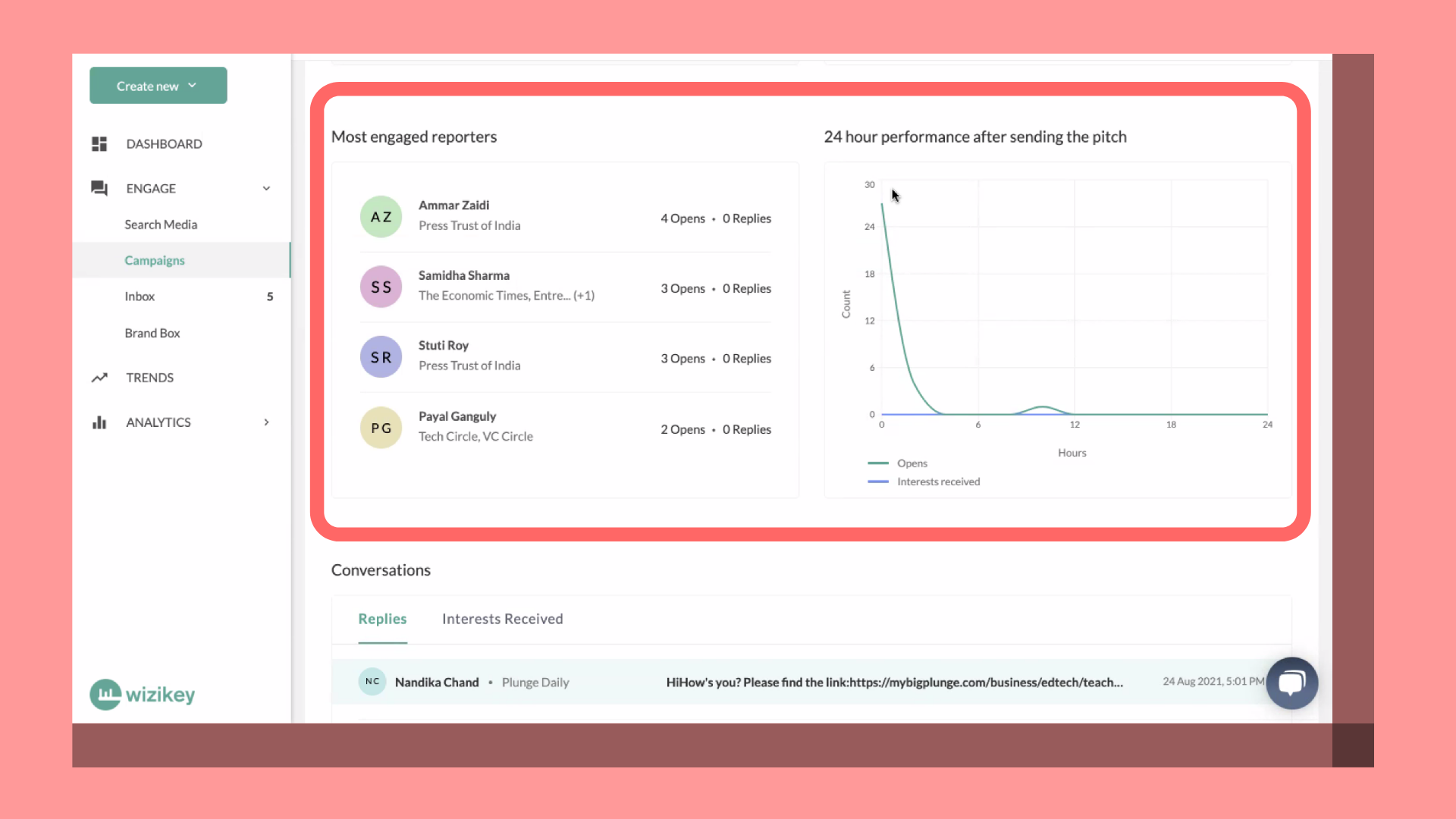 You can also see who the most engaged reporters are as well as how many times they opened your email and if they replied. If the data-based feedback is not to your expectations or liking, it gives you grounds to rethink your pitch.
Here are some data-backed reasons you may want to rethink your pitch:
Your open rates of existing pitch is at low: below 25 or 30%.
There is a low engagement rate with reporters on the Wizikey dashboard.
No inbound requests in spite of having sent all information.
Reporters are not interested and mark it as not interested.
When the media set you have sent to is not enough and you may need to reach out to more.
Other factors you may want to consider:
If the relevance of your pitch is outdated?
Is your subject line exciting enough for a reporter to click on the campaign?
Does content emerge as the hero of the conversation?
Did you include a CTA (call to action) in your pitch note?
How to retarget your pitch
As our own PR expert Shreya Ganguly tells us, "Pitch retargeting is revising your existing campaign or pitch note, refurbishing the available information, deleting or adding new nuggets to make it more exciting, and resending it to the existing or a wider set of reporters or publications."
Here are some steps you may want to follow as you move along:
Reflect on why the pitch did not work: look up competition news and see why and how they are trending, which trends are they riding on and what is working for them.
Use data insights to understand what your pitch is missing, is it key numbers or digits, or maybe you haven't detailed out your talkpoints well.
If your trend has become dated, use the platform to search for new trends and use nuggets from them
Keyword mapping: use keywords from your pitch to understand how you can tap into a larger set of publications and reporters, for example: a logistics-tech based pitch note sent to just logistic reporters might not work, but it might work when sent to startup+tech+logistic writers.
Rework the subject line to use words that are more media-friendly and likely to trigger conversations.
Links to existing news: link your content to an existing new item on the same topic that might be well understood or trending.
You can send multiple pitches as part of the same campaign, hence use the dashboard to experiment with your narratives. For example, a campaign can be on D2C, but pitches can be on ecommerce and D2C, D2C fulfillment in smaller cities, D2C audience targeting in smaller cities. You can keep changing the narrative to see what works best, but keep the overall theme the same.
Note: Be careful not to spam the press! They do not appreciate that!
It's the little things that finally matter!
Take a look at the change in the Highlights for a retargeted pitch: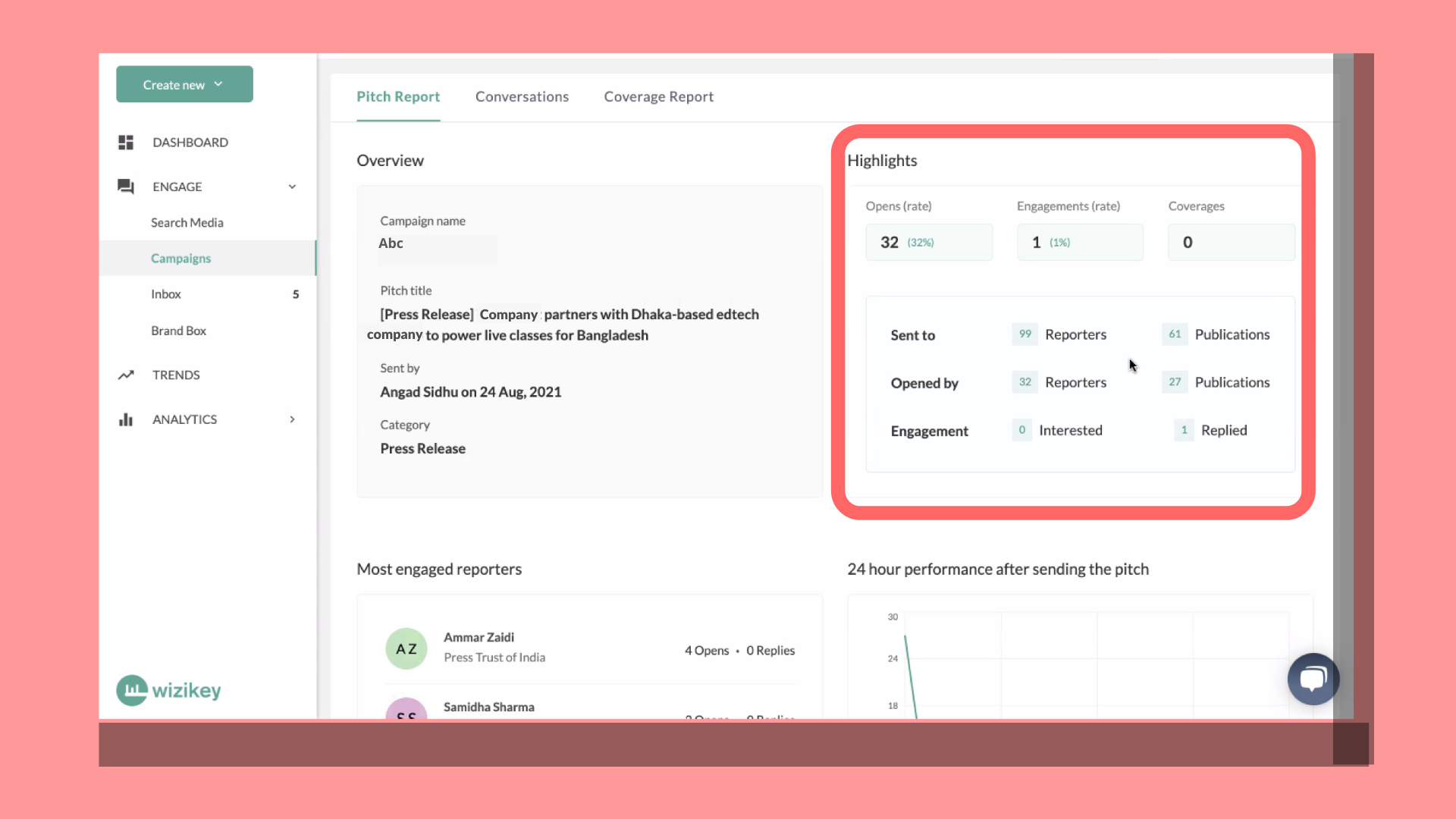 Sometimes all it takes is rethinking your target media, perhaps adding to your list of reporters, or changing the headline. In the earlier screenshot of engagement highlights with low engagement rates, some changes made to the pitch resulted in better statistics. Of the changes made, increasing the outreach made a huge difference. There were other changes made too, e.g. including a change in headline to be more in line with trending news. And this time around, there have been 32 opens from 99 emails sent. (This data is from an ongoing campaign and hence the numbers are not final yet!)
At the end of the day, it's about doing whatever it takes to make sure that your story not just meets expectations, but also creates them.
Talk to us at Wizikey to find out how we can help take your story where it wants to go!