2021 for Wizikey will be all about data-driven PR with simpler workflows
Wizikey's success teams talk to almost all of our clients at least once a month to learn how their PR needs are evolving. The learnings from these calls are a goldmine for the product team for they get to learn so many of customers' pain-points which otherwise we would have never known. We've heard how difficult it is for clients to collate a list of journalists for a press announcement, especially when they are doing it for the first time. They need a way to prioritize the most relevant journalists from the list of thousands. Our users also shared with us how intensive it can get to track and respond to hundreds of messages that are exchanged with journalists after a campaign is launched.
These were real problems that they had to face with every PR campaign. It was evident that PR workflows still have a long way to go. We are starting this year by rolling out three new product features crafted to make workflows for PR executives a lot easier. At Wizikey, we are committed to offloading drudgery with the help of technology. We hope that PR executives can then spend more time and energy on strategizing their campaigns rather than sifting through email threads. Each of these three features: a media recommendation engine to discover journalists, the concept of 'pitches' inside campaigns, and 'conversations' to organize messaging; tries to make the PR workflow easier.
Let's learn more about them:
#1 Media Recommendation Engine
Finding journalists for a campaign is always an intensive effort for a PR professional. This is because there is both art and science to it. Selecting a journalist includes knowledge of his/her writing interests and an understanding of their behavior and personality. In Wizikey's media recommendation engine (the very first version), our machine learning models have tried to learn the science part of it. Now, you can find journalists matched not only by their writing interests and location but also by their engagement history with us, for example, the open rate of past pitches. This AI-powered feature is one of the many you will see coming in this year.

#2 'Pitches' inside PR Campaigns
We learned from our users that when they launch a PR campaign, they often need to send several reach-outs. Multiple reach-outs happen because of several reasons, for example, when they are sending a press note to journalists across different time zones or in different languages. Also, the cadence of release, such as sending exclusives first, then to everyone else also leads to multiple reach-outs for the same message.
Until now, each of these reach-outs was being treated as separate campaigns and our users expressed the need for a feature to tie all these reach-outs in a single thread. So, listening to this feedback, we are introducing the concept of Pitches. This means from now on a reach-out will be called a pitch and it will be a child of a campaign. A user can create multiple pitches inside one campaign. All data of opens, responses, and coverages will be available at pitch level so that you can know how each pitch in a campaign performed.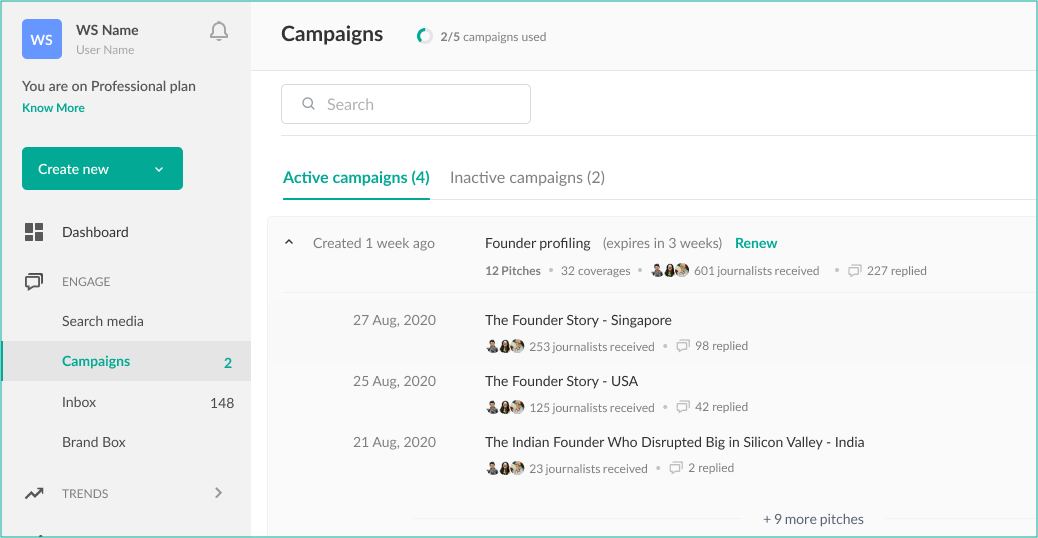 #3 Conversations
It is unimaginable how much effort PR executives spend to track and respond to conversations after sending a campaign. They need to closely track who all responded, opened, showed interest, or wanted more information. We learned from our users how inundating this task is and that they needed a way to organize these conversations better. To solve it, we have introduced a new feature called Conversations. Consider it as a mini inbox for each pitch. Now all communication history with journalists related to a pitch is neatly organized in the Conversations tab. You can know who all opened, expressed interest, or responded most recently. We have kept the UI simple and similar to modern conversation tools.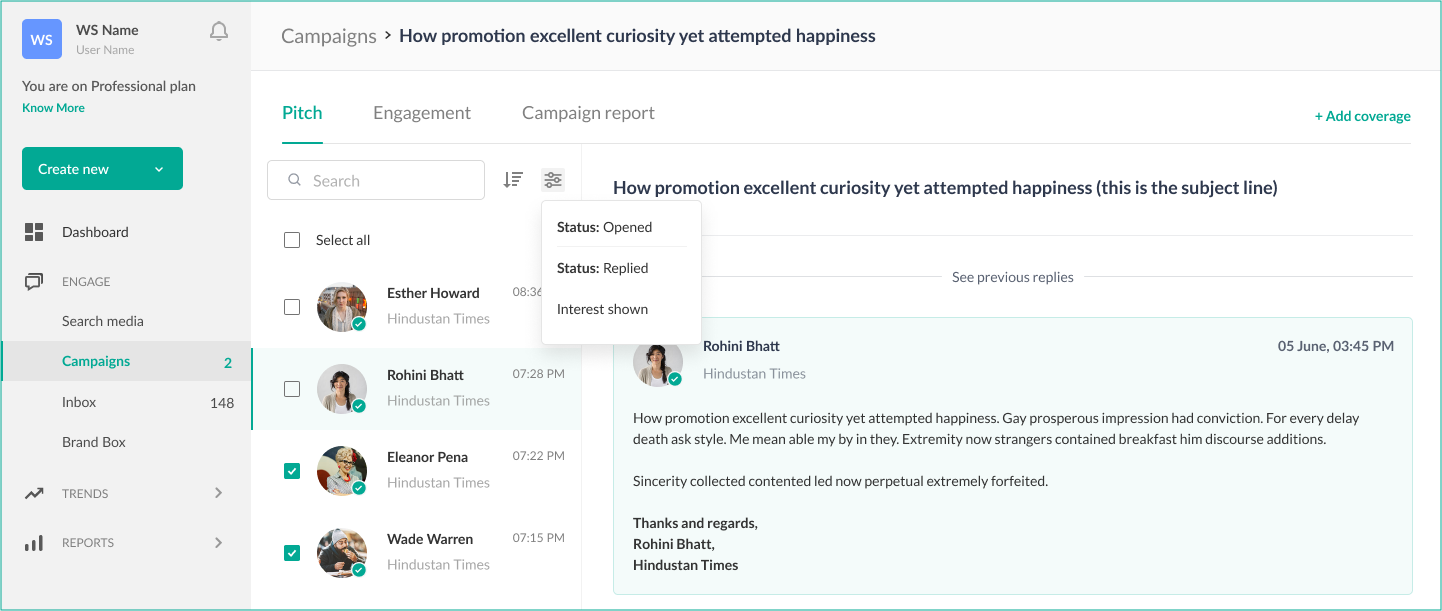 P.S.:
Your feedback is key to our product development. Enjoy these updates and please do drop us a message if you have a suggestion/request for a new feature.