Indian Software-as-a-Service continued to thrive in India, with 26.45 % Y-O-Y growth. SaaS companies have seen revenues rise significantly in recent years. The growth of Indian SaaS companies has encouraged investment, and several startups have seen large ventures going public.
The latest report by Wizikey recognizes the SaaS newsmakers of December 2021 that have been in news for raising capital, releasing products, and launching new initiatives.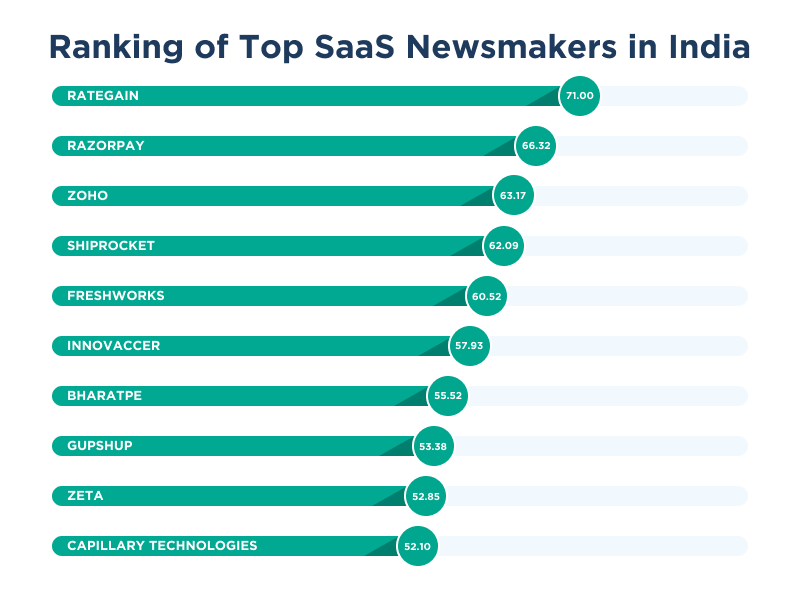 RateGain:
The global provider of SaaS solutions for the hospitality and travel industry ranked number one in the list for being the most talked-about brand. Thanks to its stocks soaring high on the Bombay Stock Exchange along with other brands like Infosys.
2. Razorpay
India's leading fintech startup ranked second. In fact, it was a major milestone for the company when it announced that it had hit $60 billion in total payment volume through its platform in 2021. Meaning, 20% more than the $50 billion it had targeted the year before.
3. Zoho
The software development company ranked in third position for all attention it received for its new office in New Braunfels. Also, for its CEO Sridhar Vembu's upfront opinion on the Omicron crisis.
4. ShipRocket
Landing in the fourth position is ShikRoacket for news on closing a $185 million funding led by Zomato, Temasek, and Lightrock.
5. Freshworks
The fifth place was taken by Freshworks for its stocks and appearances on many year-end lists.
Commenting on the SaaS ecosystem, Anshul Sushil, Co-founder and CEO of Wizikey says, "The SaaS landscape in India looks very promising, garnering attention from all mediums. This industry is sure to grow with millennials and their love for apps, social media, and mobility. In addition, the rise in demand for cloud-based applications and platforms, lowering the cost of the cloud technologies, increase in adoption of agile SaaS platforms and subscription models are the factors contributing to this growth."
Others on the list are Innovaccer (6), BharatPe (7), Gupshup (8), Zeta (9), and Capillary Technologies (10).
Wizikey's metric News Score determines the rakings. It measures news visibility for brands & individuals. Its AI and ML technology gathers media intelligence from over 10 million news articles across 5000+ distinct publications.