Amidst a year that had a significant share of highs and lows, India's top companies made the right moves to enable business growth. Reliance Industries, SBI, Bharti Airtel, Infosys, and TATA Motors emerged as the most influential companies of 2021, according to Wizikey's 2021 edition of Most Influential Companies of India.
The rankings are based on NewsScore, an analysis that captures intelligence from 10M + News sources. News Score measures news visibility for brands & individuals by analyzing the volume of news, headlines presence, the reach of publications, and much more.
The report highlights the top 100 most popular players (mentioned according to rank) in the top 500 companies.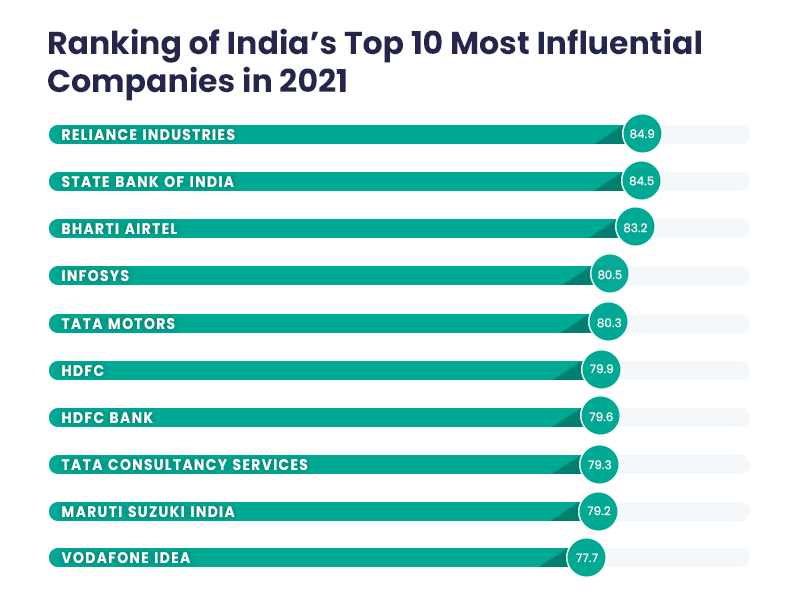 Reliance Industries
Reliance Industries ranked number 1 for the brand continues to hit the news headlines. Starting from stories around stakes in Just Dial to the integration of Reliance Jio mart with WhatsApp. In brief, Reliance Industries definitely ruled the news throughout 2021.
State Bank of India
State Bank of India ranked number 2 on the newsmakers list. Interestingly, it rolled out many initiatives under their home loans and insurance which were able to grab everyone's attention.
Bharti Airtel
On number 3 is Bharti Airtel who made the right buzz for development in the telecom sector and their initiatives like video platform as a service.
The Newsmakers
Infosys ranked at number 4 who made quite a number of news for its back-to-office plans, upskilling programs, internship programs, etc. And TATA Motors made it to number 5.
Following TATA Motors is HDFC(6), HDFC Bank(7), TCS(8), Maruti Suzuki India(9), and Vodafone India (10).
Commenting on this year's report, Anshul Sushil, Co-founder and CEO of Wizikey says, "The idea was to help brands understand where they stand in terms of their visibility. Therefore, this single standard metric helps measure PR & Communications. In addition, this report is a reflection of the year that went by. And also a way to celebrate the most popular and influential companies of the year."