The recent announcement from the Union Finance Minister on online education and skilling programs has sparked further enthusiasm in the EdTech industry. With the advent of COVID-19, innumerable players have sprung up, and competition is getting stiffer day by day. Wizikey's latest report brings the most visible and talked-about EdTech companies of January 2022 in India.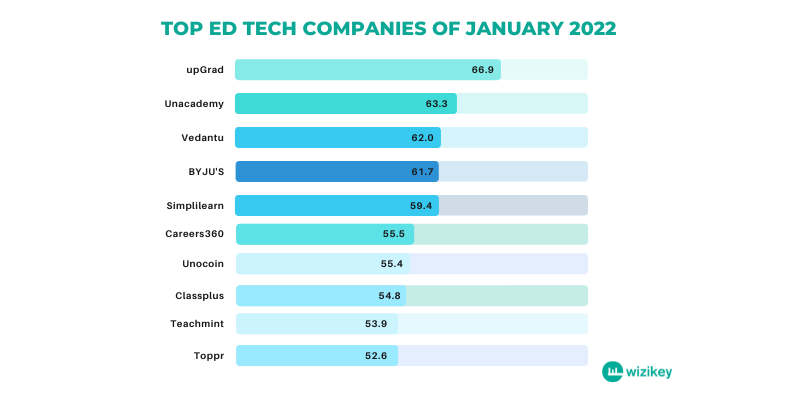 1. UpGrad
upGrad ranked number one in the list. The brand grabbed all the eyeballs with its acquisition of the training firm Work Better and its collaboration with AWS. Further, its career report highlighting the fact upGrad leaders achieve Rs 1cr plus packages too made the right noise.
2. Unacademy
The second position was taken by Unacademy. They stayed in the limelight for their film on Dhoni that was trending across platforms. Besides, its first-of-its-kind Grievance Redressal Council had everyone's attention.
3. Vedantu
Vedantu took the third position for its partnerships. Starting with its partnership with Fittr to provide wellness sessions for children to launching a benchmarking report for online child safety with Space2Grow.
4. BYJU'S
In the fourth rank is BYJU'S for its ad showing teachers' tough love, BYJU'S Young Genius Season 2, and partnership with Akshaya Patra Foundation.
5. Simplilearn
Grabbing fifth place is Simplilearn for its campaign on 'Job Guarantee' and findings of their 2021 end-of-year survey of Learning and Development (L&D) professionals.
Others on the list are Careers360 (6), Scaler (7), Classplus (8), Teachmint (9), and Toppr (10).
Commenting on the EdTech industry and its rising popularity, Anshul Sushil, Co-founder and CEO of Wizikey says, "The Edtech landscape is exploding in business and innovation models, and is flooded with disruptive technologies. It's exciting and fascinating to watch; new players are constantly springing up, making it more important than ever before to have a solid market positioning strategy and the ability to tell your brand stories."
Wizikey's News Score is the industry's first integrated metric that measures news visibility. News Score is determined by analyzing the volume of news, headlines presence, the reach of publications, and much more. Wizikey's AI and ML technology gathers media intelligence from over 10 million news articles across 5000+ distinct publications.
If you want to check your rankings and news score, click here.