Media monitoring is one of the most important tasks that every business needs to do on a regular basis to keep tabs on what the media is saying. After all, businesses need to know if their footprint is shiny and glowing or dirty and tarnished. But often businesses make critical media monitoring mistakes that make all the mined data for intel pointless.
The most serious media monitoring mistake is the lack of media monitoring. Media monitoring must become a priority, and organizations must make it a priority. While this might sound like a "no brainer," corporate professionals need to be prodded and reminded to analyze what is and isn't working.
Media Monitoring Mistakes to avoid
Media monitoring is a time-consuming and resource-intensive task. Further, it is one of the key components in any media relations program. After all, it helps the company to identify where it has been mentioned, by whom, and when. However, many companies make critical mistakes when creating a media monitoring system. This could seriously harm their branding efforts. Let's deep dive into them.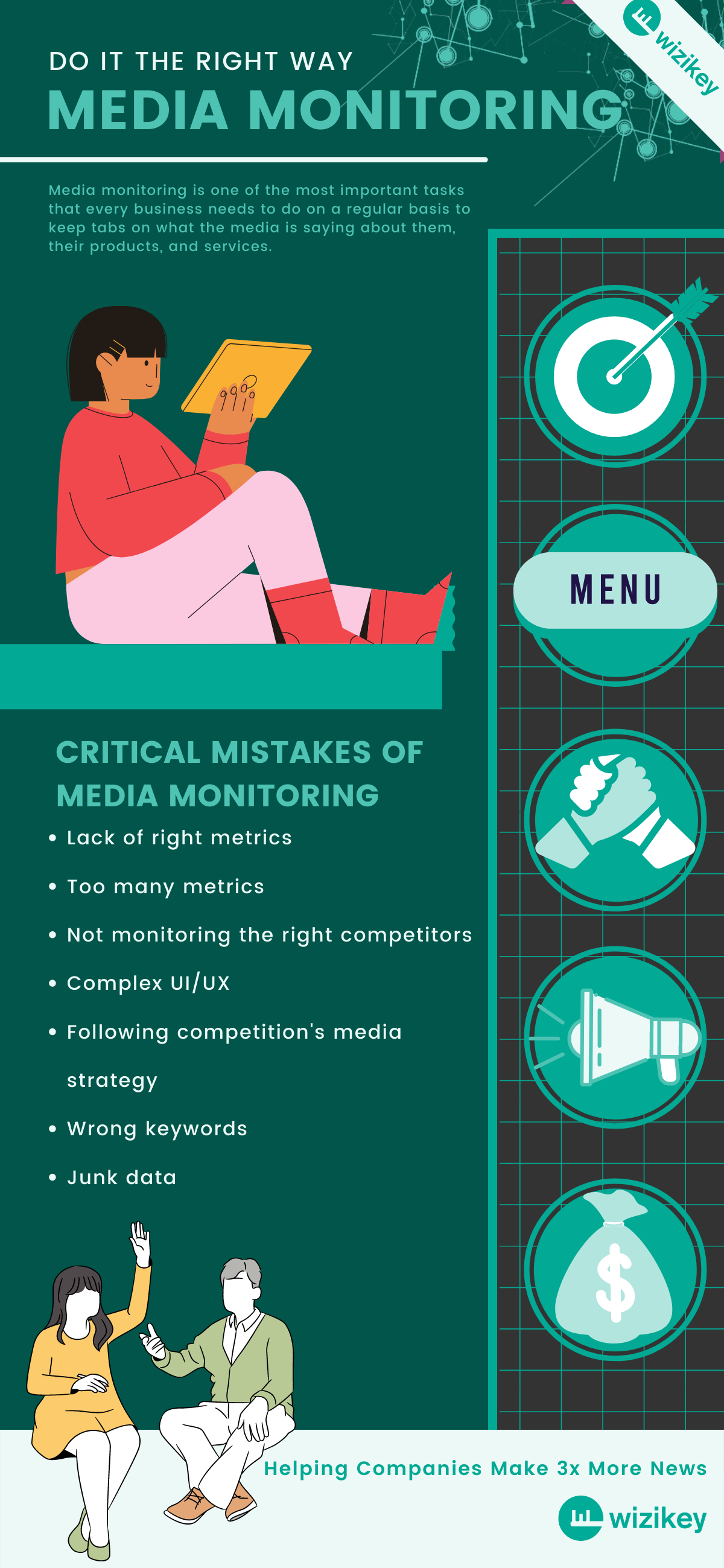 Lack of right metrics
Media monitoring, when done correctly, delivers a lot of information about the way your potential clients see your business. But are you looking at the right kinds of metrics? What kind of analysis can you do with the data? Analysis without the right analytics is a waste of time, money, and effort. Knowing what metrics to track is a must. In short, find the right key indicators to understand how your news is performing vis-a-vis your competition. After all, making decisions based on inaccurate data will not yield any result. This is of the common and biggest media monitoring mistake noted among organizations.
Too many metrics
There is a big misconception that the more data one has, the better. In some cases this holds true but there are some cases when too much data can make your decision-making process slower and less impactful. This is a very common problem with the use of media monitoring services. Especially, the ones that promise you a range of KPIs and metrics to measure your campaign effectiveness.
The key to KPI and metric selection is to choose tools that offer the specific that support the campaign goals.
Three key aspects:
Metrics are what keep us in business.
They are the things that give our marketing campaigns meaning.
Without metrics, we have no way of knowing if what we are doing is working or not. But not all metrics are equal.
No douth media monitoring is a critically important aspect of media outreach, but there are many different metrics that you can be tracking. It's easy to become overwhelmed by the number of things you're attempting to measure. This can result in you spending hours gathering data rather than working on the outcome. By adding more media sources to your media mix, you will fail to make sense of this massive data flow.
The key is to track the right and the specific number of metrics in order to make your media monitoring as actionable as possible.
Not monitoring the right competitors
Competitive intelligence is the process of synthesizing information about competitors to identify patterns, predict future actions, and derive insights. This definitely helps in placing effective marketing messages. But if you are monitoring the wrong competitors, all your PR campaigns and strategies will fall flat. With so much information available to us, we need to spend our time focusing on those who matter most.
Competitive advantage can be elusive if you are not monitoring the right competitors. For you to gain the right data, you need to know the right way. These unique insights need to be targeted to what's important for you. Thereby, driving business impact across channels by tracking your competitors' presence in the media.
Complex UI/UX
Media monitoring should be easy, right? It's just a few buttons that send data into your dashboards. If the software is too complex, you'll end up spending more time decoding the data than analyzing it. It defeats the purpose.
The right media monitoring software should get you the information that you want to get quickly. It should be clean, minimalistic, and effective. To avoid these mistakes, it is vital to strive for media monitoring software that is effective and easy to use. Further, the annoying ads, distracting banners, and usually social media integration are not at all necessary.
Understanding the importance of the UI/UX, at Wizikey we have made sure that our dashboards are easy to access, use, and decode. Interestingly, this media monitoring mistake is often taken likely and turns to be the biggest pain point for marketing heads.
Following competition's media strategy
Who are your competitors? Where are they spending their PR dollars? How effective are they in driving sales and leads? Those are all questions you should be asking. But, one media monitoring mistake companies make is blindly following the competition's media strategy. Rather than emulating your competitor's exact plan, use their plans as a general starting point for designing your own custom strategy that best fits your needs.
Competition examines companies' opportunities and companies review their competitors. It is necessary to respond to the opportunities and react to the competitors' activities to exploit an appropriate media strategy.
A media strategy should be set by considering your, the company's strength, product characteristics, and brand image. Then combine those factors with those of competitors and formulate media strategy.
Wrong keywords to monitor
Keyword monitoring is a powerful tool in media planning. But what happens when the keywords you choose are poorly selected? What do you do if you don't even know what to monitor? Yes, monitoring your brand name is important. But, picking the wrong keywords to monitor is one big mistake done by most companies. Picking the wrong keywords will lead you to look at irrelevant results and miss out on valuable conversations that could boost your business.
Besides, this leads to information gaps and the voiding of the whole effort. Companies end up monitoring wrong information which leads to improper media campaigns. The number of keywords you monitor should be less, but to make sure that you are able to monitor what your audience wants. This should definitely be on your list of the media monitoring mistakes you should be avoiding.
Junk data
Media monitoring software draws on the power of the network of web crawlers and content delivery to bring you an accurate picture of your online reputation. It's important to use media monitoring software that doesn't generate too much junk data. Your software should attract minimal junk data, giving you an accurate overview of your competitors' activities.
Solution: Collaborate with the right partner
If you're a brand wishing to be in the center of the media world, you need to have strong media monitoring software. The idea is to have a perfect system that enables you to get real-time data regarding your media campaigns. The dilemma lies in choosing a tool that gives accurate results using limited metrics and relevant information. This is a good reason why businesses need partners like Wizikeyto help them make informed choices among different options in the market.
The data is scattered, noisy, and often inconsistent. You need a solution that can collate this data for you, removing extraneous information. We at Wizikey know what you need. To know more, reach out to us.