Storytelling is the most powerful way to put ideas into the world today'– Robert McAfee Brown. A mantra to swear by.
With the pandemic resulting in an evolution of customer needs, it is imperative to focus all our storytelling efforts on boosting brand stickiness. To achieve the same, it is important to include both organic (earned media) and inorganic (paid media) initiatives in marketing campaigns. A fair mix of both ensures sufficient visibility and awareness in relevant channels.
Earned media outreach (non-paid PR route), being the more popular of the two helps in bringing credibility for the brand. However, it also gives away control of the final output to the publication involved. On the other hand, a paid media format gives a more controlled push to messaging in our publications of choice.
To understand the format better, let's take a deep dive and evaluate the value that we can create with sharply targeted efforts.
What is Paid Media?
Paid placements of articles in pre-decided media channels are defined as paid media outreach. It essentially defined advertising in previous times. However, now with marketing becoming a fair mix of editorial and advertising, the term also includes advertorials, paid newswire press release dissemination (such as PR newswire and Business wire), branded and promotional content.
Why should I invest in Paid Media?
Controlled messaging, content, size, and placement are some of the reasons why brands invest in paid media formats. It also helps them plan their reach, frequency of communications and target the right set of audiences.
Who should be using Paid Media?
All brands can and must indulge in paid media routes as part of marketing. It helps them drive traffic to their site and keeps the momentum going in case there is a lull in earned media coverage. A good example is right now when journalists are busy reporting on Covid and all Covid initiatives, it is not an ideal time to reach out to them with your brand's promotional content. However, that would also mean waiting for two-three months before you reach out to your audience again. This gap can be addressed by filling it up with content partnership and paid efforts in relevant media outlets.
When should I invest in Paid Media?

That is a good question. There can be multiple reasons to invest in paid formats.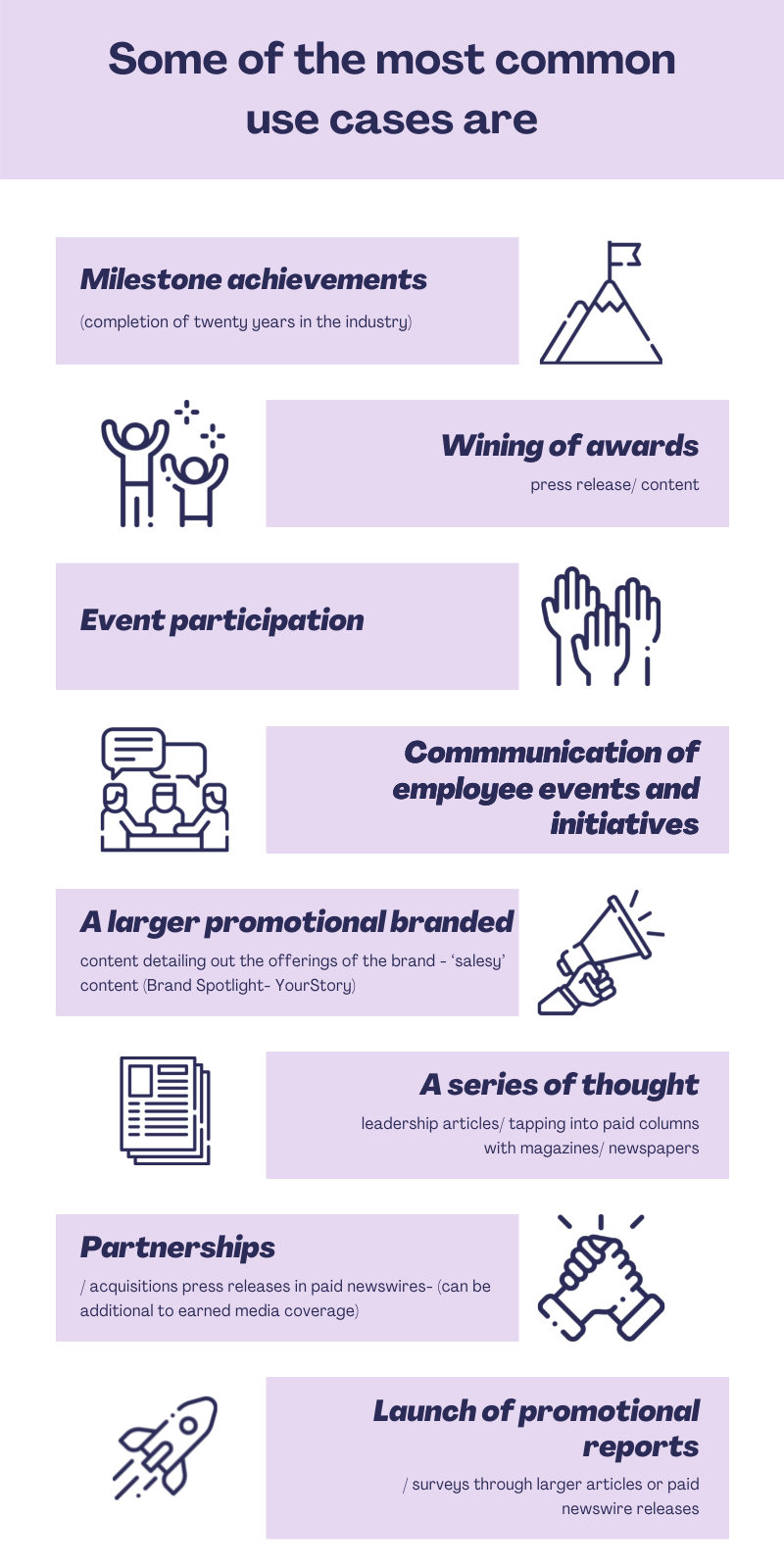 How should I approach Paid Media?
Plan and prepare- First step would be to identify the audience you would like to reach out to. Create the messaging and list down the probable list of publications
Partnership proposal- Second would be to reach out to their marketing teams, get their proposals and chart out mutually beneficial deliverables
Content creation and finalization- Next is to identify who will be working on the content; the publication in question or the brand itself
Maximize the reach- Lastly, get it published and amplify the link through social media channels of both parties. This will help reach out to maximum people and earn higher value for the initiative done.
Used judiciously and strategically, paid media activations have helped brands maximize their marketing budgets. It has also helped them earn the best results from the outreach. With organic content facing a dip, we are left with a dire need to keep innovating on our various channels of communication.