Media coverage of your brand not only exposes your brand to potential customers but also builds familiarity and trust with them. It is the single most important thing for a start-up or an existing business to build its market image and reach out to the buyers. And a media pitch is essentially an attempt to get media outlets interested in covering your business. The media pitch should be clear and concise, highlighting the most important aspects of your business.
Consistent media pitching is what will help you be a prominent voice in your industry. Read below to know more.
What is a media pitch?
A media pitch is a fishhook to get relevant journalists interested in your business so that they can talk more about you. Email is the most common platform used to make a media pitch. It is sent to a journalist on a relevant trendy topic on which they can write and talk about. The aim is to arouse interest in the story.
It is a set of vital facts which you can use to help promote your product or service. Whether you are pitching an idea to a magazine, newspaper company, TV show, radio station, or an individual journalist you should be ready with interesting facts and figures to persuade them. The fact that they should invest their precious time in hearing about your product or service. Ultimately, the aim is to capture the attention of the journalist by offering up 'newsworthy' features that might pique their interest.


Importance of media pitch
Being present in industry stories that are relevant to your sector is important to have a prominent presence amongst your competitors. For the same, it's important to do regular media pitches on trendy and relevant topics. This will help you keep your conversations with journalists consistent and regular for future stories.

Here are the key points to keep in mind while drafting a media pitch.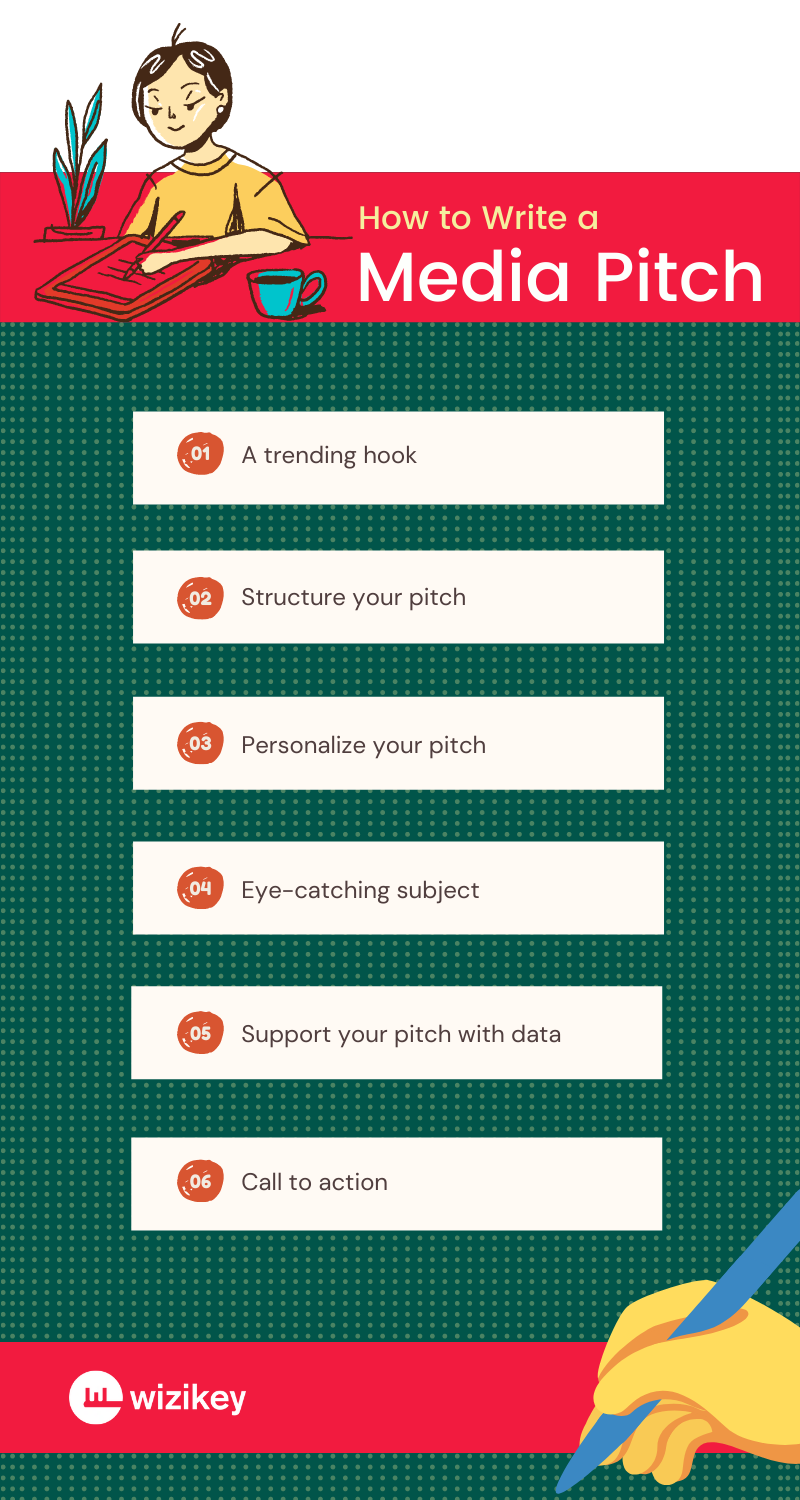 A trending hook
Your media pitch needs to have a trendy hook to it. Take any latest topic or development and strike your conversation around it with the journalist. From trending political issues to movies, journalists are always looking out for the latest trends to write on. And striking a timely conversation will help you be on top of their mind.

Structure your pitch
To get journalists hooked on your story, make sure your media pitch is nicely structured and contains all the necessary information. You can also suggest a future article with supporting data to the journalist in your media pitch to get more eyeballs on your story.
Personalize your pitch
Your media pitch must always resonate with journalists and you need to do deep research on what your concerned journalists are writing on and what is in their interest lately. Personalize your pitch and let the journalist know that you connect with their content and how you find your business relevant for them to write on.

Eye-catching subject

Your subject line is what will be the ice-breaker here. If your subject is not eye-catching, the journalist will not open your pitch. It's important to keep your subject relevant to your pitch and still a little clickbaity which forces the journalist to open your mail. A good subject always helps in initiating the conversation with the journalist.
Short sentences

You should never complicate your pitch and make it long. To hold the journalist's attention, you must keep your pitch very precise and relevant to your subject. Never deviate from the subject because the journalist will only open your mail when they would want to know more about the subject that they just read.
Support your pitch with data

You don't have to write paragraphs to convince the journalist to write on a particular topic. Always keep your pitch to the point and easy to read. Complicating your pitch with too much meat will just confuse the journalist. Our data-driven media pitch will save you time and effort to support your pitch with relevant data and figures. This will be useful for the journalist to make a decision on whether they want to write on a particular topic or not.

Call to action

Your media pitch must always end your pitch with a call to action. Mention your spokesperson and what he can share related to the topic. Your CTA should inform the journalist of the product, service, or client you want to promote. This will convince the journalist on whether they want to go ahead with your pitch or not. Without a proper call to action, your pitch will be useless for a journalist because they wouldn't know what is the next step that they have to take.
How can Wizikey help you in writing the perfect media pitch?
Our dashboard gives you access to a dedicated 'Trends' section where you can monitor your competitors, what are the topics they are talking about, what are your concerned journalists writing on, what is trendy in the media and so much more. Being on top of these trends will help you pitch in a way that is relevant to the journalist and won't land your pitch in their spam folder. Besides, Wizikey provides real-time data to help you identify the different stages of your pitches, reach the right journalists and media publications, enhance the timing of your strategies, provide new narratives, and save tons of time, and maximize output. The most important aspect of your PR is knowing whom to reach to maximize the impact.
Wizikey's Search Media tab you can find relevant journalists across the globe with a simple keyword search. To access our data-centric media trends and database section, reach out to team Wizikey.