With changing technology and growing aspirations among Indian businesses, SaaS has become an integral part of business in India. Factors such as increased scalability, cost efficiency, and ease of use have all played a significant role in making the SaaS model popular among businesses.
Wizikey's latest report brings you the 100 most popular and talked-about SaaS companies of January 2022.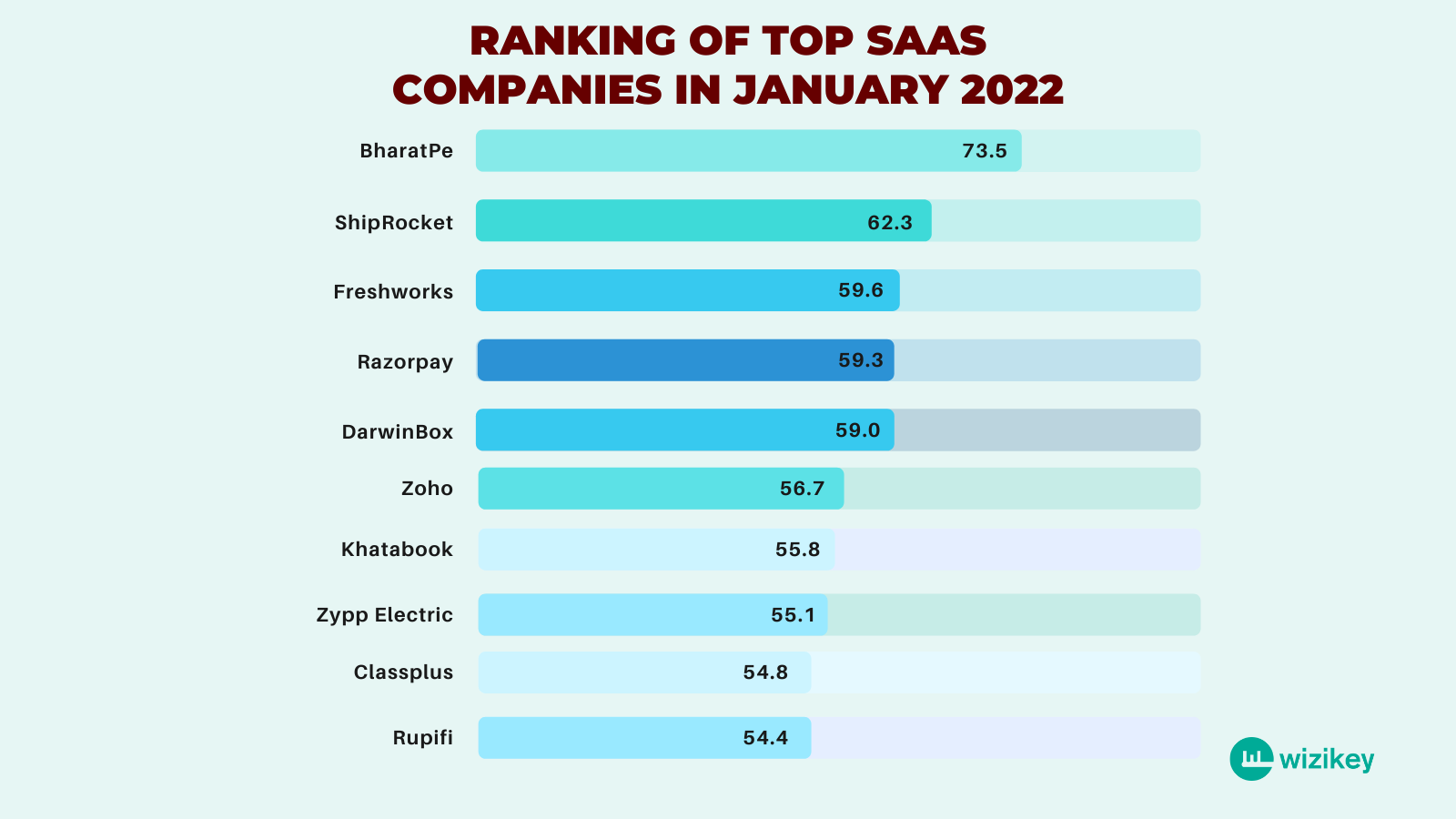 1. BharatPe
BharatPe was the most talked-about company with a SaaS offering. The company had been in the media limelight due to its co-founder's SharkTank appearance and conversation around the company's internal governance.
2. ShipRocket
This SaaS company has been making waves in the logistics industry and ranked second on the list. Interestingly, the company attracted the right eyeballs with its acquisition news. Starting from its acquisition of B2B logistics aggregator Rocketbox and its plans on acquiring a 75% stake in Wigzo Tech. Furthermore, the startup was quite vocal about its expectations from the budget of 2022.
3. Freshworks
Freshworks occupied the third rank in the list. For, this leading SaaS company stayed in news for various reasons. Uniquely, its leadership team, especially, Girish Mathrubootham continues to be visible. He has been quite active in sharing his perspective on the future of SaaS. Further, his backing for social media startup Pepul also kept him in news. Last but not least, he also won the award of the Digital Person of the Year at the India Digital Awards.
4. Razorpay
Yet again making to the list is Razorpay. Likewise, it remained in news for conversations around its products and acquisition talks to acquire a stake in mobile point-of-sale device provider Ezetap.
5. DarwinBox
DarwinBox, a fairly new entrant to the list, stood at fifth position. Impressively, it created the right buzz for raising USD 72 mn and becoming the first unicorn from Hyderabad.
A few others on the list are Zoho (6), Khatabook (7), Zypp Electric (8) Classplus (9), and Rupifi (10).
Wizikey's metric News Score determines the rankings by measuring news visibility for brands & individuals. Wizikey's AI and ML technology gathers media intelligence from over 10 million news articles across 5000+ distinct publications.
To view the others or your brand's ranking or to check your News Score, click here.