It's no secret that social media is growing in popularity, and with this growth comes the need to plan out your social media calendar. A social media calendar is a helpful tool for scheduling posts on various platforms and keeping track of the best times to post. You might not be able to see everything that happens daily, but you can certainly follow the trends and patterns. The Social Media Calendar 2022 for the US makes sure that you can easily outline your goals for the year and strategically assign which platforms will support them best.
Why should you look forward to the social media calendar of 2022? Why it is important to have the calendar handy?
We're all aware that social media is vital for your brand. But it can become a time-suck and drain on your sanity. It turns out that the more you post, the more followers you have and thus more visibility for your content. Having a social media calendar is a great way to keep track of your posts and make sure you are posting the content and campiagns that will be most relevant to your audience.
So, let's dive right into the Ultimate Social Media Calendar 2022 for the US:
January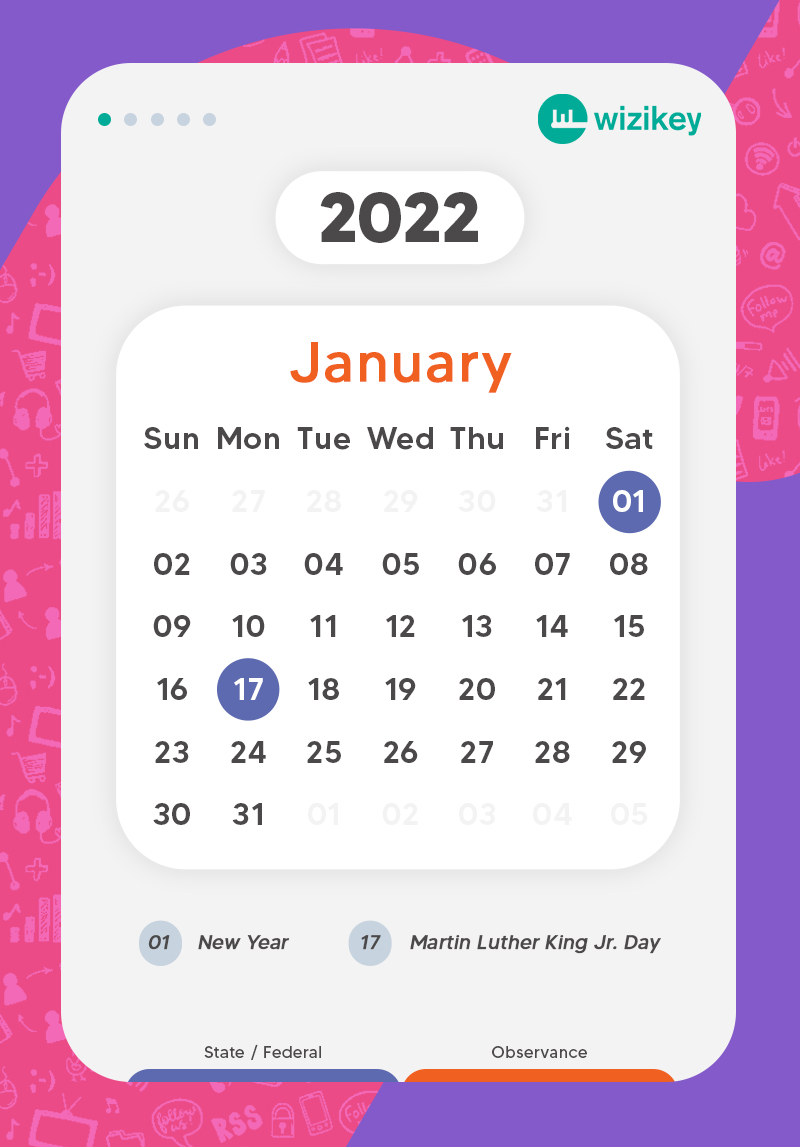 New Year (Jan 1) – January 1st is a fresh start for you and your audience. Engage your audience by sharing your goals for the new year.
MLK Day (Jan 17) – In honor of Martin Luther King, take a day to volunteer or donate to a cause. Reel your audience in with conversational and educational posts.
February
Black History Month (Feb 1) – Lean into diversity and create content that connects on a deeper level with audiences through the lens of race, ethnicity, and culture.
Groundhog Day (Feb 2) – Groundhog Day is a condition of being stuck in a pattern of behavior. It's a special day to predict what the spring will bring. Start a discussion on Twitter using hashtags.
Valentine's Day (Feb 14) – There are plenty of relationships and milestones that deserve celebration. Brands can plan the order of posts in the lead up to February 14thand use #LoveFrom and #ValentinesDay.
President's Day (Feb 21) – It's time to make your business great again. You can tailor your message for millennials by using political graphics (infographics, charts, memes).
March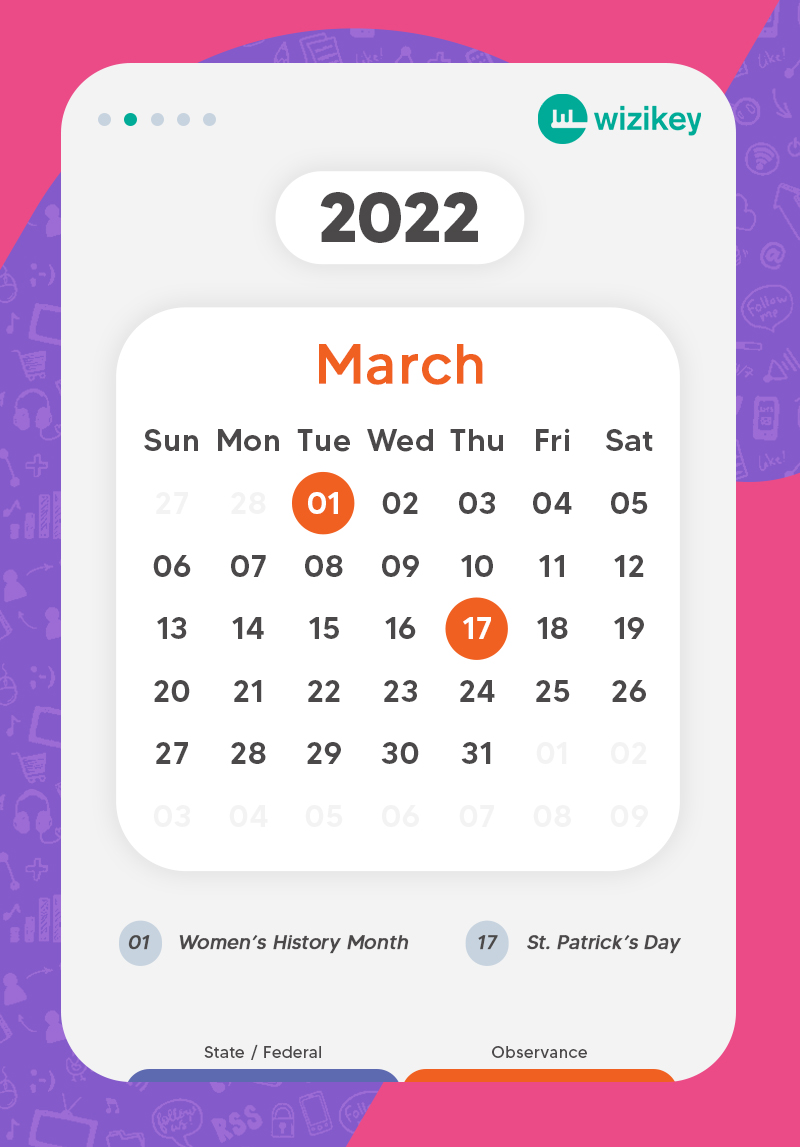 Women's History Month (March 1) – An annual celebration of the achievements of women. Focus your social media activity around issues and causes that matter to women.
St. Patrick's Day (March 17) – Join the worldwide party and put on some green and share your story on Instagram! Use green and gold as your colors to bring a festive atmosphere to all your posts.
April
Ramadan (April 2) – Ramadan is a time for spiritual reflection, fasting, and prayer. Avoid posting food pictures on your social media. Be consistent on your posting days and times, post about 30 min before Iftar and another 30 min after Maghrib prayers.
Easter (April 17) – It's the only holiday that pays back. Embed easter-related emojis into your copy.
Earth Day (April 22) – Earth Day is a great way to get your company's name out there. Talk about how you're helping to make a difference.
May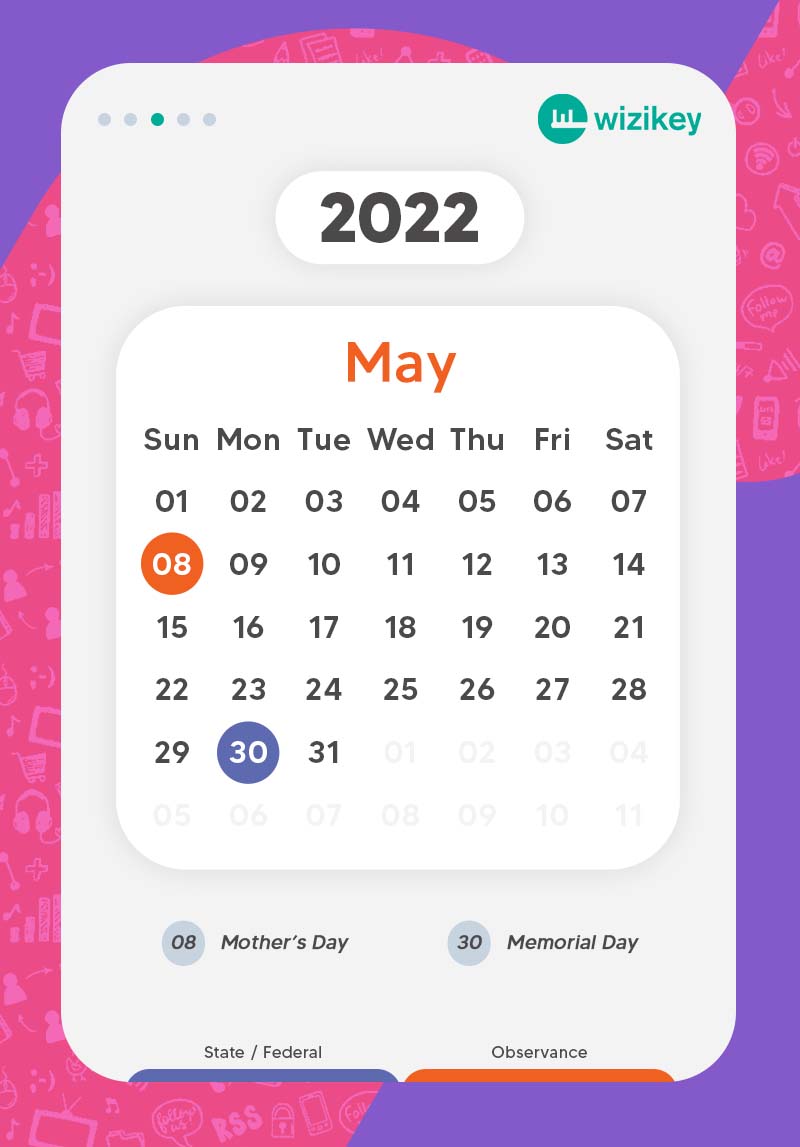 Mother's Day (May 8) – Let's celebrate moms, and make sure they know we appreciate everything they do for us. Appeal to your audiences' emotions by including a photo showing the user's special relationship with their mother.
Memorial Day (May 30) – It's a time for honoring those who fought and died for America. Post inspirational quotes and showcase your admiration for the holiday.
June
Pride Month (June 1) – Show that you care by elevating LGBTQ+ awareness during Pride Month.
Father's Day (June 19) – The best way to show Dad how much we care is a nice gift, a hug, or making it to his party on time. Brands can write copies that are personal and nostalgic.
Juneteenth (June 19) – It's an incredible story with an incredible origin. Try building awareness of the holiday by crafting a copy that creates a strong emotional response.
July
Independence Day (July 4) – Marketing on the 4th of July is a staple for many brands. If you can hit the holiday sales beat, be sure to do so. It's a time to celebrate America and what it stands for use this to tell stories about where you're from and convey your brand's values.
August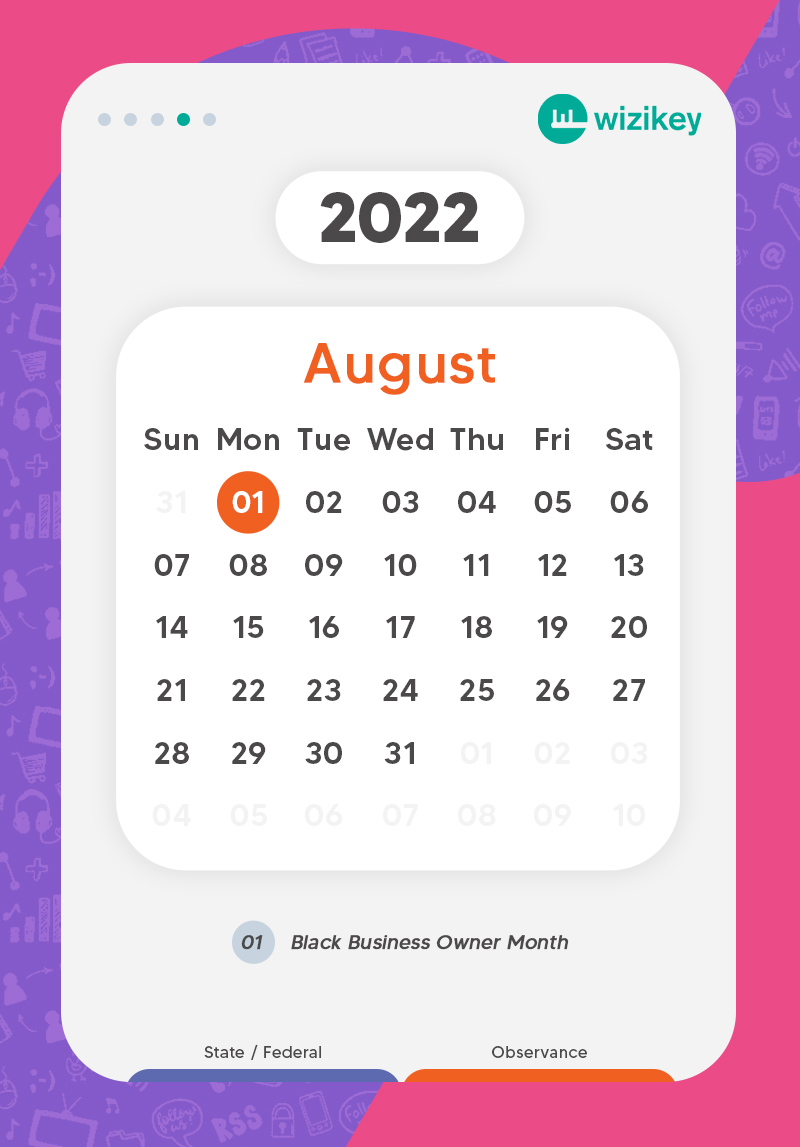 Black Business Owner Month – This is a great opportunity for businesses to support their Black friends and neighbors by forming partnerships with Black-owned brands. More than 30 million African Americans are active on social media, use this to put your brand in context.
September
Labor Day (Sept 5) – To stand out from other brands, shift the focus from profits to the appreciation of American workers. Create opportunities for your followers to contribute to the conversation.
October
Halloween (Oct 31) – Make sure you change your #SEO landing pages at the beginning of the month to reflect the start of the spooky season. Creating a brand story is an easy way to give your followers a compelling reason to engage.
November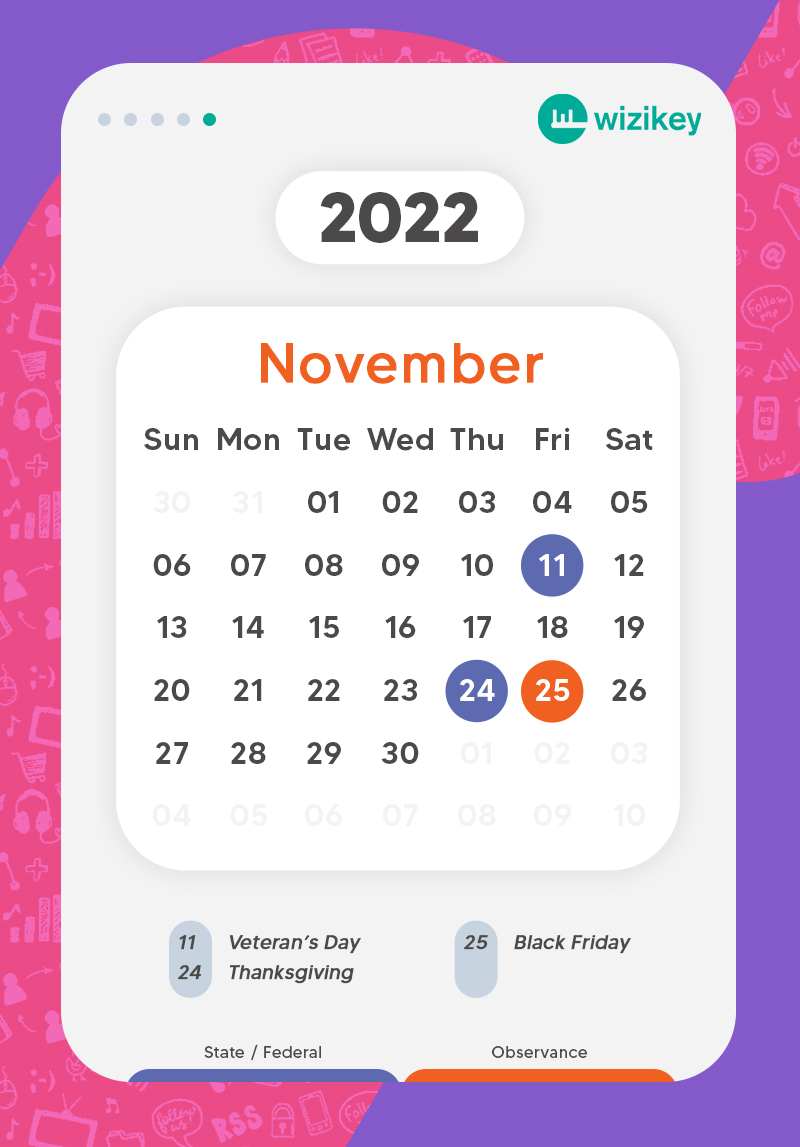 Veteran's Day (Nov 11) – Veteran's Day is a great time to thank our soldiers. Take part in the conversation using #VeteransDay.
Thanksgiving (Nov 24) – It's Thanksgiving Day, a holiday where we celebrate the Pilgrims and Native People. It's a day to reflect on our blessings and to give thanks. When posting about thanksgiving, always mention 'shopping' and 'holiday deals'.
Black Friday (Nov 25) – Black Friday is a huge opportunity for brands. Advertise your deals on Facebook and carousel ads.
December
Christmas Eve (Dec 24) – Wish everyone a Merry Christmas with a personalized video. Repost and mention @santasreindeer1 to claim a visit from them on the 24th of Dec
Christmas (Dec 25) – 90% of online consumers use social media to research products and find coupon codes. The possibilities for holiday marketing are boundless. Create Pinterest boards with gift ideas and message your big fans and blogger friends to collab.
New Year's Eve (Dec 31) – It's time to ring in the New Year. Engage with influencers and ask them to tag you in their posts.
You can use this social media calendar to streamline your social media management so you can spend more time interacting with and responding to your increasing fan base and measure your engagement metrics after posting your holiday content. To know more, reach out to team Wizikey.