October has arrived and the holiday season is around the corner. For communication professionals, this is the perfect time to compile their year-end calendars.
The success of Covid-19 vaccine rollout has sparked a celebratory mood across the world. Hence, we've put together a year-end schedule to help you plan your media efforts in the US.
October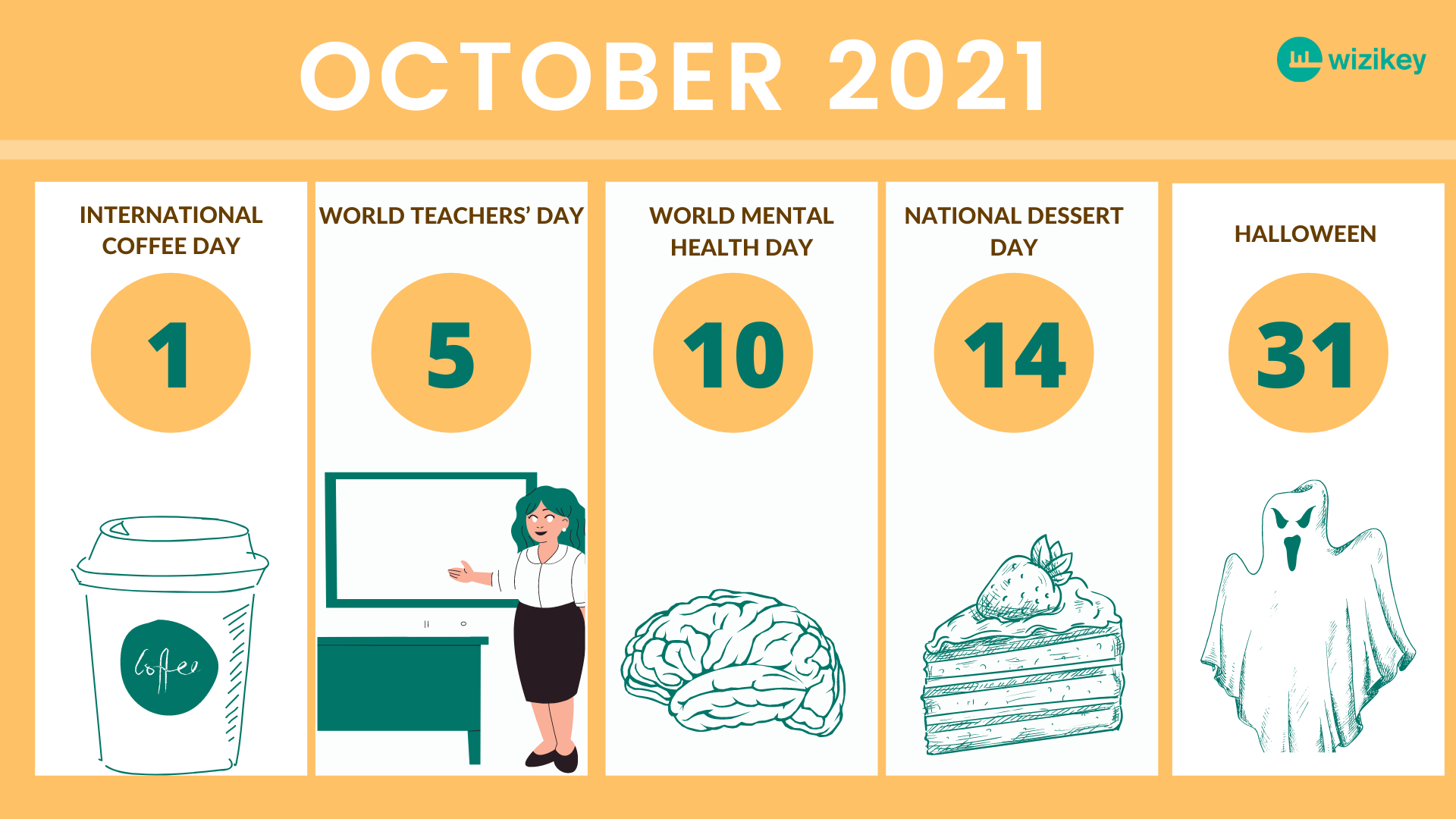 International Coffee Day
An annual event that takes place around the world.
Each year International Coffee Day is commemorated on October 1. It promotes coffee and celebrates the spirit of coffee drinkers. It's also a big day for coffee chains such as Starbucks, Duncan, 7-Eleven, and Wendy's, with lots of deals and freebies on offer. For example, Coffee Day creates some fantastic, visually appealing content for news outlets. Overall, an eventful day for consumer PR and marketing experts.
World Teachers' Day
Every year October 5 is commemorated to promote the teaching profession. The United Nations Educational, Scientific, and Cultural Organization (UNESCO) was instrumental in popularizing this day. This year is the 55th anniversary of the adoption of the 1966 ILO/UNESCO proposal on the status of teachers. Hence it offers a fantastic opportunity for PR exposure. Simultaneously, brands promote emotional advertisements centred on the bond between teachers and students.
World Mental Health Day
This day (October 10) is dedicated toward increasing awareness about mental health issues and removing the stigma. Thus, the idea is to normalize the conversation and make mental health a talking point. Its goal is to lower people's inhibitions and urge them to seek treatment. In fact, it is a fantastic day to publish op-ed pieces from thought leaders on maintaining sanity during difficult times.
National Dessert Day
The sweet-toothed eagerly wait for this day (October 14). People all across the world eat a variety of desserts on this day. It includes waffles, pies, pastries, cookies, and candies, to name a few. Furthermore, brands also utilize long-term public relations campaigns to keep customers interested in their products.
Halloween
Halloween is celebrated every year on October 31 and this year it falls on a Sunday. It is a long-standing American festival dating back to the Pilgrim Fathers. Adults and children dress up as witches, ghosts, and other gloomy characters. We notice a lot of media headlines on Americans' fiery spirit and their popular costumes on a regular basis.
November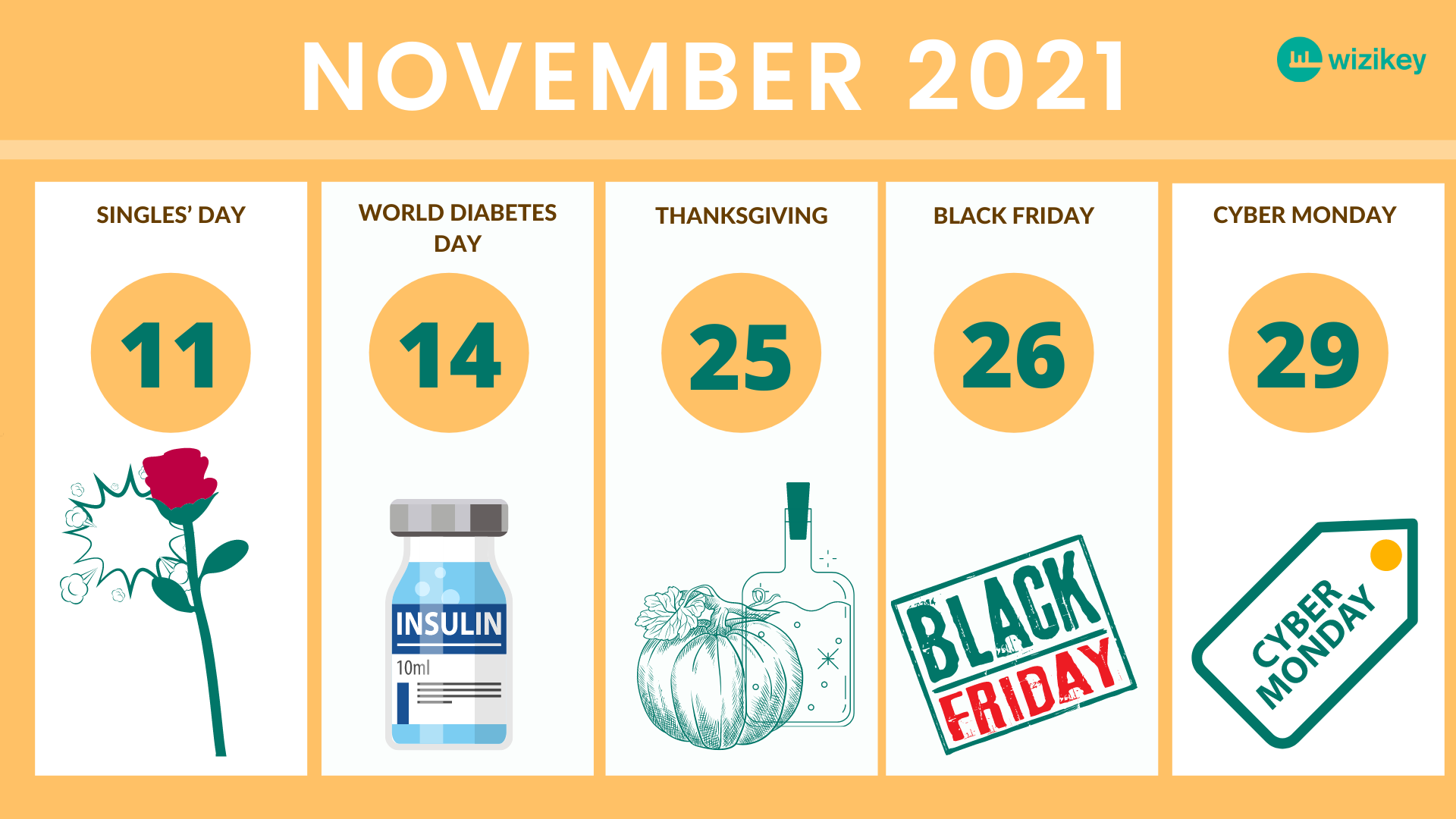 Singles' Day
Popularized by Chinese university students, Singles' Day has now become a worldwide phenomenon. The Chinese university students founded this day on November 11th. One of the most prominent shopping holidays in the United States occurs on this day. Moreover, many brands provide cross-category discounts. Therefore, this is a fantastic opportunity for firms to communicate with their customers via sales and other tactics.
World Diabetes Day
World Diabetes Day is celebrated across the world on 14th November 2021. It aims to create awareness about the illness and the different types of diabetes that exist. Furthermore, organizations throw light on how it has become a lifestyle issue for all age groups and what are the different levels of treatments available. Doctors and healthcare platforms take an active part in industry stories and op-ed pieces on both offline and online forums.
Thanksgiving (Fourth Thursday in November)
This year Thanksgiving will be celebrated on November 25, and this harvest festival has been a national holiday in the US. Family members catch up for feasts and meals, with roast turkey holding pride of place on dinner tables. They gather to express their gratitude for a prosperous year. Around this time, brands can revisit their campaigns and launch interest-based promotional efforts.
Black Friday
"Black Friday" refers to the Friday following Thanksgiving Day. This year, it will be celebrated on November 26. Both online and retail stores offer fabulous deals on almost all purchases. People spend this day glued to their laptops or at the mall.
Cyber Monday
Cyber Monday is the Monday following Thanksgiving in the United States. This year it is on November 29, and yet another opportunity for holiday shopping. Retailers woo customers to shop online by offering irresistible offers. A slew of reports about sales data and consumer reactions surfaces on the internet. A large number of brands share their sales quotes and many also share their sales figures.
December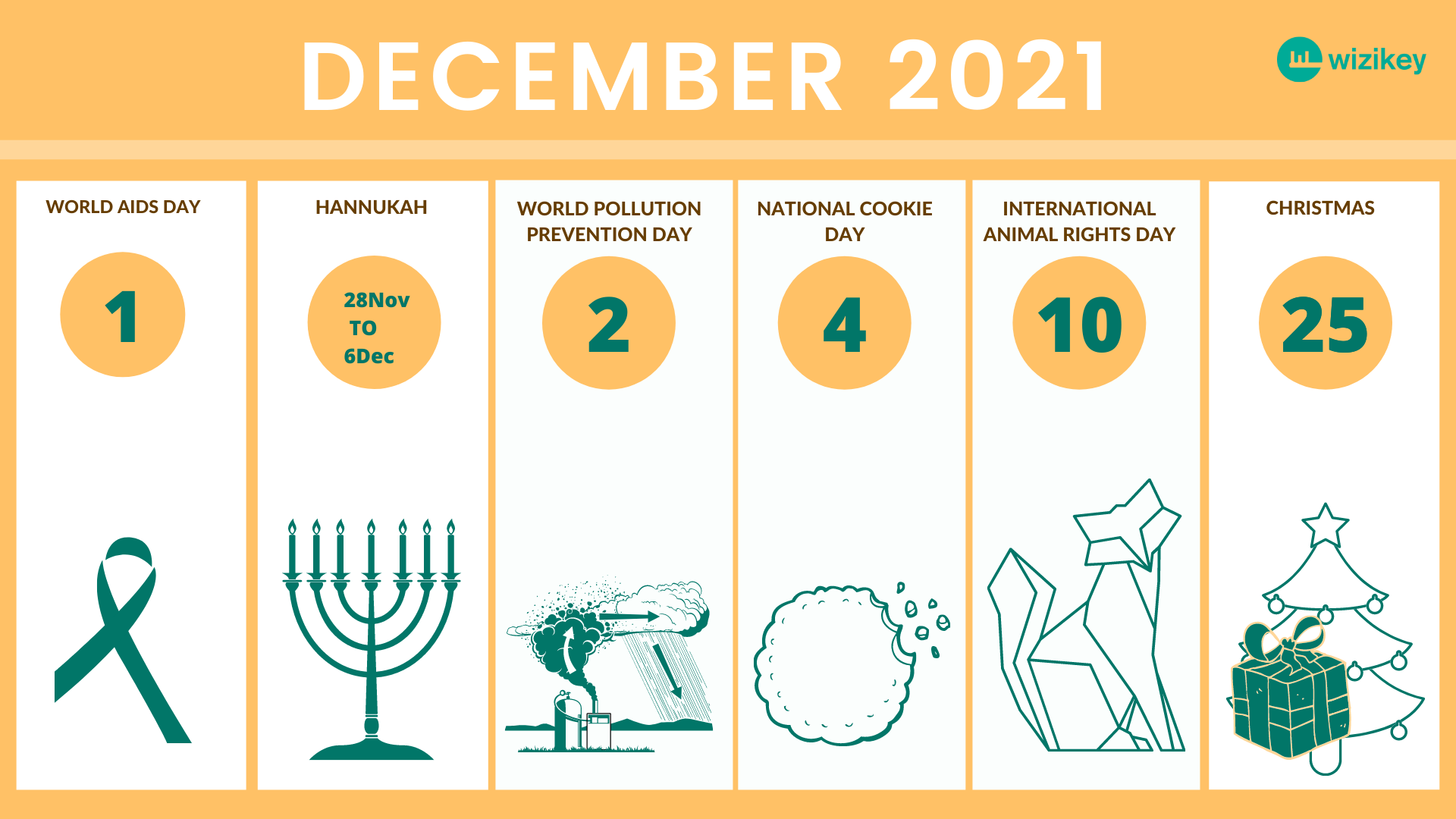 World AIDS Day
The globe commemorates World AIDS Day on December 1 to raise awareness about the dreaded disease. The goal is to dispel the notion that AIDS is fatal and highlight the strategies to stop it from spreading. People from all over the world come together to assist HIV-positive people. They also honor individuals who have died due to the disease. This is an ideal opportunity for brands to use their CSR stories to show their support for this cause.
Hannukah
Based on the Hebrew calendar, Hannukah is celebrated for eight days. It will start on 28 November and end on 6 December. This Jewish festival is quite popular in the US. Known as the Festival of Lights or the Feast of Dedication, it marks the rededication of the Holy Temple in Jerusalem. Like every other festival, it calls for delicious food and exchange of gifts. Simultaneously, brands roll out lucrative offers and discounts. Brands also launch emotional and engaging campaigns on family bonds.
World Pollution Prevention Day
December 2nd is commemorated as World Pollution Prevention Day. This day is used to raise public awareness about the negative impacts of pollution and how people may help create a more sustainable environment.
National Cookie Day
On December 4, everyone is ready with their cookie jars. Households and bakeries across the world prepare sweet treats for the day, exchange cookies, and enjoy the treat with their friends and family.
International Animal Rights Day
International Animal Rights Day is observed on December 10. The day is used to promote animal rights and welfare. The goal is to examine how humans as a race should treat animals with kindness and affection.
Christmas
December 25 is celebrated as Christmas all over the world. This marks the holiday season officially. There are shopping sales across major stores on the night of the event. At this time of year, media sources publish year-end articles and forward-looking reports on all industries. This is an excellent time for businesses to get involved with these tales.
Now that you have the perfect calendar to refer to, start rolling out some awesome PR campaigns and take advantage of the festive season. And if you would want further assistance in framing your PR strategies or deeper insights into each event, reach out to team Wizikey.