As important as it is to hop on the latest Instagram reel, it's equally important in the competitive social media world to keep a track of important dates and plan your campaign accordingly. Tracking on these dates will help you reach out to a larger set of audience and will also help you in gaining more visibility. We understand that it's difficult to keep track of all these events separately hence below is your one-stop place to find all the events and occasions throughout the year.

Wizikey's social media calendar for 2022 is drafted to track every important event that you must align for your social media campaigns. It's your ultimate destination for all the buzz-worthy events and days that you would want your clients/ brands to participate in. You can treat this as your key to getting viral!
Why is this Social Media Calendar for 2022 a MUST for you?
With the growing competition in the social media space, it's important to be on top of your game. Specifically, if you are in the marketing team, keeping a track of all these important dates is your KRA and we are here to make that easy for you.
Let's dive right into the Ultimate Social Media Calendar for 2022 for India:
January 2022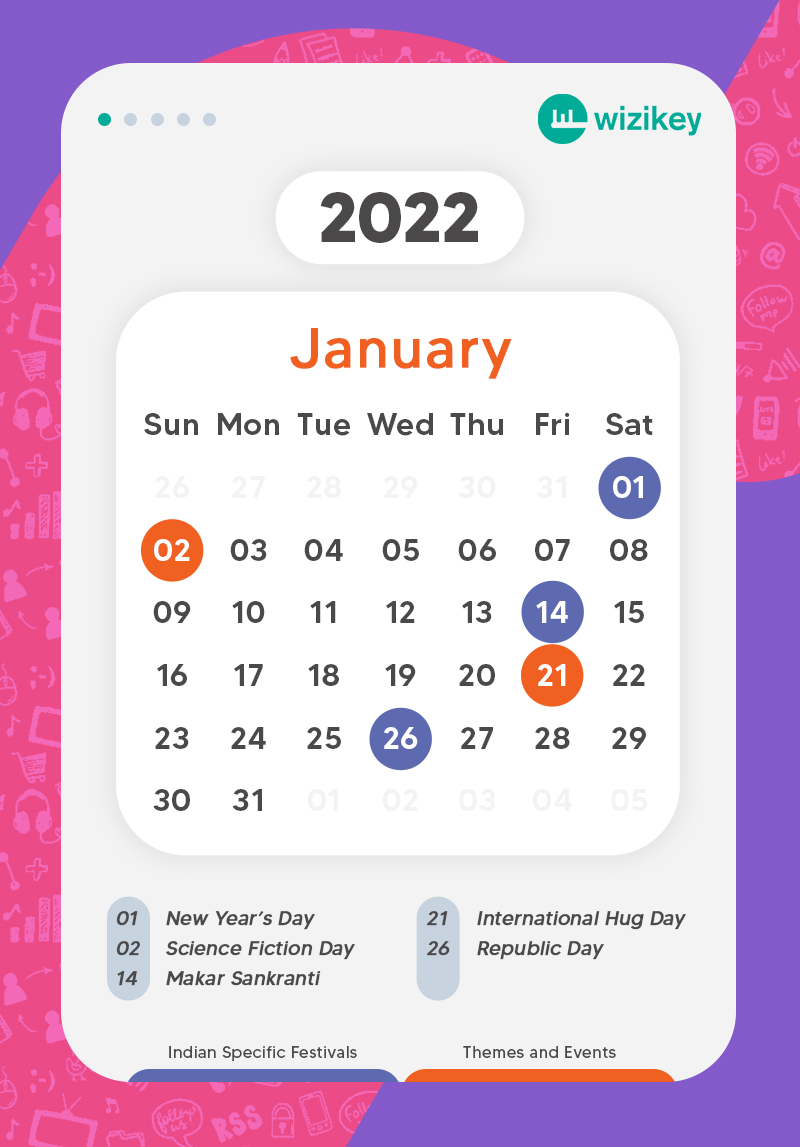 New Year's Eve, January 1
New Year's Eve is something that you must not miss on. On this day you can align campaigns around 'the first day of the year' and even start fun challenges like #365dayschallenge. Trends like this will help you grab more eyeballs.
Science Fiction Day, January 2
Honoring writer Isaac Asimov, Science Fiction Day is celebrated by many science fiction fans around the world. You can build an engaging post around the same where you can ask your audience to comment about their favorite science innovations in the section which will help you in increasing the reach of your post.
Makar Sakranti, January 14
Makar Sakranti is a Hindu religious festival celebrated to mark the end of winters and welcome spring. Brands can keep competitions and giveaways around this festival. January 14 is celebrated in most parts of the countries under different names, brands can build social media posts according to their target audience.
International Hug Day, January 21
There is no better healer than a good and warm hug. In fact, a perfect occasion for brands to spread the message of love and affection.
Republic Day, January 26
If your history textbooks hadn't done the job, we're sure your holiday calendar must have etched this day in your memory. 26th January is a great day to engage with your social audience and re-ignite the patriotic feeling within your audience.
February 2022
World Cancer Day, February 4
If your history textbooks hadn't done the job, we're sure your holiday calendar must have etched this day in your memory. January 26 is a great day to engage with your social audience and re-ignite the patriotic feeling within your audience.
National Pizza Day, February 9
Pizza isn't just-food. It's a love language. To those who understand the power of pizza, this day is a brilliant opportunity to collect all pizza lovers under one comment section.
Valentine's Day, February 14
Valentine's Day is always a good option to get too mushy with your posts. Pour all your love into that one post and you are sorted for the day.
Singles Awareness Day, February 15
Society is divided into two parts, one who celebrates 14th February and the other who celebrates 15th February. Interestingly, this #antivalentiner's day is good to collect all the single people under one post.
Random Acts of Kindness Day, February 17
This unique day is ideal for doing something kind for people you know. In addition, you can build your content around motivating people to be more compassionate and kind towards each other.
March 2022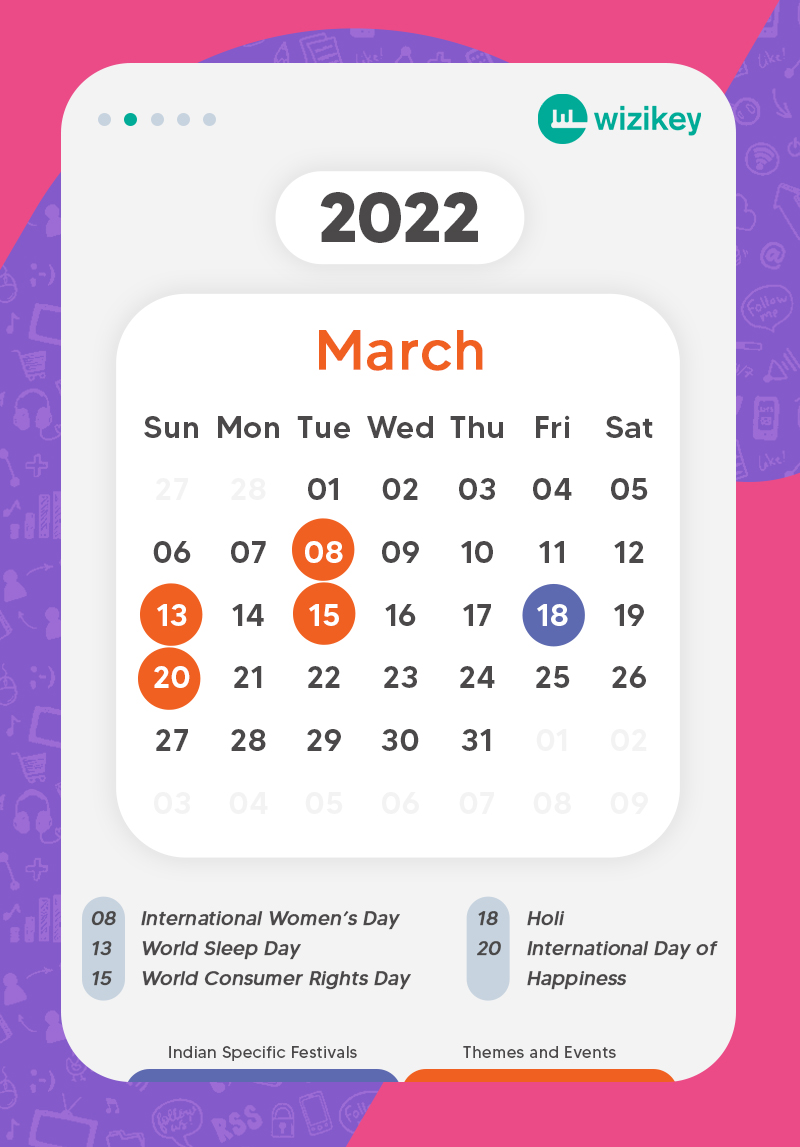 International Women's Day, March 8
This day celebrates women and their importance in the world. Brands can engage with their audience by highlighting the powerful women that society has seen over the years which will motivate young women and will inspire them to be one.
World Sleep Day, March 13
This is the exact trend spotting that will keep your social media game on track. There is no one who'll ever complain about getting that extra 5 min of sleep, you can use this opportunity to create a funny post around this.
World Consumer Rights Day, March 15
This day is celebrated to increase awareness about consumer rights around the world. Likewise, you can educate your audience to be aware consumers.
Holi, March 18
Often referred to as the festival of colors, Holi is one of the best occasions for you to schedule your social media posts around colors and something that brings everyone together.
International Day of Happiness, March 20
The kind of problems that we all have seen in the past 2 years, we need to celebrate days like these just to remind people that our ultimate goal should just be to #behappy.
April 2022
April Fools Day, April 1
It's time to bring out the prankster in you because today is your day to let loose. And brands are no exception, campaigns can be focused on practical jokes.
World Health Day, April 7
This day promotes Global Health Awareness. It's the best day to position your brand with the healthcare media.
National Sibling Day, April 10
They're biologically programmed to hate and love you with the same intensity, yes we're talking about that best friend you have but didn't pick. This day celebrates the bittersweet relationship between siblings.
Good Friday, April 15
You must use this opportunity to spread some positivity with your social media posts.
Earth Day, April 22
This day promotes environmental sustainability globally and social media can be used to promote the cause further.
May 2022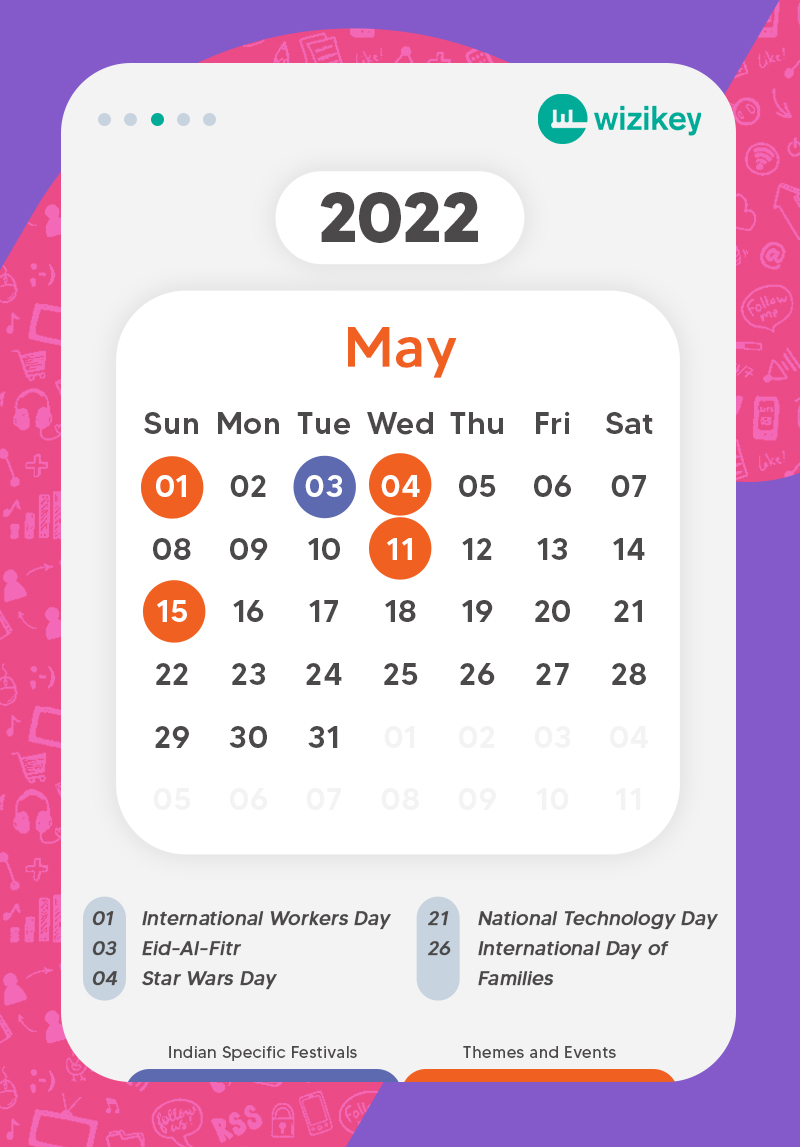 International Workers Day, May 1
This month starts strong with International Workers Day, also referred to as May Day. In fact, this day should definitely be one of the most important in your social media calendar as it's a day of commemoration of the labor movement, its struggles, and its wins.
Eid-Al-Fitr, May 3
This is one of the biggest festivals for Muslims in India. After fasting for the entire month during Ramadan, Muslims across the world share a meal together after the sunsets.
Star Wars Day, May 4
This day celebrates the famous sci-fi franchise Star Wars, which has thousands of fans around the world. It being a big franchise, with one post you can target a larger set of audiences.
National Technology Day, May 11
Many exemplary entrepreneurs and innovators in the field of technology are awarded on National Technology Day. As a matter of fact, brands show their appreciation for the advancements in technology on this day.
International Day of Families, May 15
A globalized man has a very small tribe, but it's important to celebrate it nonetheless. Uniquely, this day reminds us to appreciate those we take most for granted, yes that's right – our families.
June 2022
World Milk Day, June 1
It's our first drink and an important ingredient to most of our beloved food items. The Food and Agriculture Organisation introduced this day to show the importance of milk in a nutritious diet. Milk companies such as Amul, Mother Dairy, and Country Delight innovate engaging posts and on-ground activities like food drives and bike rallies to celebrate this topical day. 
World Environment Day, June 5
This day is marked by the United Nations (UN) to create awareness about protecting the environment. A number of brands launch campaigns and initiatives championing the cause of the environment.
World Oceans Day, June 8
On World Oceans Day, remember to remind your audience of the oceans' vital role for the environment and for the continuation of all life on this planet. Show that your brand is conscious of the matter and actively engages with solutions.
Father's Day, June 19
On the same day, we celebrate summer's arrival, we should also always say happy Father's Day to all fathers and father figures out there.
World Music Day, June 21
Go ahead and sing outside your shower today! This day encourages people to play music in public. Brands can engage "melophiles" and bathroom singers with fun music trivia today.
Social Media Day, June 30
It saves us from boring lectures and awkward conversations. Yes, it even lets you be vain now and then. How can we not celebrate this constant companion?
July 2021
International Joke Day, July 1
The joke should literally be on you on this day!
World Chocolate Day, July 7
Celebrate the best invention in the world! Chocoholics can feel free to binge guilt-free, but only if you promise to share!
Give Something Away Day, July 15
In case you didn't know, there's a Give Something Away Day in July. Needless to say that giveaways are a must on that day. Get creative and offer your audience some special treats.
World Emoji Day, July 17
Can you text without emojis for a day? Come on we dare you to try! In the world of text messages, emojis have saved us from losing the ability to express emotions. Not to mention, brands can get innovative and communicate only with emojis.
International Friendship Day, July 30
Is the office gloomy today? Maybe because your lunch buddy is on leave. Friendships make the mundane more special, and so do some brands on this day.
August 2022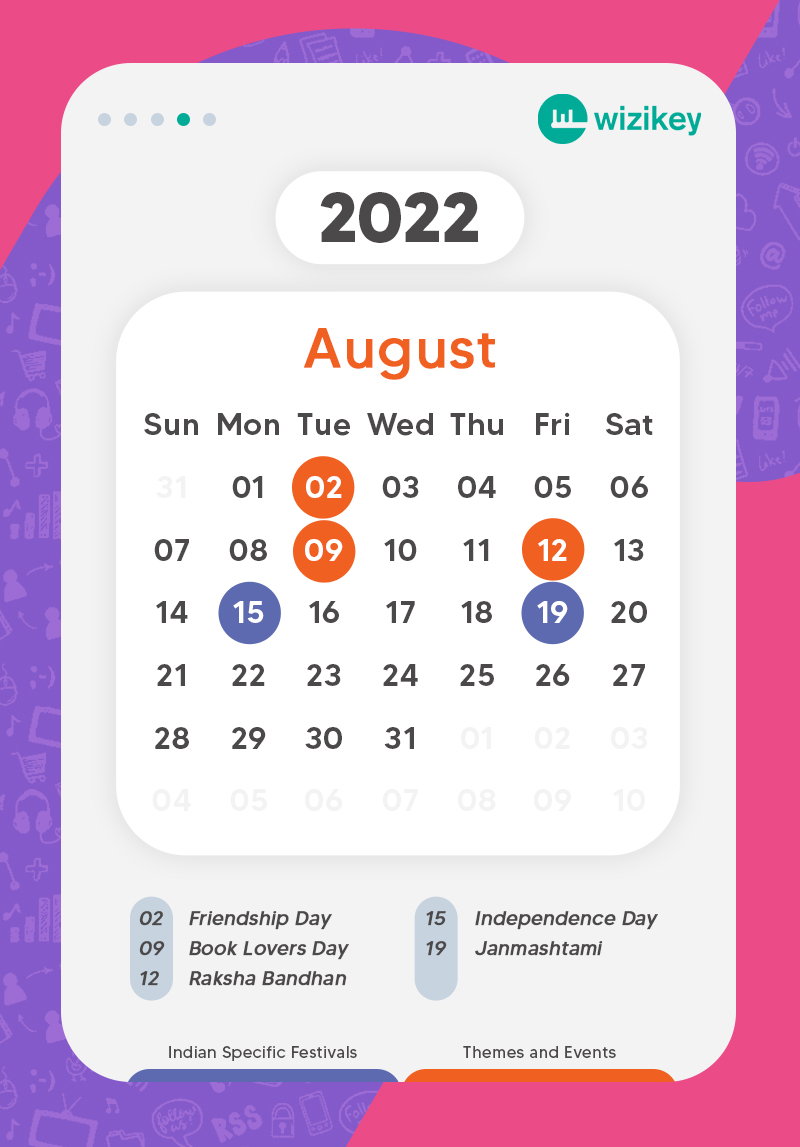 Friendship Day, August 2
Whether you're just "study buddies" or friends who gossip over chai, today's the day you celebrate this special bond.
Book Lovers Day, August 9
Put down your phones, shut down your laptops, and get yourself a cup of coffee, because today's daybooks make a comeback.
Raksha Bandhan, August 12
Who gets control of the TV remote today? Raksha Bandhan isn't an old-fashioned celebration of brothers as protectors anymore, but an acknowledgment of the special bond siblings share and an opportunity to extort gifts from each other. Raksha Bandhan is a celebration of the bond between brothers and sisters which usually involves exchanging gifts.
Independence Day, August 15
Today's the day the roars of "Inquilab Zindabad" fulfilled their promise. India got freedom from the British Empire and became an independent country.
Janmashtami, August 19
Hindus celebrate the birth of Lord Krishna on this day. Since lord Krishna was fond of milk and its products, milk brands share many innovative posts on this day.
September 2022
Teachers Day, September 5
This day is celebrated on the birthday of S. Radhakrishnan who is one of the most distinguished scholars in India. Throwback to school posts and posts appreciating teachers can be uploaded on this day.
Video Games Day, September 12
Whether you love crushing candy or are a battle strategist, today we celebrate your first love.
Engineers' Day, September 15
This day is celebrated in honor of distinguished engineer Mokshgundam Vishveshsaraya. Brands share posts about engineers and their humorous habits on this day.
International Day of Peace, September 21
Also known as world peace day, this day remembers those who fought for peace and ending the conflict.
World Tourism Day, September 27
With the rising expansion in tourism around the world which contributes greatly to the economy, the UN declared World Tourism Day.
October 2022
International Coffee Day, October 1
Are you one of those people who can't start their day without coffee? Then this is the day for you!
Gandhi Jayanti, October 2
The father of our nation, an international symbol of peace and non-violence. Yes, today's the day Mahatma Gandhi, our homegrown #rebel was born.
Dusshera, October 5
How can our social media calendar for 2022 not include this prominent event? This is the time when you get the lamps out to celebrate the ultimate victory of good over evil. This day remembers Lord Rama's final battle and wins over Raavana.
World Mental Health Day, October 10
This day attempts to remove the stigma attached to mental health and promotes awareness. Brands can also share stories of mental health patients and show their support.
November 2022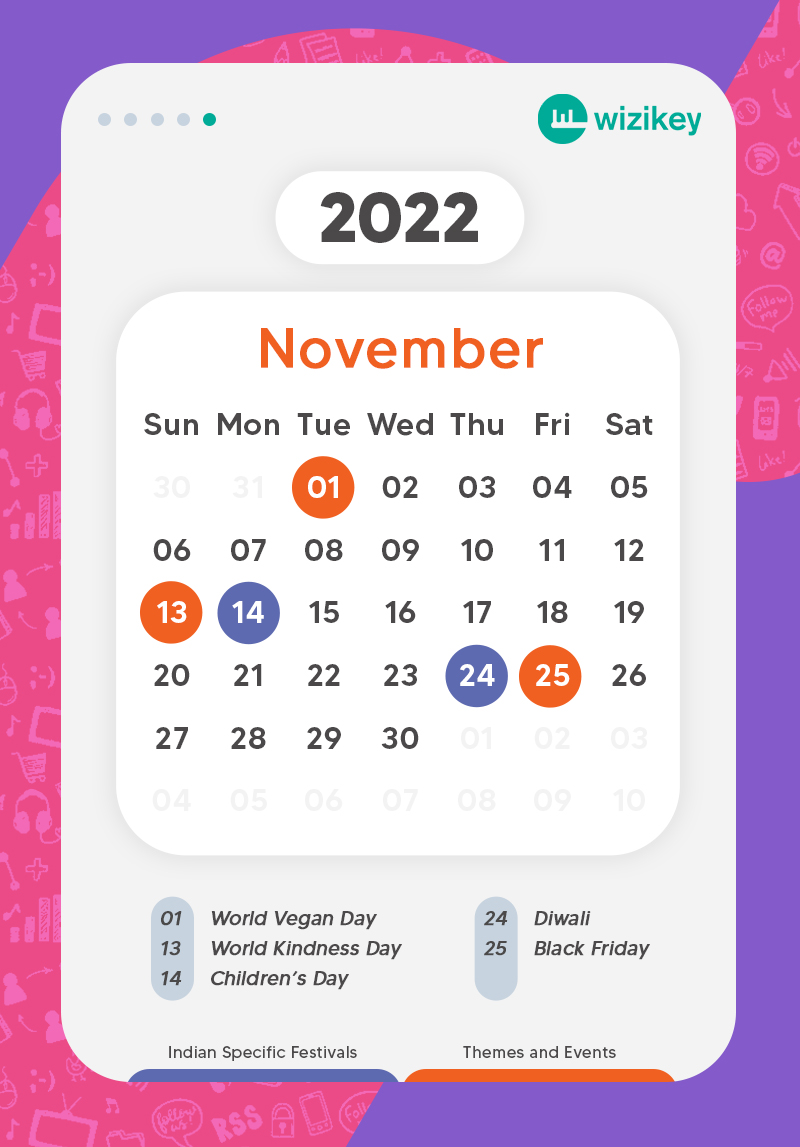 World Vegan Day, November 1
Vegans are people who consume a plant-based diet and do not support animal cruelty of any kind. On this day of honoring vegans, food brands post about vegan-friendly options.
World Kindness Day, November 13
World Kindness day celebrates encouraging kindness and sharing among people.
Children's Day, November 14
Brands bring out the inner child in them today and post throwback creatives remembering their days in school or their favorite food items growing up.
Diwali, November 24
We don't think there's a need to tell you how and what this grand festival means in India. Go all out with your deals and campaigns for the day and target everyone and anyone you can.
Black Friday, November 25
The days after Thanksgiving means, to many people, that Black Friday is right around the corner. There are simply too many different Black Friday ideas you can take to your social media. For now, let's just say that a good discount would do.
December 2022
World AIDS Day, December 1
This day raises awareness about the disease and mourns those who lost lives due to it. Brands can participate in the dialogue by posting creatives on ways to prevent and detect AIDS.
International Day of the Disabled, December 3
This day promotes the inclusion of disabled people in all spheres of life and makes opportunities more accessible to them. Brands can show their interest in the welfare of disabled people online or through on-ground activations.
Indian Navy Day, December 4
This day honors the members of the Indian Navy and applauds their achievements.
Human Rights Day, December 10
The 10th of December is dedicated to all humans on the planet. It's Human Rights Day. Let's spend a day highlighting the importance of owning our own lives and validating our rights as human beings.
Christmas, December 25
Christmas Day is the favorite day of the year for many people across the planet. Although you've probably started sharing Christmas content earlier in the year, on this day, you'll need to make sure that your content screams Merry Christmas.
New Year's Eve, December 31
The last day of December means one thing. It's New Year's Eve and you need to make festive content to celebrate a year ending and another one commencing soon.
Now that you have the most comprehensive social media calendar for 2022 for India, go ahead and launch some awesome campaigns. To know more, reach out to team Wizikey.