One of the most critical components in a marketing strategy is thought leadership. This involves crafting informative, contextual content that's meaningful to your audience. It is a type of marketing in which businesses aim to "lead" customers to believe the company has unique expertise on some topic.
What is not thought leadership
Let's begin by understanding what's not thought leadership. Caitlin Epstein, Director of PR, Twilio puts it, "It's not the formal announcements we're making. But, it is all the work we're doing around that to give the company a soul, show our perspectives and point of view. Above all, it's about putting the human forward to show who we really are. It's not the tech but who's behind the tech. And that's what thought leadership really is."
In our recent webinar on "Masterclass on Building Thought Leadership with Twilio," Caitlin Epstein, Senior Director of PR, Twilio in conversation with Sarah Maxwell, ex-Uber, highlighted how Twilio went on to become a leader in its industry and shared six important lessons on thought leadership strategies.
Before you deep dive into the six key lessons, let's try to set the context and understand what it involves.
What thought leadership involves
Thought leadership, as a marketing strategy, has been around for quite a while. Companies have been boosting their reputation by becoming leaders in their field for decades. Moreover, introducing thought leadership as a strategy has proven to be very effective.
In a nutshell, thought leadership is an attempt to establish one's self as the authoritative voice of a field. It often involves sharing knowledge and building consensus around new models, problem-solving approaches, etc.
Primarily, it needs the right processes to get the maximum output from it.
Media monitoring (a close look at the industry)
Identifying the right media channels
Challenges in creating thought leadership
Although important, thought leadership comes with its own share of challenges. During our recent webinar, we asked the audience, what they consider to be their biggest challenge. The graph below shows the responses.
Let's deep dive into the first two bigger challenges.
Identifying the right metrics
Of the audience, 35 % of members feel identifying the right metrics has been a major challenge. The problem with tracking the wrong metrics is you'll never know whether you're going to hit that magic target. Again, if you're not tracking the right metrics, it's hard to know the true ROI of your PR program. Eventually, you will end up placing more importance on certain channels or efforts that might not actually be helping your brand.
The things that you should be able to track
What is going on in the industry?
Are you aware of what the other leaders are talking about?
What kind of stories are leaders participating in?
What is trending in your industry?
Who is featuring them but not you?
What is the rate of success of the campaigns?
It is time to evaluate if you are aware of what metrics can impact your leadership? Have you thought about how to present information in a way that supports attracting and retaining more customers?
At Wizikey, we bring metrics that provide brands with relevant insights into the trends, leaders, industry, and finally, measure its success. Through these metrics, we help our customers build their businesses to achieve exponential growth.
Finding interesting story angles
A 27 % of people felt that creating interesting story angles is the second biggest challenge in building strong thought leadership.
A simple way to identify story angles is to ask these important questions—
Does this story help you tell your mission to the world?
Will it let you show how your brand is a force for good in the world (as an employer)?
Does it fit under one of the social issues that your brand is passionate about?
If the story in question fits under one of the above-mentioned categories; that's the kind of opportunity we should take on.
6 Key Lessons on thought leadership from Twilio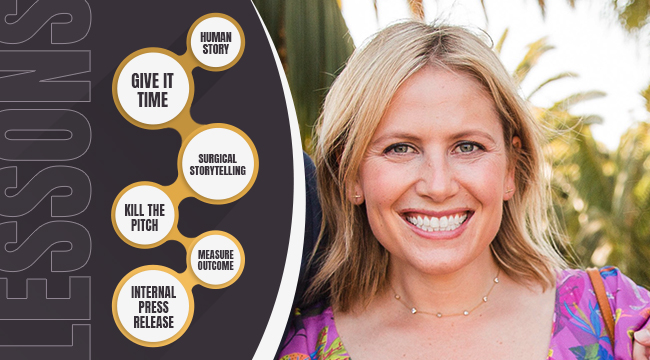 1. Human story
Thought leaders are individuals in organizations who influence others to think differently about the business challenges they face. Hence, it has to have a human story, a personalized message.
Caitlin rightly puts it, " If you're an enterprise or B2B tech, the human story is very important. It's common to hear from executives is that no one cares about my story. But humans want to hear about other humans. This is an important lesson to learn early on and push your founder or your CEO."
The next question that occurs is, how to humanize the stories. After all, giving a human angle to a story can earn that coveted coverage that you have been longing for.
The Famous $3 Billion Breakfast Burrito Story
Caitlin points out one such instance when Twilio was acquiring SendGrid. She narrates, "At that point when we did acquisitions, the legal team wasn't comfortable with any press announcement. They were worried it would leak. But, the problem in PR  is that once the deal is closing and the news has been out for three months, everyone already knows the stories. So, there's no story here."
"What's the meaty personal story we can bring to the table here to have someone cover this announcement. In this search, we asked Jeff and Sameer together how did this deal come through. They started telling us this story of how they happened to be on this ski trip because they shared an investor who would take all their entrepreneurs out on a ski trip every year. And, Sameer was unable to come to breakfast because he had to attend a call. Interestingly, Jeff was out with the rest of the entrepreneurs and he ended up buying a breakfast burrito. That was like the start of their conversation. Then, we pitch the story of the $3 billion breakfast burrito because that was the price of the deal."
2. Give it time
Impactful stories take time. Caitlin says, "We had a good Financial Times story and I love that story. It was published in June, but Jeff did his first interview in January. We were hanging on to that story for close to a year and it took a long time. But we built that relationship with the reporter over time."
Explaining further, Caitlin adds, "Our CEO Jeff said that he is doing all this press, but thinks it is not working. And then at the IPO, we started seeing all these reporters who had met with him over the year, come back and be more interested in writing these stories that he had told them."
"My advice is to set the expectation early on. In our briefing that we send to the executive, we always have the first line as the goal of this opportunity. Is it coverage or relationship building? In brief, make it very clear whether or not we expect an article to result."
3. Surgical storytelling
The third most important lesson shared by Caitlin is surgical storytelling. Today reporters are less receptive to a pitch that 10 other outlets are going to write. That is where surgical storytelling comes into the picture. In fact, you need to build a story that you think can help the specific reporter do their job versus us. Just pitching everyone to tell your story may not work all the time.
Elaborating more Caitlin says, "We identified our top 20 media outlets. The better approach is to take on a specific reporter, an outlet, and build up the story for them."
4. Kill the pitch
There are times despite your desperate efforts, the story does not get featured. What do you do then?
To this, Caitlin says, "If you've tried and got silenced three times, your pitch is wrong. The next step is to rewrite the pitch. Often you might think it's a great idea and it might not be a great idea. Hence, after a while, you just have to kill it. If you got four no's on this, you have to kill it. You have to know when your story is not reaching."
5. Internal Press Release
As we move remote, you don't get that sort of face-to-face interaction with executives quite the same way as you probably used to before. The question is how to interact with them, ensure their participation.
In a remote environment to keep the PR engine going, it's important to make sure you're clarifying your PR results. Twilio has an interesting way to convince the leadership to take an active part in thought leadership. They send out an internal press release on big wins. In addition, they put what they care about for the next quarter. The lesson, use your PR creativity to get the word out to encourage executives to spend time taking part in PR activities planned.
6. Measure the outcome
You ought to measure the impact.
"We measure how many of those outlets we've interacted with. Then, we assess how much coverage we secured. Thus, measuring both pieces of that pie. In short, we're measuring the work that it takes to get to a story and how much progress we've made on that half. And then we're measuring the impact, the results. I think if you just measure the article or the number of pieces of coverage of the volume, you may not be getting credit for all the work you're doing," adds Caitlin.
Other aspects that need to be measured, is sentiment, headline grabs that go beyond the quantity and measure the quality of features.
Thought Leadership: here to stay
The awareness of your brand's thought leadership is increasingly becoming a key indicator of the value of your company. Follow these six lessons and supercharge your thought leadership. If you need help with metrics, measurement, or outreach, reach out to us at Wizikey and we will be glad to help.