To answer this question simply, if you're a SaaS founder, you need to know the several ways in which a solid PR strategy can grow brand awareness and perception in the marketplace.
Yes, you may offer some amazing products and services, and therefore, it is just as important that you develop a well planned out PR strategy.
There are specific attributes of PR that have to be properly leveraged when working with SaaS technology. Let's break it down.
Public Relations is a necessity for SaaS
SaaS as a solution is no longer news. Now, more than ever, it is imperative that you employ new approaches towards increasing your visibility.
The goal of good Public Relations is to get you media coverage, build your brand, and attract your ideal customer.
The technology landscape is an extremely competitive one and if you want to set yourself apart from the competition, SaaS PR is no longer a nice-to-have, it is a necessity to gain a foothold in the current marketplace.
Increase brand awareness
Increasing brand awareness is a key reason for any company to invest in public relations strategies.
Good PR is earned rather than bought, and it is one of the best ways to gain coverage and attract potential customers and / or investors.
Getting your brand mentioned in a story printed in a major publication has the potential to reach thousands (sometimes even millions) of readers every day.
As an alternative to advertising and spending millions, PR is your best solution when it comes to increasing brand awareness.
Build credibility
People may know about your brand and product, but do they trust you? Good PR aims to ensure that you inspire trust in potential as well as current customers. When you receive positive mentions in media coverage, you not only increase awareness but you also build reputation.
Attract your ideal customer
Every product has an ideal customer. You know who that is. You have an audience profile for whom you have designed and built your SaaS solution. And now that you're ready, you have to find and attract them. One of the biggest things PR does for you is help you find that Target Audience (TA). When you build your brand narrative, go all out through the appropriate media channels, and build credibility, you stand better chances of finding your ideal customer.
Effective PR strategies you should use
What is strategy? It is the how and when and where of public relations. What do you leverage, when, where, and how?
Leverage your product offerings
Your SaaS PR approach has to change according to what your product offers. For instance, if you offer CRM solutions you will need to adapt your PR strategy accordingly.
Promote Adoption and impact
Promote the efficacy with which your product can be used. Focus on the benefits that your customers stand to gain by adopting your product, and how your product will help them solve their current challenges. Help them make a seamless transition to your product.
Piggyback on larger news stories
Leverage other newsworthy stories and trends and connect your technology to events that are taking place elsewhere in the marketplace.
Use customer survey data
Let the media and your readers hear the truth from the horse's mouth. Where available real-world accounts of how people have implemented your SaaS solutions should be used as an effective PR tool. Case studies and surveys are a great way to showcase how well your product is doing.
Partner with a firm that is experienced in SaaS PR and in creating brand awareness in your space.
Use data to your advantage
Journalists love figures. Why? Because when you add figures and charts, it makes articles immediately more attractive to readers. Data is easily shareable and is easier to recall numbers than words. At a glance, a reader can tell what the message is even if they have no time to read the entire article, i.e. people process visuals faster than text.
You can also use data to predict industry trends and create data-based campaigns. Leverage data and create opportunities to showcase how your brand fits in with current industry and market movements. Use your numbers as the basis of stories and, more than anything, journalists love a good story.
Channels you can leverage
Channels are the how-tos to your what and when. Today, more than ever, there are infinite channels and mediums to get a message across to local and global audiences. You need to know which ones would best complement your brand and your story.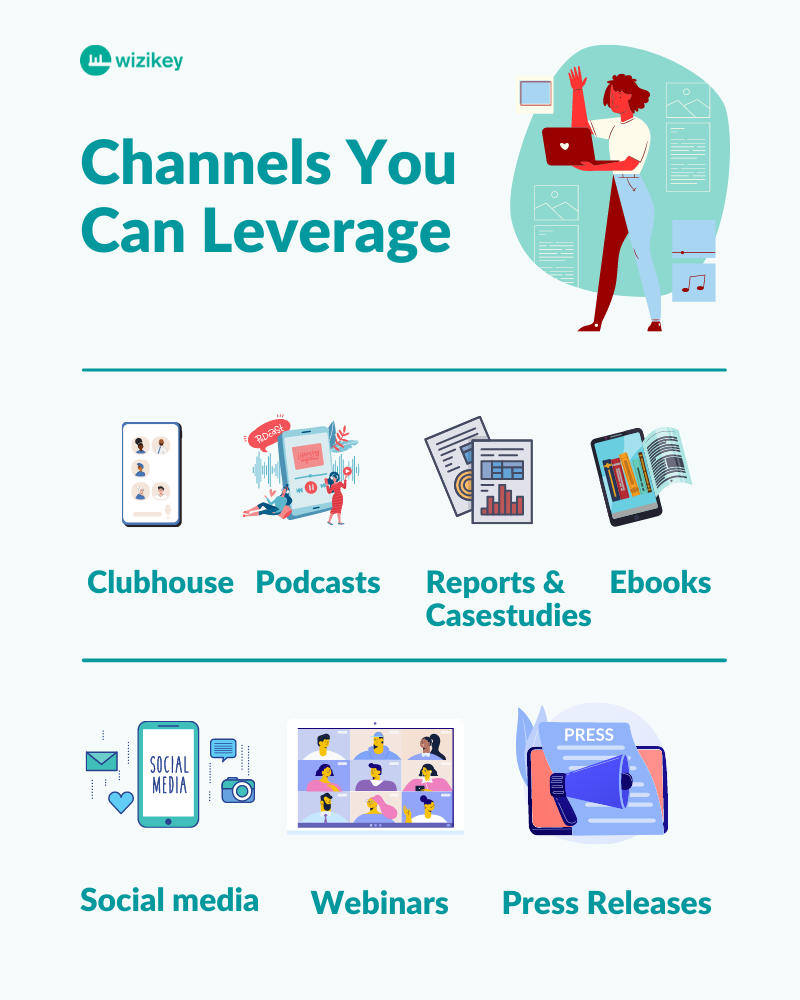 Webinars
Webinars are a tried and tested tool. Attending or hosting webinars gives you a great platform to establish your credibility and authority in your field. As an educational tool, a webinar is the tool of choice for a majority of companies looking to build brand awareness and garner a following.
Webinars give you the opportunity to interact with your customers and other names in the industry. This is your chance to set yourself apart from the competition.
What to do in a webinar:
Provide valuable insights into what you do and how you do it. Data helps.
Be relevant, use current topics that are newsworthy. Viewers should want to come back for more, to rewatch the videos, and share them.
Ask for feedback after a webinar and maintain a relationship with your audience.
Clubhouse
Take a winning shot with PR for SaaS when you stay current with trends. Edgy social media platforms like Clubhouse are a great opportunity to gain an advantage in the market.
Clubhouse is a new and rapidly growing social media app that uses audio communication as its platform. The beauty of this platform is that you get to interact with your audience as you would at a conference, but from the comfort of your living room. It is live 24/7 and you can schedule your sessions as you like, building authentic relationships with a keen audience as you go.
Another emerging trend with Clubhouse is that you can partner with influencers and other speakers in your field, and participate in their virtual talks or invite them to yours. A fantastic way to place your brand in front of an already engaged audience.
Podcasts
Every time someone in your audience hits "subscribe" to your product podcast, you gain a regular listener, and therefore an engaged audience. But before you launch your own podcast, a great way to familiarize yourself with the terrain would be to join other hosts as an expert in your field, thereby first establishing your credibility before building your brand awareness.
Create an agenda, consider what you want to discuss that is of interest to listeners, remember you have the advantage of knowledge and are in a position to inform, guide, and enlighten. Any podcast host should be able to value giving you airtime and a platform.
Social media
Social Media marketing helps you leverage social media platforms to create awareness and engagement with your audience. It is not just about publishing posts, but also about building meaningful interaction.
Social Media platforms are a dime a dozen and where SaaS is concerned, several are relevant and make sense for you to engage with. These channels are relatively inexpensive, even free, and give you access to very relevant influencers and audiences. LinkedIn groups, Facebook groups, Slack channels, Discord channels, or Workplace groups, are all great avenues to explore whether you want to increase awareness or discuss a launch. In the long game, being on social media channels and building regular interactions, really builds your credibility as an approachable and dependable authority. As you continuously engage and resolve customer queries and respond to comments, you establish not just your brand but also how connected you are with your audience.
Reports and Case Studies
You can never go wrong with creating and owning original content. Use your own research and data to bring your brand into the spotlight. Potential customers are always interested in insights and trends in the market, and, besides, Google loves original content too!
Search engines thrive on what's new and their algorithms are tuned to search for fresh and updated content. Taking the time to create new reports, studies and blogs will ensure that you are relevant and visible.
eBooks
eBooks can be great B2B magnets. As part of your SaaS PR strategy eBooks are a great way to delight and educate your target audience. Additionally, eBooks can also be shared, and what better way to grow your brand than growing your TA?
Showcase your eBooks on your website.
Gain leads from downloads.
Lead blog readers to your eBooks with CTAs.
Talk about them on social media.
Use them for your B2B customer onboarding.
Don't forget Press Releases
Sending out press releases on a regular basis is important to keep your company and your brand top of mind. However, do keep in mind that you want to share newsworthy information and it is not necessary to share trivial information, however tempting, just to keep up the frequency.
Crucial upgrades, new product launches, important hires, funding information, celebrating important milestones, new customers, are all cause for news. A small change in your UI is not. News is consumed by both potential and existing customers, and what they read should be vital and helpful to them.
Press releases also work as touchpoints for your sales team. The whole aim of sending out a release is to boost sales. Building relationships with journalists and publications in the industry that have an impact on your TA would be very useful here.
Tip: Engaging with the press/media:
The better your relationship with journalists, the more likely you are to find your brand mentioned in stories and even headlines. When reporters reach out to you for quotes, responses, and/or information for a story, try and be available. Growing your brand is also about being accessible to those who write about you, your competition, and your industry.
Mistakes to avoid
The number one mistake to avoid making is this: Do not hire a PR firm without SaaS PR experience. Not every PR firm is tech-savvy, has SaaS experience, or has access to the publications and journalists who are interested in you. Ask for verifiable proof that the firm in question can and has worked with SaaS companies, and check out the coverage they have garnered before you put your trust (and money) in their hands.
Disregard of realistic and measurable outcomes: With technology the way it is today, there is no excuse to not have a measurable PR strategy. Make sure you check off the following:
Get the story right.
Connect to the appropriate journalists and publications so that you attract the right audience.
Check out what PR metrics your agency can offer you. For E.g. Can they give you data on how engaged a journalist is with your brand? Or how your coverage compares to that of your competitors?
Have a cut-off date within which you ask to see results.
Going the conventional way: There are so many channels, as outlined above, for you to explore and tell your story. Don't limit yourself.
The Last Word
SaaS PR has a lot going for it, and as a SaaS founder, you are the best mouthpiece for your company and for your brand. It's probably tempting to think you should just handle your own PR. And while a DIY approach could be a brave thing to do, consider if you can cope with the speed of the industry, and the constant need to get news out there, and be heard and seen.
Remember that if you're a new player, it's going to take a little time to get noticed. Sure, you want your name on a Forbes list, but the chances of that happening are higher some way down the road.
Start small, but build strong. Do not underestimate the power of digital media. Industry Blogs and influencers all exist for a reason and have proven to be indispensable in generating goodwill.
Professional and experienced SaaS PR firms have experts who can bring you the best strategies that digital and traditional media have to offer. Find a team that understands your SaaS solution, your business requirements, your goals, and your audience.
Good luck!