We've created 10 Press Release templates using data points from over 100,000 journalist engagements. These Press Release templates will help you get the maximum engagement from journalists.
Cutting edge UI/UX, the best product in the market, and a VC cheque in hand – all mean nothing if the world doesn't know about you. So how do you tell the world about your company?
Unlike ancient times, you don't have to parade a banner-bearing horse through town, or train pigeons to carry your messages. A simple press release should do the trick!
What's a Press Release?
If your company is doing something newsworthy, for example- organizing an event or launching a new product, a press release is the quickest way to get the word out.
Much like an Instagram post, the goal of a press release is to get noticed, by the right audience i.e JOURNALISTS. As a short and concise document, a press release contains all the essential information a journalist would require to break your story. 
---
Why are Press Release Templates important?
"Buzz" builder: Be top of mind for your customers
Out of sight is out of mind. Not to mention, the modern-day consumer is spoilt for choice. If you aren't top of mind then your toplines are bound to suffer.
Hence, creating a "buzz" around your company is very important. Thus, a press release is the first step to onboarding journalists to your cause.
A press release is the quickest way to let the world know about your newest innovation. Similarly, if your company is launching a new product, feature, or service, a press release spreads awareness about it by encouraging major publications to carry the news.
Brand shaper: Gain visibility with the media
The key to good branding is visibility. Thereupon, a press release gets you just that, by connecting your story with the storytellers. 
---
Press Release Templates – Understanding Basics
Now that you know the magic capabilities of a press release, how do you go about writing it? A textbook press release should contain:
Headline:
As the first thing, a reader looks at, your press release's headline needs to be catchy. In fact, it should give the journalist a small taste of what to expect from the piece, yet withhold enough information so that s/he continues reading.
Lede:
In journo- speak, a lede is a brief summary. Therefore, it should be less than 25 words and must answer the fundamental 5Ws and 1H.
What is the news?
Who is involved, affected and benefited?
Why does it matter? (objective/goal)
Where will it happen? (Venue)
When will it take place? (Date)
How did it happen?
Body:
The paragraphs that follow the lede comprise the body.  As a rule, follow the inverted pyramid structure, i.e place information in order of their importance. To be precise, start from the most important and end with the background information. Thus, the body must answer any questions a journalist may have while writing your story.
Date-line:
A press release must mention the date and place from where it is written. In short, this informs the reader that the information given is new/ up to date.

Company boilerplate:
A boilerplate is a short paragraph about your company. Thus, it helps journalists understand your company's story i.e its vision, size, and type of service/product it offers.
 
Contact information:
The name, email address, and phone number of the person distributing the release is an absolute must. Hence, this allows journalists to reach out to them for further information. 
That's the theory. Now, let's put it into practice with these Wizikey Press Release templates.
---
Press Release Templates
1. Company Introduction
Companies aren't built in isolation. They need validation from an audience. In addition, a company's introduction is key to building that audience. It should tell the readers what you sell/ offer, and why you do it.
You can edit and use this template by clicking here.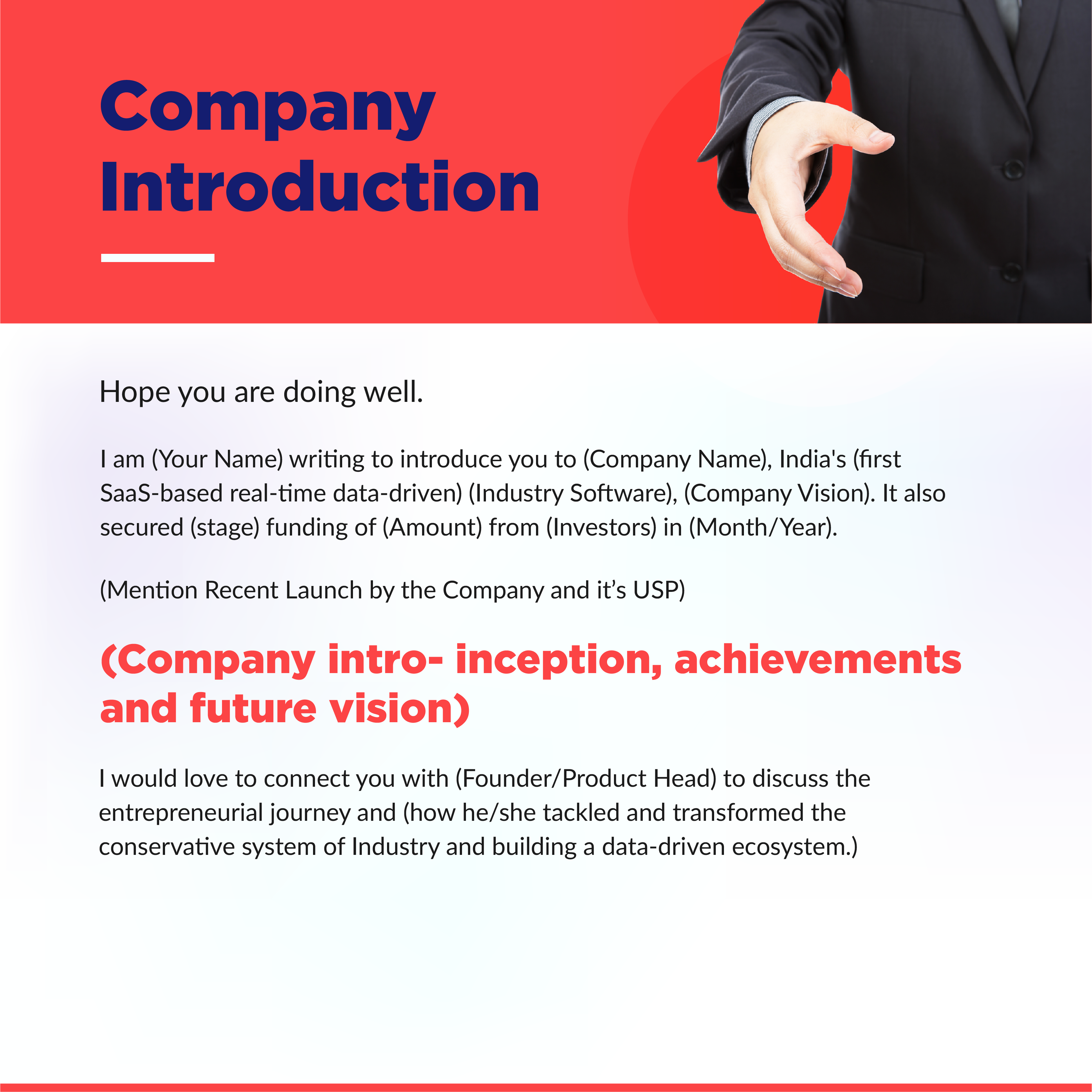 Key mentions:
Share the company's story i.e its inception, achievements, and future vision. 
Mention the company's USP and recent developments.
Offer to connect the journalist with the Founder/ CEO to discuss their journey. 
2. Founder Profiling
Just like every story needs a hero, every company needs a face. A founder profiling story lets the public know about your CEO's pedigree, qualifications, and unique vision. To sum up, it's an important step in building company credibility with the customers.  
Want to edit this template? Click here.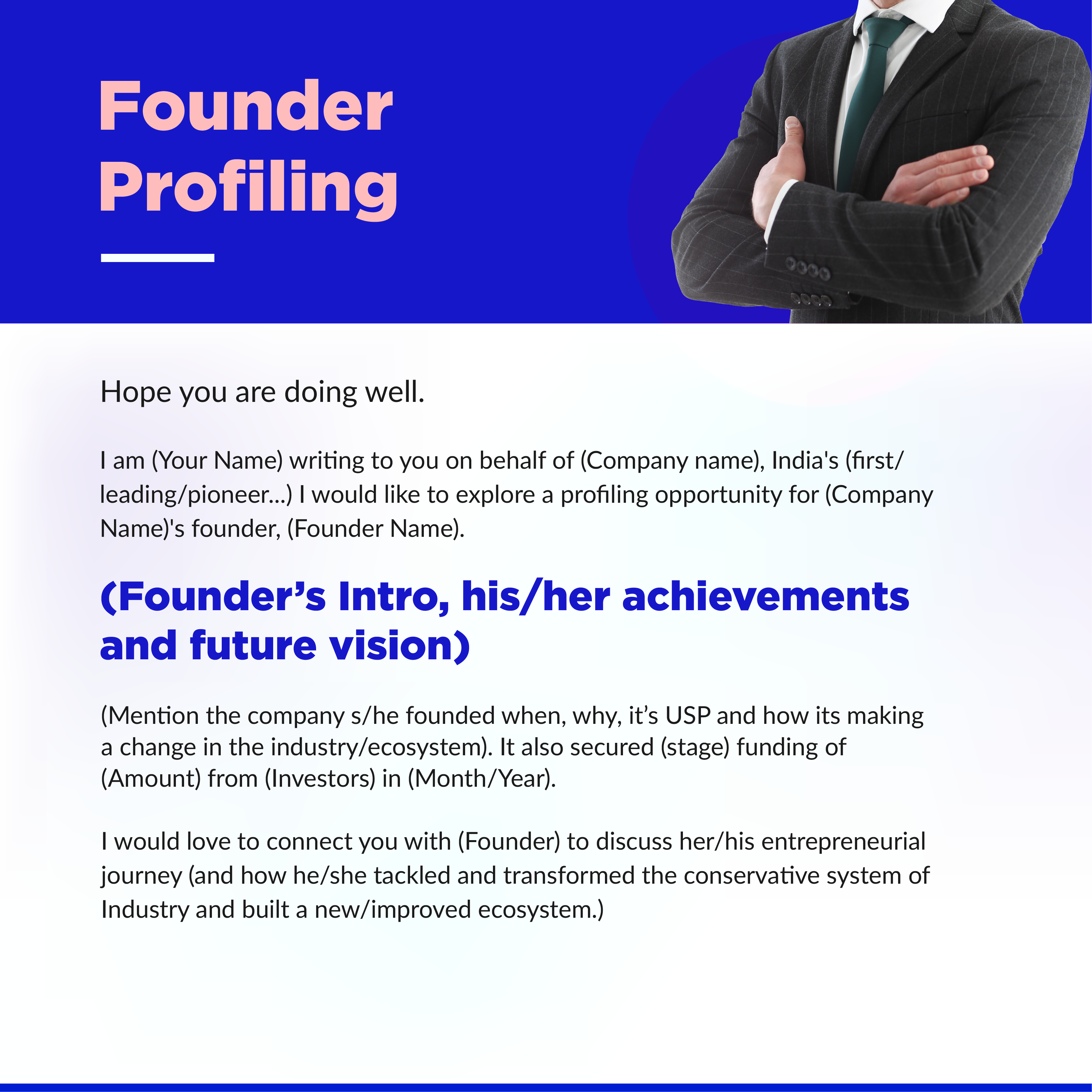 Key mentions:
Introduce the Founder/CEO. Detail his/her educational qualifications, past achievements, and future vision.
Link the founder's introduction with the company's story. Try and establish the company's USP and how it's building/changing the industry's ecosystem.
Offer to connect the journalist with the Founder/ CEO to discuss their entrepreneurial journey.
3. Event Invitation
Events are a great way of getting face time with your storytellers. After all, they allow you to build relationships with journalists in an informal setting. They could be press conferences, product launches, summits, or even movie screenings. 
Click here to use this template.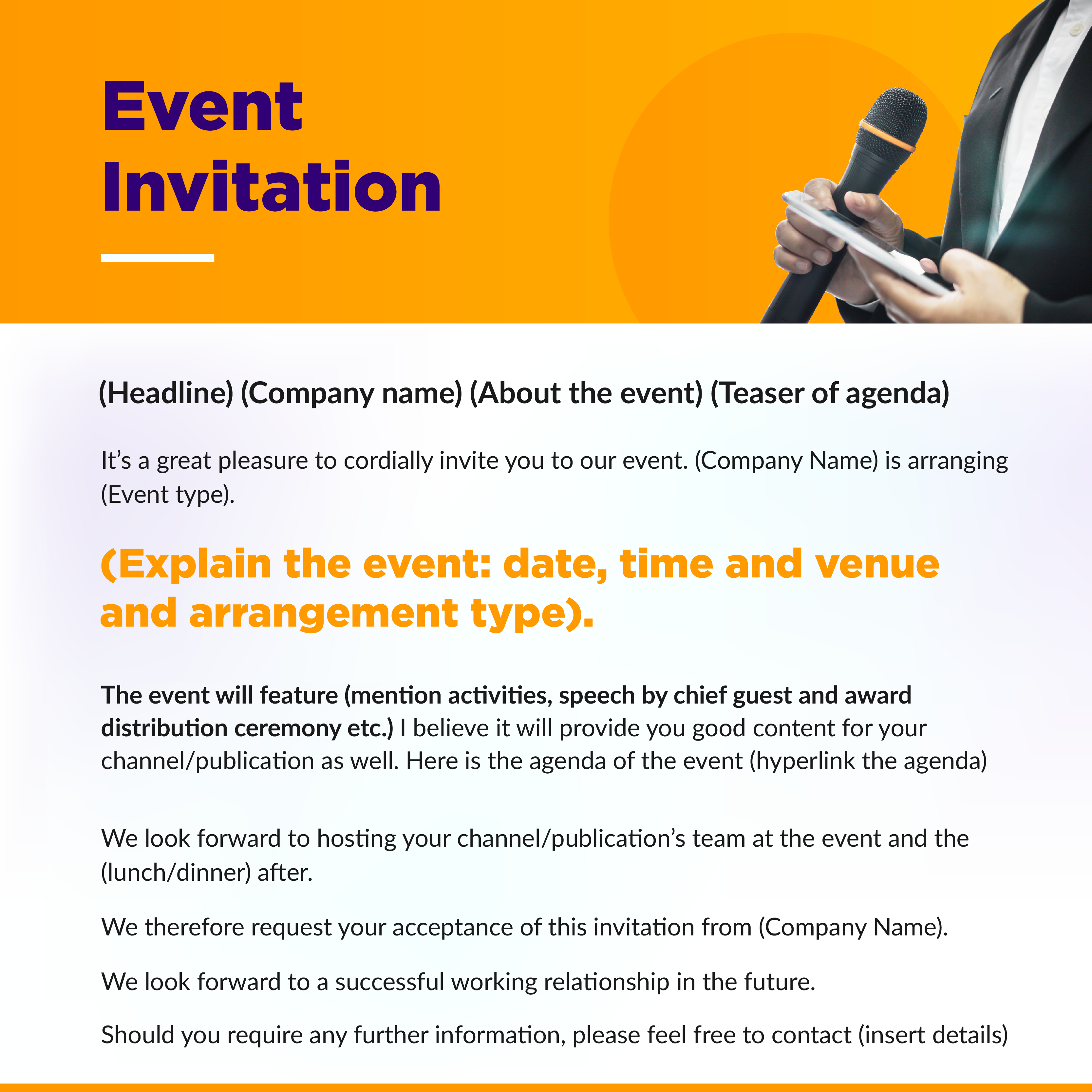 Key mentions:
Explain the event, i.e the type, agenda, time and venue.
Mention activities planned and important guests invited.
Establish why it's a good fit for their publication/website.
4. Product Launch
In the world of startups, you either innovate or fade away. Interestingly, a product launch is a great opportunity to revive public interest in your company.
You can edit and use this template by clicking here.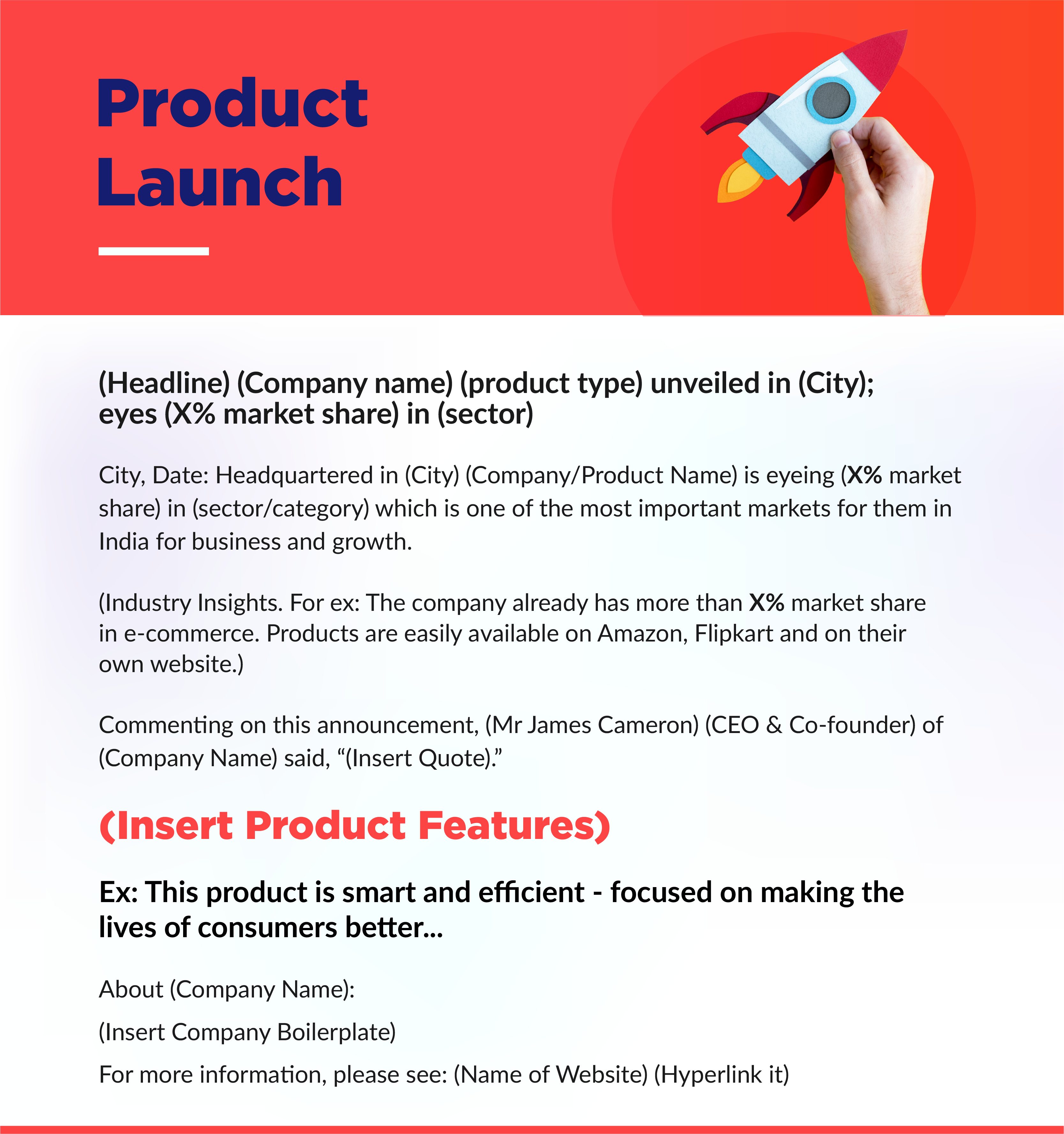 Key mentions:
Headline: should mention the company's name, the product being launched, and its market share in the sector/industry.
Explain the key features of the product.
Mention where the product is available for purchase.
Familiarize the journalist with the industry by sharing a few insights.
Insert a quote by the CEO/Co-founder about the product.
5. Rebranding Announcement
Your company's brand the relationship you have with your customer. Primarily, it communicates what your company does, and is key to winning customer trust.
However, relationships evolve and so must brands. Hence, many companies choose to rebrand to differentiate themselves from their competitors.
Want to edit this template? Click here.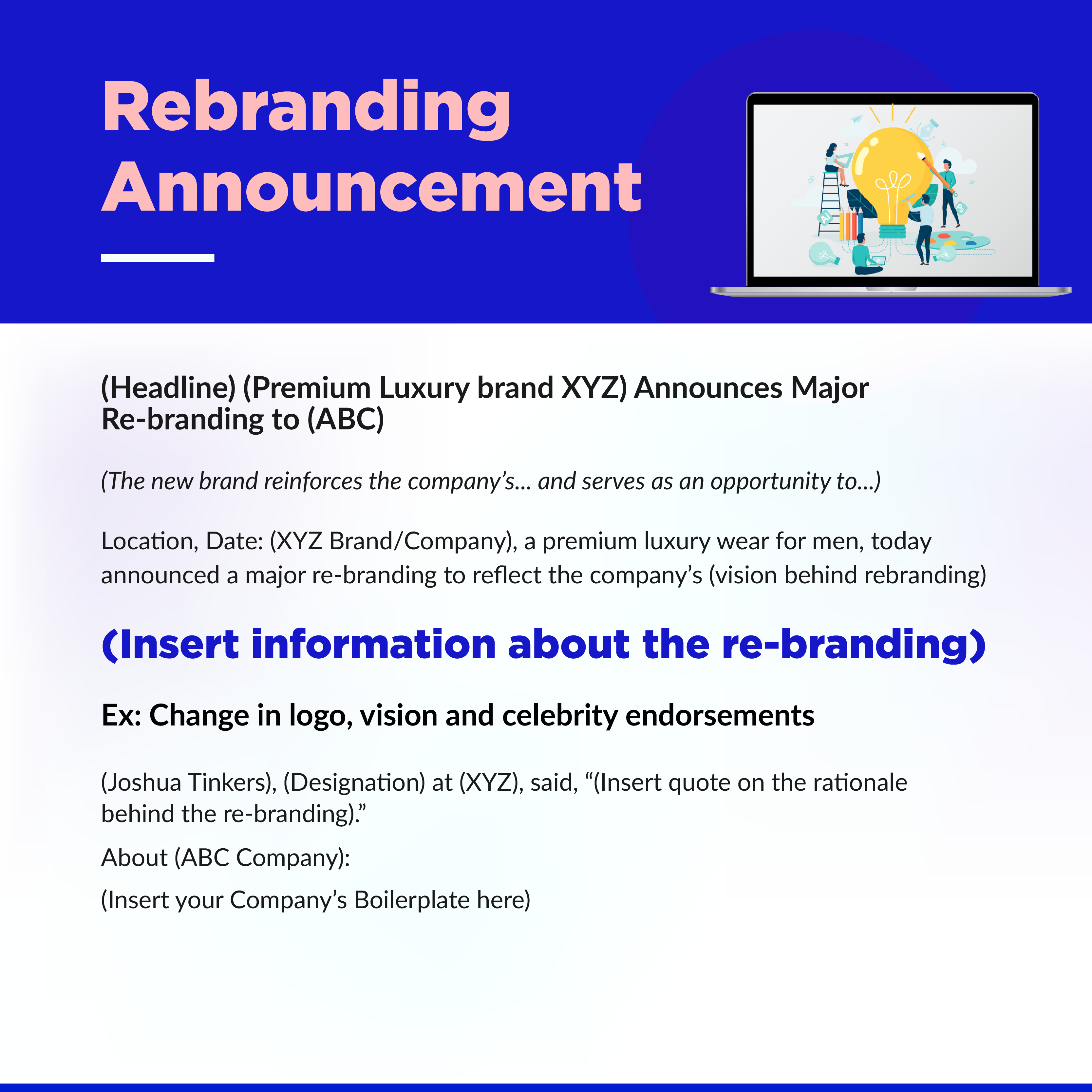 Key mentions:
Headline: Announce re-branded name/logo.
Explain the rationale behind the rebranding.
Use a quote from the company's leadership to back the rebranding rationale.
Explain the elements of rebranding. What does rebranding entail for the company- change in logo, brand colours etc?
6. Appointment/Hiring announcement
If Swiggy hires ex-Zomato Vice President, key stakeholders like partners, investors, employees, and customers need to know. Why? Either because it affects them or because it helps increase the brand's credibility with the public. In a nutshell, this makes hiring/appointment announcements very crucial.
Click here to use this template.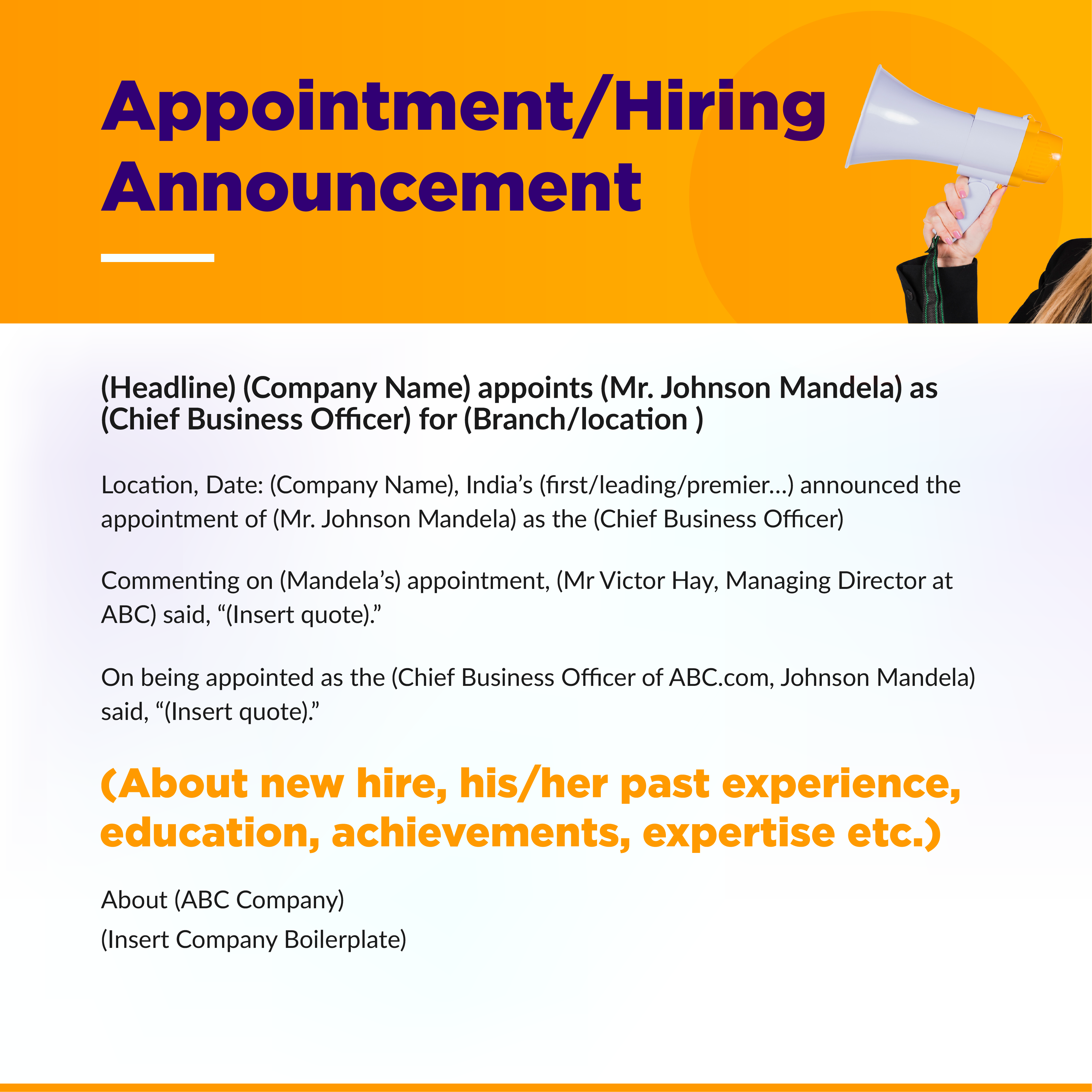 Key Mentions:
Headline: Mention the name and designation of the new hire, and establish his/her value by referencing past projects/experience.
Provide information about the newly hired employee. This should include his/her past experience, expertise, education, achievements, etc
Use quotes of prominent leadership and new employee to build excitement.
7. Funding Announcement
Money talks. Well, not if you don't send out a press release. Additionally, funding isn't only about money, it's validation from industry-wise investors. Hence, it's important to spread the word about it.
Looking to use this template? Click here.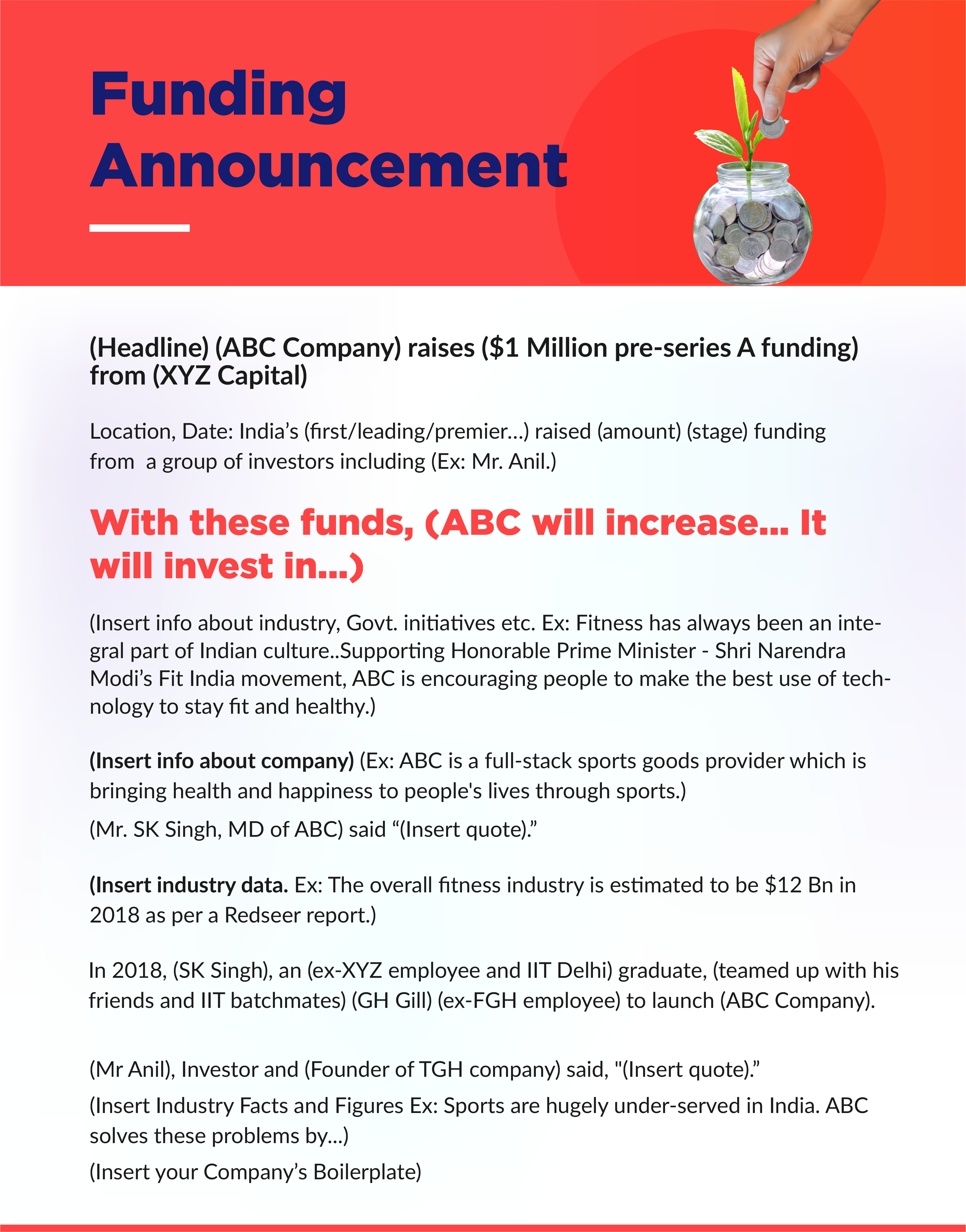 Key mentions:
Headline- Mention amount, stage and round of funding received from XYZ investor/VC fund.
Mention prominent members of the VC fund.
Provide a small glimpse of how the funds are going to be used.
Share information about the industry, government initiatives etc.
Insert information about the company. How is it solving problems for the customer?
Lastly, use quotes from investors and company leadership to engage the reader.
8. Geographical Expansion:
Going global is a big deal for any company. It means new markets, more customers, and bigger opportunities to chase. However, a big part of going global lies in changing the perception of being a local company. As a matter of fact, a press release informing major publications about your global ambitions is the first step in changing perception.
To edit and use this template, click here.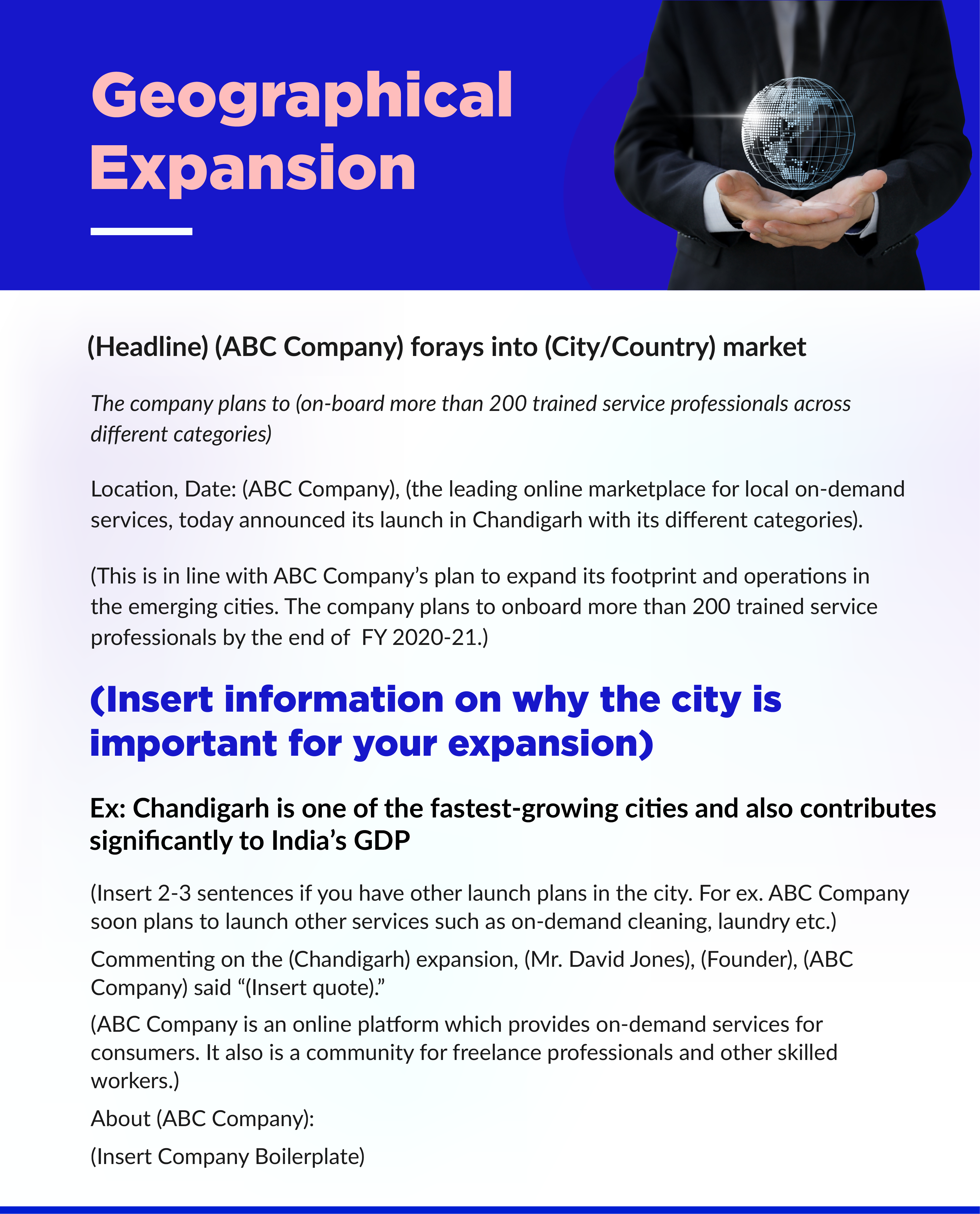 Key mentions:
Headline: mention the company's name and the new city/country it's foraying into.
Insert information on why the city/country is important for your company/industry
Briefly state any other launch plans in the city.
9. Industry/ Data Trends Report
Releasing an industry trends report or study catches a lot of eyes. Furthermore, it not only establishes your company as an industry leader but also builds a data-centric perception of it.
Click here to edit and use this template.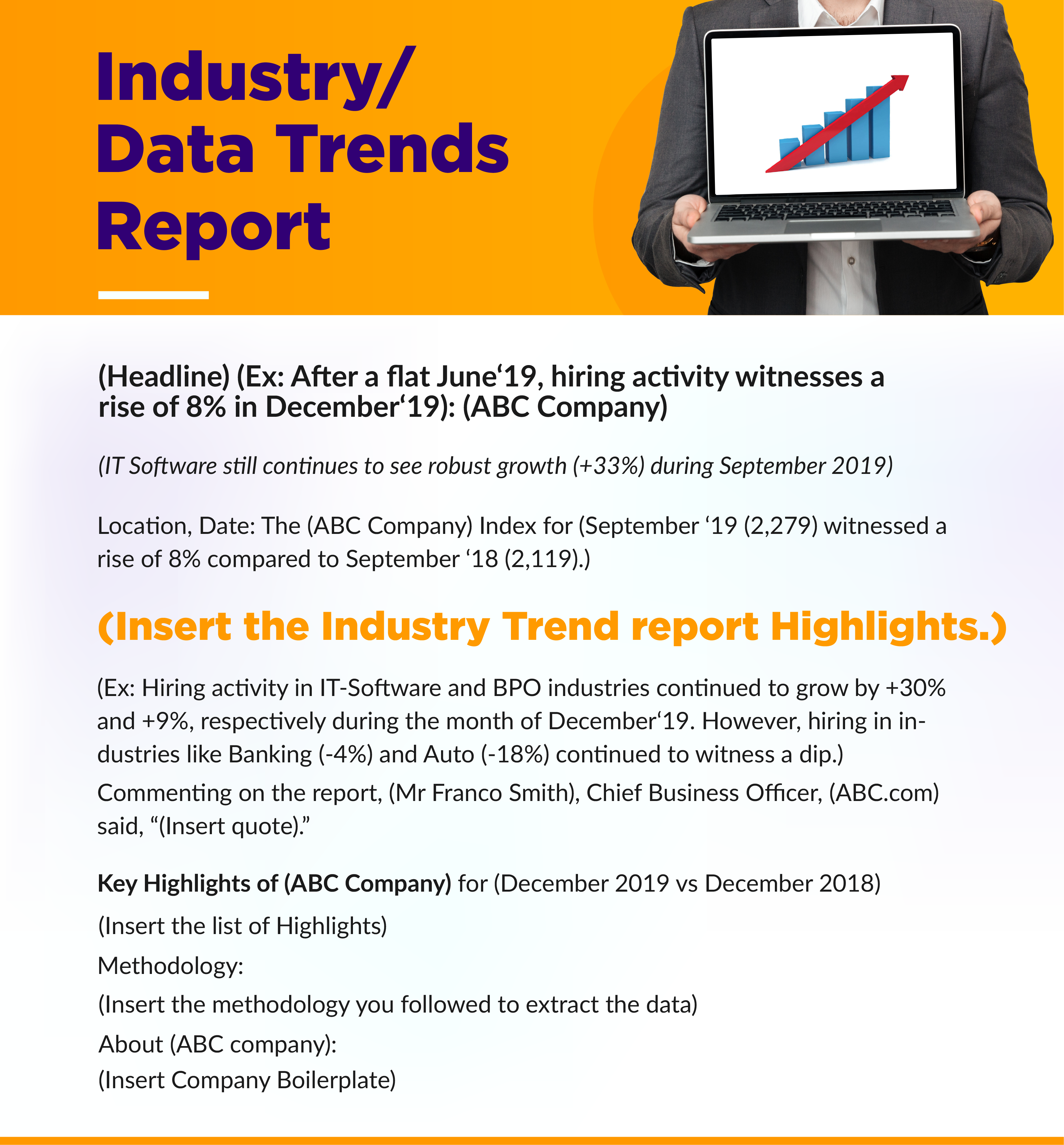 Key mentions:
Headline – Choose an important highlight from the report and validate it with statistics. 
Share key highlights from the Industry Trend report.  
Mention the research methodology of the report. 
End with the key highlights of your company for the year/quarter. 
10. Milestone Achievement
Running a company is a labor of love and each milestone deserves to be celebrated. Likewise, it's also important to share your growth story with the primary drivers of your growth i.e your customers. A milestone achievement release helps you do that.
Want to edit this template? Click here.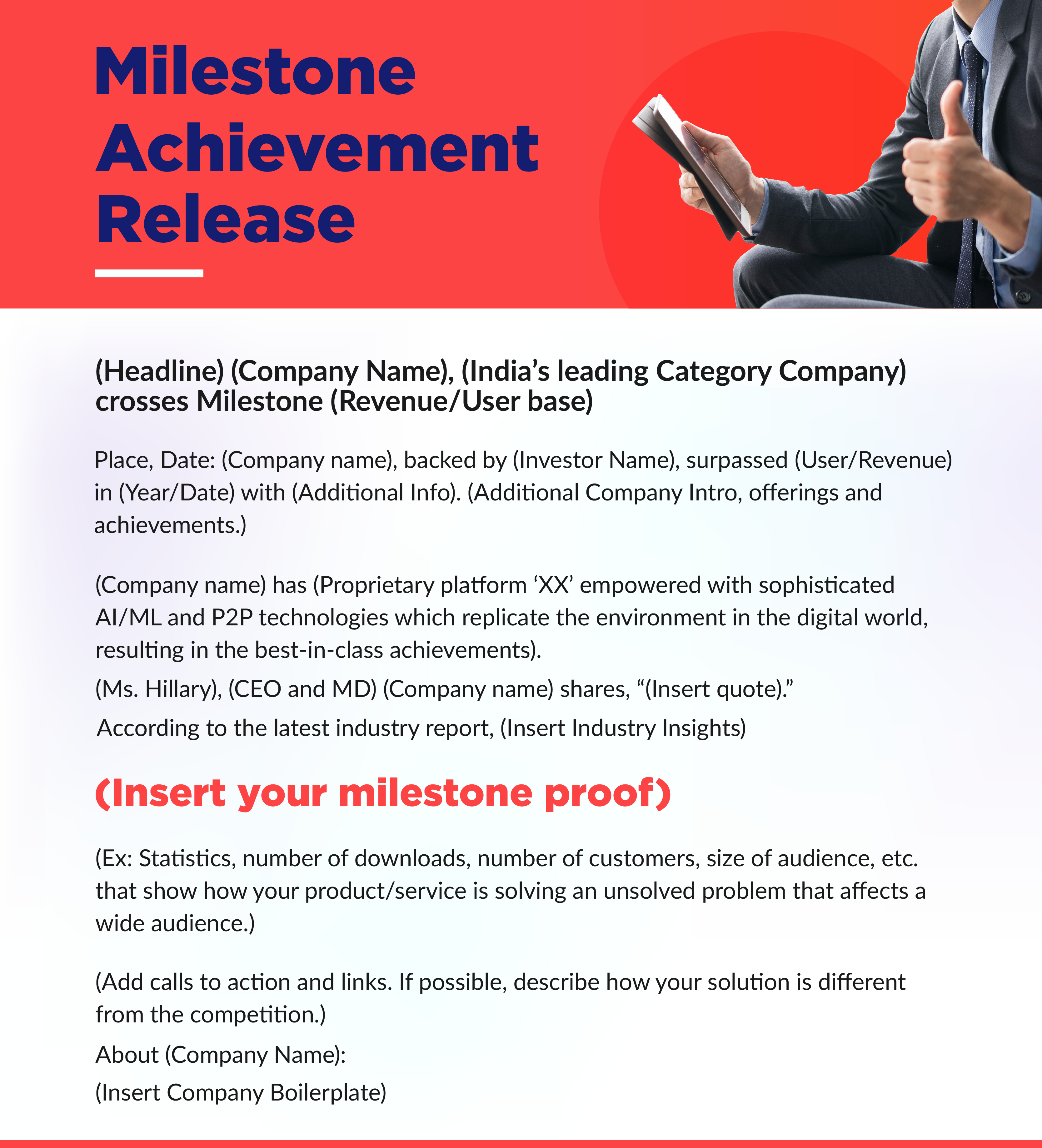 Key mentions:
Headline: Mention the company's name and the milestone crossed.
Provide a company introduction with its offerings and achievements.
Insert milestone proof. Like statistics, number of downloads, number of customers, size of the audience, etc.
Quotes by company leadership
---
Tips for using Press Release Templates
We're sure these templates will help you write and send your press release with the utmost ease. However, remember that issuing a press release doesn't guarantee news coverage. The fact is, the news must interest the journalist and tick his/her cardinal checkboxes:
1) Will it interest their readers?
2) Does the news benefit the community in some way?
But, don't let that intimidate you. Here are some tricks to keep the journalist engaged by your press release.
Write in the third person. Provide the journalist with the outsider's view he is looking for.
Link your press release to popular trends to grab attention.
Engage with quotes from someone significant to an event or from the company's leadership. Using quotes humanizes a press release and provides the much-needed break between the facts and figures.
Use videos and images to make the story more engaging.
---
Conclusion and Next Steps
Once you've picked a press release template and written your story, the next step is to distribute your story. Here are some links that may help you with that!